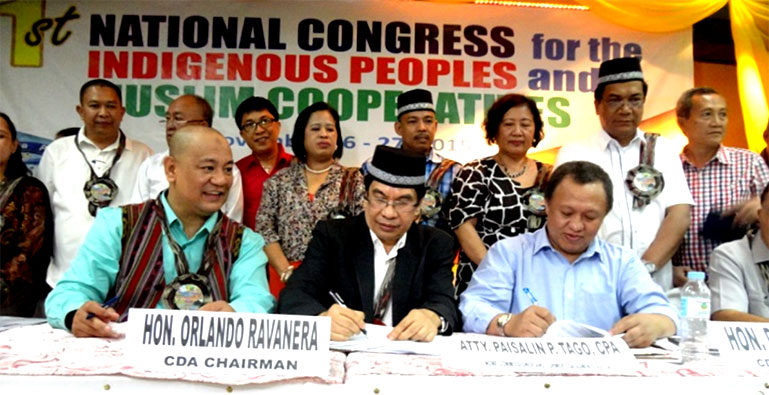 Empowering the vulnerable group of cooperatives became the guiding force of the recently concluded sectoral congress of the Indigenous Peoples (IPs) and Muslim Cooperatives held last November 26-27, 2015 at the Family Country Hotel Convention Centre, General Santos City.
The activity was highlighted by the signing of the Memorandum of Agreement between the Cooperative Development Authority (CDA) and the National Commission of Muslim Filipinos (NCMF) and the surfacing of problems, issues, needs and concerns of the Indigenous Peoples and Muslim Cooperatives. The following were the declarations made by the participants:
Create an enabling law, Policy or Circular recognizing Cooperatives as a mechanism in the development of the Indigenous Peoples and Muslim Cooperatives, in consideration of its culture and belief;
Formulate appropriate models to enhance governance and succession planning for cooperative, including a framework of operation manual;
Formulate appropriate standards for IPs and Muslim cooperatives;
Formulate capacity-building program to address the training needs of officers and employees of the cooperative;
Massive information dissemination to Local Government officials on the autonomy and independence and recognition of cooperatives as a legitimate non-government organization;
Provision of subsidy on trainings and financial audit;
CDA to condone fees and penalties for late and non-submission of reportorial reports;
Translate the laws, rules and regulations to vernacular language;
Linkage to concern government agencies to improve the farm to market road, provision of pre and post-harvest facilities and other equipment to increase the value of cooperatives' products and market access, local and international;
NCIP to intervene, monitor and safeguard the IPs ancestral domain;
Capacity building programs for officers and employees of cooperative;
Support the passage of Islamic Banking Law; and
Support the action of the CDA to have a "One Peace in Mindanao" through cooperative ownership of the Angus Polangi and other programs to promote sustainable peace in the country.