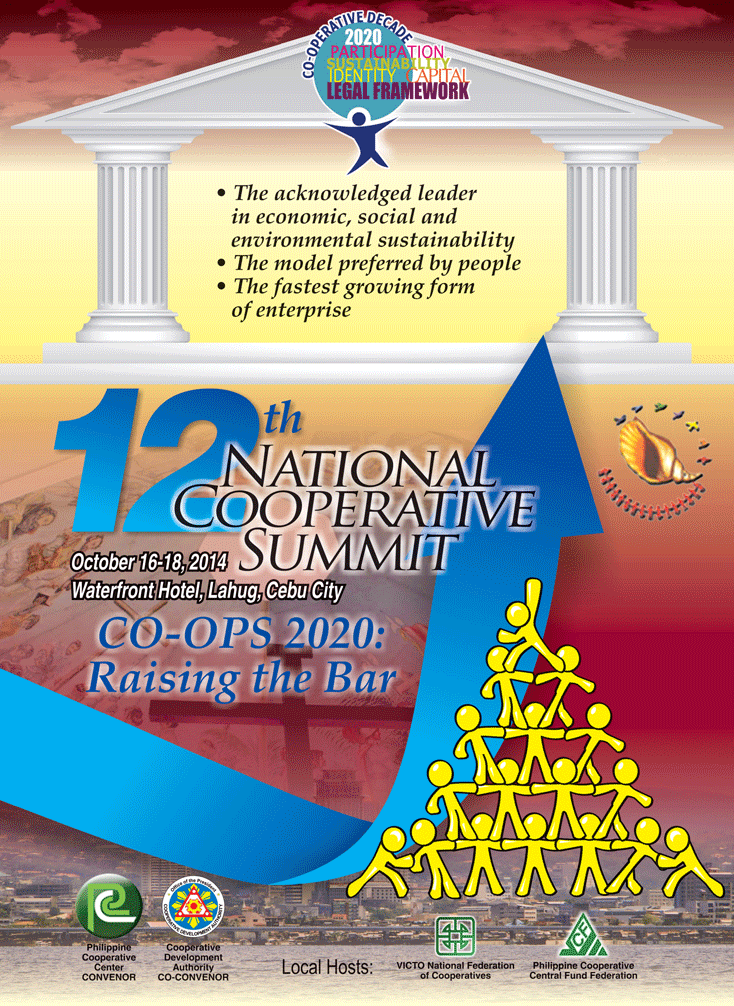 ---
Invitation Letter | Registration Form | Poster Layout 26 x 35 Inches
---
Dear Fellow Co-operators:
Greetings!
The Philippine Cooperative Center (PCC) and the Cooperative Development Authority (CDA), invited you to actively participate in the 12th National Cooperatives Summit at Waterfront Hotel, Lahug City, on October 16 – 18, 2014. This year's summit will be hosted by Local Hosts VICTO National and Philippine Cooperative Central Fund Federation.
"Coops 20202: Raising the Bar" is the theme of the three day event. This is anchored on the global cooperative development expressed in the ICA Cooperative Decade 2020: For co-cooperative to be acknowledged leader in economic, social and environmental sustainability; the model preferred by people and the fastest growing form of enterprise that promotes Participation, Sustainability, Identity, Capital and Legal Framework. PCC has also crafted its strategic plan which is looking at the coop readiness for ASEAN integration in 2015 and the breakthrough in entrepreneurial discoveries by 2020. The cooperatives need to raise the bar of cooperation, the bar of achievement of the standards for us to become relevant in the development of our communities and our country.
Let us once again renew our commitment, our passion to pursue cooperative and contribute in improving the lives of the Filipinos; let us continue to build rebuild the ties that bind us as cooperators. COME and JOIN us in the 12th National Cooperative Summit.
Tara na sa Cebu!
Very truly yours,
(Sgd) Engr. SYLVIA O. PARAGUYA
Chairperson
(Sgd) Hon. EMMANUEL M. SANTIAGUEL, Ph.D
Chairman