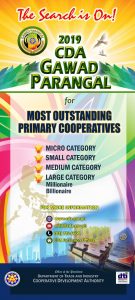 The CDA enjoins all primary cooperatives exemplifying best practices and outstanding performance and contributions to cooperative development to participate in this year's search for Most Outstanding Cooperatives.
Interested parties may coordinate with our CDA Extension Offices nationwide. For more information, please check the guidelines HERE, for your information and reference.
Deadline for submission of documentary requirements is on June 7, 2019.