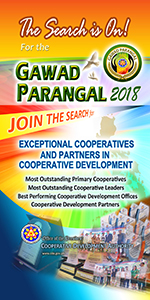 The CDA enjoins cooperatives, leaders, cooperative development offices and other stakeholders exemplifying best practices and outstanding performance and contributions to cooperative development to participate in this year'ssearch for Most Outstanding Cooperatives and Best Performing Cooperative Development Partners.
Target groups for this year's awards are:
Cooperatives
– Primary cooperatives
Cooperative Leaders
Local Government Units – Cooperative Development Offices
– Provincial;
– Municipal;
– Component City; and
– Independent component/highly urbanized City
Special Citations
– Primary Cooperatives (specific area of concern)
– Primary Cooperatives (specific type)
– Cooperative Federations (unique feature)
– Cooperative Unions (unique feature)
– Cooperative Development Councils (unique feature)
Interested parties may coordinate with our Extension Offices nationwide. For more information, please check the guidelines here, as well as other materials for your reference.
Deadline for submission of nominations and documentary requirements at the Regional Level shall be on June 30, 2018.
---
RESOURCES:
Guidelines
Nomination Forms: Best Performing LGU CDO and Profile Coop Leaders
Other Form: Cooperative Profile