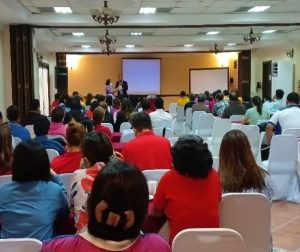 Mandaue City Credit Surety Fund Cooperative (MCCSFC) is taking membership education to higher level, by means of sharing its best practices. The cooperative believes that as one of the cooperative principles, enhancing the members' knowledge of the cooperative is a great vehicle to enable its members to be actively involved in all its undertakings.
Spearheaded by the Bangko Sentral Ng Pilipinas, the MCCSFC was launched on June 27, 2017. The launching program was attended by Mandaue City officials headed by then-Mayor Luigi Quisumbing, Deputy Governor Diwa Gunigundo, Bangko Sentral ng Pilipinas (BSP), Senior Assistant Vice President  Aurora C. Maghirang, Development Bank of the Philippines (DBP), Vice President Elsie Fe NV. Tagupa, Land Bank of the Philippines (LBP), Chief Executive Officer Benel D. Lagua, Industrial Guarantee and Loan Fund (IGLF), and officers of various cooperatives in Mandaue City. The MCCSFC was finally registered with the Cooperative Development Authority on October 26, 2021, with its Certificate of Registration (CoR No. 10744-0700025) signed by Chairman Undersecretary Joseph B. Encabo.
Despite the various challenges it encountered, the cooperative never fails to implement its best practices that serve as its guidepost in its operations, such as:
Conduct of regular consultation and orientation to ensure full cooperation from the members. Coordination with the Mandaue City Cooperative Development Council, for its seminar-trainings every month funded by the local government unit, as well as quarterly Leaders' Forum, where MCCSF volunteers present the benefits and advantages of joining MCCSFC are undertaken.
Information dissemination on the policies and procedures of the CSF cooperative. Being a special type of cooperative, this is undertaken as part of members' education. The policies cover the grant of surety cover, treasury, expansion, and share purchase, among others;
Member participation through strengthened communication. The cooperative conducts its regular meetings held every third Wednesday of the month. The Board of Directors makes it a point to invite CDA-CSF officers to provide updates on CSF matters;
Marketing and promotion of the services of MCCSFC to all potential member-cooperatives. The cooperative provides lectures on the objectives, benefits, and advantages of being a member, highlighting "growth, sustainability, and financial "
MCCSFC's total  assets is Twelve Million and Eight Hundred Thousand (Php12,800,000.00) Pesos. Two member-cooperatives, MAVENCO and PAMULCO availed surety covers, in the amount of P/30 million and P/2 million, respectively, which are already paid in full.
MAVENCO's loan was utilized for re-lending to its members which generated additional capital, and enabled the cooperative to grow its asset to more than P/1 Billion pesos as of 2022. The loan obtained by PAMULCO was likewise used for re-lending which helped the cooperative gain additional income through interest from borrowings.
MCCSFC recently welcomed additional members – the Mandaue Transport Cooperative and Community Multipurpose Cooperative.