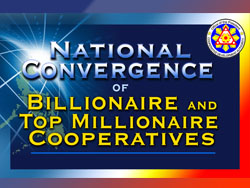 Come June 16-17, 2014, we enjoin all cooperative leaders and advocates to participate in the National Convergence of Billionaire and Top Millionaire Cooperatives to be held at the Skylight Convention Center, 210 Rizal Ave., Puerto Princesa City, Palawan.
This is a gathering of around 500 Billionaire and top Millionaire cooperatives all over the country, an opportune time for the cooperators to renew their commitment and contribute to the growing needs of the cooperative movement.
As this event is a prelude to the forthcoming National Cooperative Summit, it aims to initiate cooperative integration, encourage the formation of one national federation and its benefits, as well as to give updates/information on the following programs for the advancement of the cooperatives such as the advantages of establishing liquidity/stabilization fund, economic and social value of integration thru merger and consolidation, the importance of voluntary arbitration as mode of resolving intra-inter cooperative conflicts, ethics to be observed in establishing a cooperative branch/satellite offices and the importance of e-coop trade and the solidarity economy.
A registration fee shall be assessed to defray cost of meals and/or accommodation. For details, you may download the invitations and confirmation slip.
For further inquiries, please contact the Cooperative Research Information and Training Division (CRITD) at telephone number (02) 725-6604 or our CDA Extension Office in your area.
---