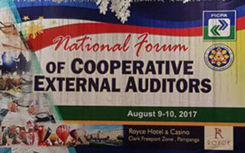 A total 320 Certified Public Accountants (CPA) and non-CPAs from all over the Philippines participated in the National Forum of Cooperative External Auditors held on August 9 – 10, 2017 at Royce Hotel in Clarkfield, Pampanga. This activity of the Philippine Institute of Certified Public Accountants (PICPA) and the Cooperative Development Authority (CDA) in partnership with the Regional Cooperative Development Council NCR (RCDC NCR) was conducted to build awareness on cooperatives among the external auditors and to update the participants on the regulatory requirements of the CDA relevant to financial audit of cooperatives and other topics and to build effective linkage between CDA and the cooperative external auditors as partners in cooperative development.
The forum commenced with messages from the Chairperson of the PICPA National Committee on Cooperative  Development, Ms. Cristina Ocampo, and the Chairperson of the CDA, Hon. Orlando R. Ravanera. Chairperson Ravanera in his speech lauded all the cooperative external auditors accredited by the CDA. He also added that, "when we accredit you (CPAs and Audit Firms), we believed in your integrity".
Topics that were discussed and presented during the 2-day Forum were:
Director Elevazo as an introduction, presented the CDA and its mandate. He eloquently discussed the CDA Roadmap, the current status of cooperatives in the country and the accreditation system of cooperative external auditors and its status.
Atty. Batonan enlightened the participants on provisions of the nine (9) Memorandum Circulars issued by the CDA which are important for the Cooperative External Auditors in their audit and preparation of Financial Statements of cooperatives, including the CSF Cooperative ACT of 2015 RA 10744.
Fr. Anton, as a cooperative leader himself, shared with the participants The Leadership Challenges for Cooperative Movement where he based his presentation to the Five (5) Practical Suggestions from Pope Francis. He also discussed the relevance of Emotional Intelligence (EQ) and Cooperative Leadership Competencies.
For him, Ethics and Values mean authenticity. Facts and figures are important, thus, the reports of the cooperative external auditors are vital to ensure the credibility of an organization.
Ms. Ame prudently discussed the PFRF for cooperatives and how the provisions should apply in the preparation of financial reports of cooperatives. The peculiarities of cooperatives were emphasized.
Dir. Hernandez' discussion covered the Observations on the following: Auditor's Report, Financial Statements, Notes to Financial Statements, and Other Audit related issues and concerns.
In each and every topic, the participants were given time to ask questions and clarify matters.
In closing, the Regional Cooperative Development Council NCR (RCDC NCR) represented by its Vice-Chairperson, Mr. Eduardo Eugenio, rendered a message. He extended the RCDC's appreciation to everyone attending the Forum. For and in behalf of the CDA, Director Nonie Hernandez expressed words of gratitude. She is hopeful that with the forum conducted, the problems in cooperative audit will be lessened if not totally eliminated.