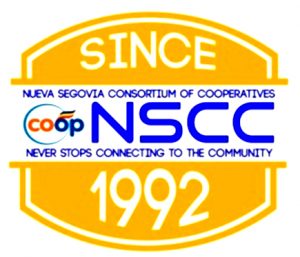 It all started with a goal to help, to serve and to achieve a holistic development of people within all Barangays and Municipalities of Ilocos Sur thru unifying cooperative services.  This goal was planted like a seed by the Archdiocese of Nueva Segovia thru the Archbishop of that time His Eminence Orlando Cardinal Quevedo and Msgr. Ambrose L. Cabildo.  Today, that seed of ambition has grown full bloom and now being recognized as the NUEVA SEGOVIA CONSORTIUM OF COOPERATIVES.
On June 7, 1992 the first consultation meeting to organize NSCC was held.  Then a follow up organizational assembly happened on July 5, 1992 to amend/ratify/approve the Articles and By-laws. Finally, it was registered on September 17, 1992 with the Cooperative Development Authority with a Registration Number DAG-2218.  The pioneer members of NSCC are 18 church based cooperatives coming from different parts of Ilocos Sur.
The Archdiocese appointed Mrs. Divina C. Quemi as Manager who was before Ms. Divina Cabunoc and the loan officer of Caritas Nueva Segovia.  She gladly accepted this new responsibility even if it's her first time to handle a cooperative operation and at a very young age of 24.  She was later on assisted by two employees namely Mr. Rolando Parel and Mrs. Fely Tugade.  As of this date, the three employees already rose to 200 employees.
NSCC started with a minimal capital of Php 13,500.00. It increased thru donations and contributions of members then was utilized to serve the needs of primary cooperatives thru the following programs:
WHOLESALE LENDING PROGRAM – to provide them with financial assistance to strengthen their capitalization
COACHING OR TRAINING SERVICES – to enhance capabilty of officers in running the operation of cooperatives
COMMUNITY ORGANIZING – organizing group of people into cooperatives
NSCC also ventured into Consumer Store with the aim to provide its members with easier access and more affordable consumer items and grocery items.  However, NSCC had to close the consumer store. This did not hinder NSCC in achieving its goals, in fact, other programs were opened and it brought more effective services to the members.
There were several innovations made by NSCC on its programs and services that changed its membership structure, area of operation and eventually increasedits manpower.  After 23 years NSCC is now a cooperative with diversified business endeavors like hotels, commercial center, agriculture and marketing and direct selling.
PROGRAMS AND SERVICES – NSCC F-A-C-T-S
We call our programs and services as NSCC FACTS which stands for Financial Services, Agro-enterprise and Marketing, Capability Building Services, Tourism Services, Social Services.
FINANCIAL SERVICES
1.    WHOLESALE LENDING PROGRAM FOR PRIMARY COOPERATIVES
The wholesale lending program was the pioneer service offered by NSCC to its members.  This aims to provide members with financial loan assistance to finance their different projects.  The loan assistance is given with minimal charges.
2.    LGU PARTNERSHIPS
On year 2001, an agreement was inked by NSCC and the Provincial Government of Ilocos Sur for an endeavor to provide livelihood opportunities to people of Ilocos Sur. The Provincial LGU entrusted livelihood funds to NSCC for a livelihood program that will benefit farmers, fishermen, cooperatives and other sectors of the community most particularly those who belong to the entrepreneurial poor.
The City Government of Vigan likewise entrusted NSCC with a livelihood fund, at first to subsidize the interest of loans of pottery makers then from this program it evolved to providing financial loan assistance to microenterpreneurs, cooperatives and farmers.
Then on year 2010, the Municipal Government of Caoayan also entrusted a livelihood fund to NSCC for the purpose also of providing access to financial services for sectors in agriculture, aquaculture and those under the One Barangay One Product program.
The partnership livelihood program with the three LGUs is ongoing and the success of the program can be manifested by the increase of beneficiaries and the evident progress that the beneficiaries had achieved because of the help of said program.  Another manifestation is the several nominations and awards that recognized said partnership effort.
As an active NGO partner, NSCC has always been invited to become member of different committees that oversee different concerns of said LGUs.  The CEO Mrs. Divina C. Quemi is infact the appointed focal person of National Anti Poverty Commission to the Province of Ilocos Sur.
AGRO-ENTERPRISE AND MARKETING
After providing the primary coop members and individual members with financial help for their income generating activity, the next project that NSCC ventured is the marketing of their products.  NSCC believes that creating opportunities to market their products is a big help to sustain their businesses.
A.    BUSINESS DEVELOPMENT SERVICES
a.    ILOCOS SUR COFFEE BEANS
Nueva Segovia Consortium of Cooperatives, made coffee its value chain project by putting up a bath and coffee shop where the products of farmers and cooperatives that are producing coffee are being sold to NSCC.  The delicious coffee being processed came from the coffee beans of Ilocos Sur.
NSCC supports the call of Ilocos Sur Provincial Government and the Department of Trade and Industry in promoting the coffee industry of the province.   NSCC is now organizing the coffee producers in Sigay, Suyo and other upland municipalities into a cooperative.  Promise of good marketing is also potential as there are other networks of NSCC that is interested to buy products of our local coffee producers.
b.    PALAY MARKETING
It started in 2014 when NSCC buys the palay products of primary cooperatives.  The palay bought are milled and sold to its members in different branches.  The aim of this is to help the cooperatives market the produced palays of their members.  The scheme is either sold in cash or the cooperative can borrow a capital to buy the palay products of its members.
B.    THRU THE NSCC MPC
NSCC started to market local products thru organizing the NSCC Employees Marketing Cooperative and this was registered on July 30, 2007.  This employees' cooperative aimed to promote the local products of members like hog products, poultry, rice, local delicacies like longganisa, bagnet.  These are sold to employees thru cash and credit.
To increase the marketing outreach of products, NSCC have tried attending trade fairs, displaying it in pasalubong center, and promoting it at NSCC Plaza.
On November 27, 2009, the NSCC Employees Marketing Cooperative was converted into NSCC MPC. Aside from doing marketing activities, the cooperative also created a credit program for employees and other members.
Although the membership status as of today remains within NSCC only, the management is planning to convert all the NSCC Microfinance members lodged within NSCC Branches to become regular members of the NSCC MPC.  The process of making this happen has already started this year 2014 and the full conversion is expected to be accomplished until the end of 2016.
C.    THRU THE AGRO-ENTERPRISE PROGRAM
The Agro-enterprise program of NSCC aims to help the farmers market their products from local market to national market.  This also aims to make the primary cooperative members an integral part of this project.
1.    The FARMERS' ENTREPRENEURSHIP PROGRAM
This program started in year 2011 when the National Livelihood Development Corporation invited NSCC to be one of the cooperatives that will implement the Farmers Entrepreneurship Program, a flagship program of the NLDC, Jollibee Foods Corporation and the Catholic Relief Services.  The aim of this is to assist farmers to produce quality onion products that can be delivered to Jollibee Foods Corporation and other institutional markets.  The program gave the farmers adequate trainings from land preparation, monitoring until harvesting.  They were also taught on how to market their products, prepare financial reports and do the negotiations. As of today there are already 75  farmer beneficiaries from the City of Vigan, Municipality of Caoayan and the Municipality of Sinait.  As of this year a total of 99.9 tons of white onions has been delivered by these groups of farmers that were organized into 3 cooperatives.
2.    The AGRARIAN INFORMATION AND MARKETING CENTER (AIMC)
Thru a selection process made by the Department of Agrarian Refrom and the Japan International Cooperation Agency, NSCC was selected to handle the ARISP III Project of the province.  And under this program is the creation of an agriculture center called Agrarian Information and Marketing Center or AIMC and this was built at the two hectares property of the cooperative  or Industrial Zone of NSCC at Don Dimas Querubin, Caoayan, Ilocos Sur.  The AIMC program has the following activities:
Marketing of fertilizers – this is in tie-up with different fertilizer companies like the Universal Harvester Inc.
Buying of Palay – as of November 26, 2014 the total bought palay already reached to 354 tons and said palay products mostly came from Primary Cooperative members.
Rice Marketing – the milled palay are now being marketed to members and primary cooperatives.
The construction of this facility is being donated by the Department of Agrarian Reform, Municipal Government of Caoayan and the Japan International Cooperation Agency.
NSCC will soon venture cooking oil refilling business to be located at this Industrial Zone of NSCC.
CAPABILITY BUILDING SERVICES
1.    COOPERATIVE TRAINING PROVIDER
Cooperative Education is very vital in the successful operation of one cooperative. This is the very reason why NSCC established a facility where it will gather cooperative officers for trainings or learning activities.  Before the Cooperative Development Authority has launched mandatory trainings that cooperative officers must comply, NSCC is already conducting trainings for the officers of primary cooperatives.  It established the NSCC Microfinance and Training Center for the said purpose.
On 2011, the Cooperative Development Authority has launched accreditation to institutions that will serve the training needs of cooperatives.  NSCC applied and was accredited as Coop Training Provider on October 2012.  The NSCC have created pool of speakers that are professional coop trainers and well capable young staff of NSCC.
With the said program, NSCC had established tie-up with the Social Enterprise Development Partnership Inc. (SEDPI), National Tobacco Administration and the Department of Agrarian Reform.
2.    MACRO-NSCC COLLEGES, INC.
One of the advocacies of NSCC is to provide affordable education for the youth sector and train them of the value of cooperativism.  The turn-over of the MACRO-NSCC Colleges, Inc. was conducted on June 11, 2014 at NSCC Plaza, Caoayan, Ilocos Sur.  Macro-NSCC Colleges, Inc. offers the following courses:
BS IN FORMATION TECHNOLOGY
BS IN INFORMATION SYSTEMS
BS IN BUSINESS ADMINISTRATION
TESDA COURSES
COMPUTER TECHNICIAN
HOUSE KEEPING
FRONT OFFICE SERVICES
COMMERCIAL COOKING
At present MACRO-NSCC is offering free scholarships on Computer Technician course and it is also currently processing its requirements for accreditation to offer K-12 Curriculum.
TOURISM SERVICES
HOTEL AND ACCOMODATION SERVICES
1.    NSCC PLAZA HOTEL AND CONVENTION CENTER
In Region 1, NSCC was the first to establish a Cooperative Hotel and this was built at Don Alejandro Quirolgico, Caoayan, Ilocos Sur.  It was inaugurated on March 27, 2011 and was duly accredited by the Department of Tourism.
Reasons why NSCC ventured  into hotel operations:
To make this a training center so that conduct of trainings will be more convenient for guests and participants.
To boost tourism industry.  The cooperative network is a good market for tourism activities
To generate more profit that will benefit members
To generate employment.
To add prestige to the cooperative
The hotel is not only a favorite training spot for cooperatives and NGOs, it is also one of the favorite venue for weddings and other celebrations.
NSCC Plaza's services is widely promoted in the cooperative sector.  It likewise enjoys promotion at the internet thru the NSCC website and the Agoda website.
2.    NSCC HOTEL VIGAN
This 2015, NSCC has opened the NSCC Vigan Hotel located at Governor Reyes St., Vigan City Ilocos Sur.  This is another venture of NSCC to further promote tourism in the province and to complement the services of the NSCC Plaza.
3.    NSCC BATH AND COFFEE SHOP
NSCC Bath and Coffee which aims to serve the growing tourists of Vigan being one of the new7 wonders cities of the world.
4.    NSCC HOTEL GRANDE
Within the next two years NSCC is expected to build its grandest Hotel project or the NSCC Grand Hotel at the heart of Vigan City.
SOCIAL SERVICES
NSCC also aimed to provide additional services for the benefit of members.
PARTNERSHIP WITH PHILHEALTH AND SOCIAL SECURITY SYSTEM – NSCC had a tie-up with PHILHEALTH and SSS to make payment of premiums more accessible as well as to assist members of their different needs that concern said agencies.
BAYAD CENTER SERVICE – another way for NSCC to serve members with ease in paying their different bills.  This will start at the month of November 2014 in some of the branches.
ATM SERVICE in Pagudpud thru partnership with Encash
INSURANCE SERVICES
MUTUAL BENEFIT ASSOCIATION – shall be registered as an institution that will provide mutual aid to members particularly the members under the microfinance program
Coop Assurance Center – in partnership with the Coop Life Insurance and Mutual Benefit System.  Different insurance services of CLIMBS will be offered to primary cooperatives thru NSCC.
Gojo Program – a project under the ARISP III where all members of ARC Cooperatives are encouraged to be a member of the Gojo program.  The program shall benefit members with Php 20,000.00 mutual assistance and another Php 20,000.00 for wedding assistance.
Crop Insurance – this is in partnership with the Philippine Crop Insurance Corporation, to provide security to farmers incase their plants will be damaged due to calamities.
ADVOCACIES
GENDER AND DEVELOPMENT
Aside from the continuous cooperative education, cooperative tourism, NSCC also advocates gender equality.  NSCC is one of the active partner of the Asian Women in Cooperative Forum that is implementing gender sensitive programs in its operation.  As proof of this is the installation of 1 woman representative to the Board of Directors and this being done every Gender Congress held every two years.  The other is the automatic membership of 1 woman to the committees.
CONTINUOUS PROMOTION OF COOP SERVICES
NSCC recognizes the role of media as its partner in making people aware of the services of the cooperative.  Thru its CEO, a weekly program is being aired at PTV Ylocos Channel, one of the local channels being aired and this is entitled "Coop ti Communidad".  This is where different activities of NSCC, programs and services, coop news and others are being informed to the people.
COMMUNITY INVOLVEMENT ACTIVITIES
The NSCC has now become a favorite invitee of different Local Government Unit activities, the CEO makes sure that NSCC is always present and actively participates in all activities, either meetings, forums, including special occasions.
Below are the regular activities NSCC is joining annually.
VIGAN CITY FESTIVITIES
KANNAWIDAN FESTIVAL OF THE PROVINCE OF ILOCOS SUR
CAOAYAN, ILOCOS SUR TOWN FIESTA
NARVACAN, ILOCOS SUR BAGNET FESTIVAL
COCONUT TREE PLANTING ACTIVITY
DONATIONS TO COMMUNITY DEVELOPMENT ACTIVITIES
BLOOD LETTING ACTIVITIES
MEMBERS WELFARE SERVICES
MEDICAL/DENTAL/OPTICAL MISSION/TRADE FAIR
GENERAL CHRISTMAS PARTY
NSCC'S FINANCIAL PERFORMANCE – NSCC achieved its billion assets status on May 31, 2014 making it as the first Cooperative Federation that hits billion in Region 1.
NETWORKING
NSCC gives importance to the principle cooperation among cooperatives.  For NSCC, being affiliated with apex organizations and other institutions is a way to learn new things, and opportunity to discover and develop new partnerships.
NSCC applied for accreditation with different apex organizations like the National Confederation of Cooperatives, Metro South Cooperative Bank, Philippine Cooperative Center, Federation of Peoples' Sustainable Development Cooperative, and just recently the Asian Confederation of Credit Unions.
NSCC is now recognized as an active and participating entity thru the effective representation of the Chief Executive Officer Mrs. Divina Quemi.  Her wit and her dedication to her work with NSCC made her a recognized cooperative leader nationwide.  The stature she is earning as a model coop leader made her sat to important positions in different apex organizations and recenly she was elected as Chairperson of the National Confederation of Cooperatives and one of the representatives of the country to the International Cooperation Alliance – Asia and Pacific.
The networking effort of NSCC will always continue as the need to learn, to participate, to cooperate in different advocacies of the cooperative movement is endless.
AWARDS AND RECOGNITIONS
The accomplishments done by NSCC are being recognized by different sectors.  Some of the significant awards received by NSCC are the following:
2013, 2014, 2015 Gawad Parangal Winner as Best Performing Cooperative Federation by the Coop Development Authority
Mrs. Divina Quemi also was recognized as one of the Most Outstanding Coop Leaders during the 2012 Gawad Parangal by the Cooperative Development Authority and Excellent Coop CEO Award given on December 2014.
2015 3RD National Winner of CDA GawadParangal Award Most Outstanding Coop Leader
2012, 2013 Sipag Awards Winner as Most Outstanding Microfinance Institution in Luzon 1 by the National Livelihood Development Corporation
2013 as one of the top 10 most promising enterprises by the Villar Foundation
2013, 2014 ONE OF HIGHEST CREDIT PATRONIZER OF NATCCO  awarded on May 24, 2015 during the 37th General Assembly of NATCCO
2013, 2014 ONE OF TOP SHARE CAPITAL CONTRIBUTORS OF NATCCO
Said awards are not something to boast for but something that will challenge more the management to continue providing better services for members.
CONCLUSION
NSCC's total package is a product of hard work, perseverance, optimism, and noble intention.  It is a product of innovative and energetic leadership driven by skillful, humble and talented men and women.  It is greatly inspired by the Catholic Church as it will always be under the shadow of the Archdiocese of Nueva Segovia. It will continuously aspire for endless God's providence and guidance. Though it can be said that NSCC had achieved a lot but the greatest challenge remains on how it will unfailingly provide the needs of members and how effectively make cooperatives catalysts for progressive communities and empowered people.
To God will always be the Glory! Mabuhay ang Kooperatiba!
OFFICES ANDBRANCHES
1.    VIGAN CITY:
Socio-Pastoral Center, Nueva Segovia St., Vigan City, Ilocos Sur
Telephone: (077) 674-0516
Telefax (077) 722-1351
emailad: [email protected], [email protected]
2.    VIGAN EXTENSION OFFICE
Colegio Business Center, Vigan City
3.     LAOAG CITY:
2nd Floor YBS Bldg, Bonifacio St., Brgy. 19, Laoag City, Ilocos Norte
Telefax : (077) 670-7784
emailad: [email protected]
4.    BATAC:
Delicia Bldg., Washington St., Nalupta, Batac City, Ilocos Norte
Telefax: (077) 792-3179
emailad: [email protected]
5.    CERVANTES:
Holy Child of Prague Parish Compound, Brgy.
Concepcion, Cervantes, Ilocos Sur
Email ad: [email protected]
6.     CAOAYAN:
Don Alejandro Quirolgico, Caoayan, Ilocos Sur
Telephone: (077) 674-0388
EMAIL AD: [email protected]
7.    CABUGAO:
Cabugao Food Court Plaza, Cabugao, Ilocos Sur
Telephone: (077) 604-0040
EMAIL AD: [email protected]
8.    BAGUIO CITY:
Lyman Ogilby Centrum, Unit 305, 358 Magsaysay Ave.
Baguio City
Tel. No. (074)422-1029
Email Ad: [email protected]
9.    BAUANG LA UNION:
# 07 De Guzman St., Central West
Bauang, La Union
Email ad:
Tel. No. (072)705-0965
10.    STA. MARIA, ILOCOS SUR BRANCH:
Poblacion Sur, Sta. Maria Ilocos Sur
Email ad: [email protected]
Tel. No. (077)732-5567
11.    PAGUDPUD, ILOCOS NORTE BRANCH:
SitioRegta, Poblacion 2, PagudpudIlocos Norte
Email ad: [email protected]
12.    URDANETA BRANCH
Purok 2, Nancayasan
Urdaneta City, Pangasinan
Tel. No. (075)529-2834
Email ad: [email protected]
13.    BACARRA BRANCH
Buyon, Bacarra, Ilocos Norte
Email ad: [email protected]
14.    LINGAYEN BRANCH
2nd Floor, Agri-Aqua Public Market, Lingayen, Pangasinan
Tel No. 075-632-5862
Email Ad: [email protected]
15.    NSCC PLAZA:
Don Alejandro Quirolgico, Caoayan, Ilocos Sur:
Telephone: (077) 722-3281 / 674-0267
Email ad: [email protected]
16.    NSCC TAGUDIN WAREHOUSE
Bimmanga, Tagudin, Ilocos Sur
17.    MACRO-NSCC COLLEGES, Inc.
Vigan City, Ilocos Sur
Website: www.coopnscc.com
The NSCC OFFICERS
| | | |
| --- | --- | --- |
| BOARD OF DIRECTORS | POSITION | COOP REPRESENTED |
| ENGR. IRENE BRINGAS | CHAIRPERSON– GENDER CONGRESS REPRESENTATIVE | ABRA DIOCESAN TEACHERS AND EMPLOYEES COOPERATIVE |
| MR. GEORGE TADENA | VICE-CHAIRPERSON | STO. DOMINGO DEVELOPMENT COOPERATIVE |
| MS. JOHN BELLO | DIRECTOR | ILOCOS SUR UPLAND DEVELOPERS COOP |
| MR. FEDERICO VALDEZ | DIRECTOR | SUYO MPC |
| MR. SANTIAGO SANCHEZ | DIRECTOR | STA. CRUZ SAVINGS AND DEVELOPMENT COOPERATIVE |
| MR. BENEDICTO AQUINO | DIRECTOR | SACRED HEART SAVINGS COOP |
| MR. MARIANO TAAY | DIRECTOR | TAGUDIN SAVINGS AND CREDIT COOPERATIVE |
| MS. DIVINA C. QUEMI | EX-OFFICIO MEMBER / CEO | NUEVA SEGOVIA CONSORTIUM OF COOPERATIVES |
| REV. FR. FELICIANO BUGTONG | HONORARY MEMBER REPRESENTATIVE | ARCHDIOCESE OF NUEVA SEGOVIA |
| COMMITTEES | COMMITTEE REPRESENTED | COOP REPRESENTED |
| MRS. MARITES SOLIVEN | SUPERVISORY COMMITTEE | STO. DOMINGO TRICYCLE DRIVERS AND OPERATORS MPC |
| MR. REYNALDO S. PERALTA | SUPERVISORY COMMITTEE | METRO LUNGOG CREDIT COOP |
| MR. MARIO TOLENTINO | SUPERVISORY COMMITTEE | CALAOAAN MPC |
| MS. FRANCISCA T. ACOSTA | ELECTION COMMITTEE | STO. DOMINGO RIC MPC |
| MS. MELITA L. MONIS | ELECTION COMMITTEE | IDF COMMUNITY DEVT COOP |
| MS. VICTORIA VENENCIANO | ELECTION COMMITTEE | BARBAR MPC |
| MR. ANDRES T. TAGURA | CONCILIATION AND MEDIATION COMMITTEE | NAGSANGALAN SAVINGS & DEVELOPMENT COOP |
| MS. ESTRELLA G. GAVIOLA | CONCILIATION AND MEDIATION COMMITTEE | NANSUAGAO MPC |
| MS. JANICE T. TABULA | CONCILIATION AND MEDIATION COMMITTEE | ST. DOMINIC MPC |
| MR. CAMILO S. VALLE | ETHICS   COMMITTEE | SUNGGIAM MPC |
| MS. ELLA DC TALINGDAN | ETHICS   COMMITTEE | CAOAYAN ONION GROWERS AND PRODUCERS COOP |
| MR. MARIO BLAS S. LARANANG | ETHICS   COMMITTEE | TAGUDIN SAVINGS AND CREDIT COOPERATIVE |