The Philippine Cooperative Centennial Year's official logo is now finally approved and released by the National Committee of the Philippine Cooperative Centennial Year. The logo will banner the cooperative sectors' unified effort and aspirations as it intends to bring about a successful celebration of 100 years of the country's cooperatives in the year 2015.
The meaning of the LOGO is as follows: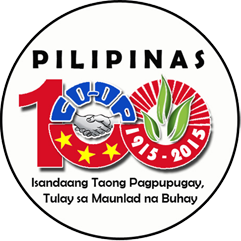 The word CO-OP is in an arch shape that ensembles good engineering, each letter is important as it represents cooperatives, co-operators and CDA. The joining hands show the cooperation and mutual understanding of all stakeholders.
The 17 rays represent the 17 regions of the country, pointing to a common direction, common vision, while the 3 stars are for Luzon, Visayas and Mindanao.
The number 1 represents unity and oneness among cooperatives as they aim of becoming champions. All other elements are forming infinity symbol which means continuity, endless and limitless opportunities for cooperatives.
The different colours symbolizes the following: blue for peaceful economic revolution; red for intense effort for change; green for life; and yellow for opportunities for growth. Further, the round shape of the logo represents equity, continuity and global.
The centennial logo was carefully chosen from among the entries submitted in the Logo Design Contest launched last December and was slightly enhanced by the National Committee.
The winning logo is an entry submitted by MR. ELER G. DELOS REYES, a member of DON HONORIO VENTURA TECHNOLOGICAL STATE UNIVERSITY (DHVT) MULTI-PURPOSE COOPERATIVE in Bacolor, Pampanga. Delos Reyes is a graduate of Bachelor of Science in Industrial Education, Major in Drafting Technology of DHVTSU and later became a drawing instructor of this school.