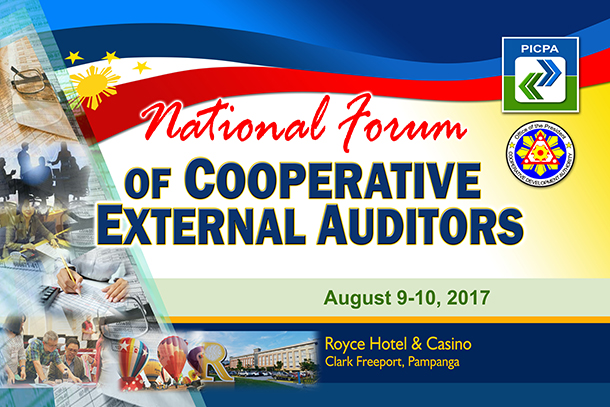 The Philippine Institute of Certified Public Accountants (PICPA) in partnership with the Cooperative Development Authority (CDA) and the Regional Cooperative Development Council NCR (RCDC NCR) will hold a National Forum of Cooperative External Auditors this coming August 9 – 10, 2017 at Royce Hotel, Manuel A. Roxas Highway, Clark Freeport, Mabalacat, Pampanga.
The CDA Accredited Cooperative External Auditors, prospective cooperative external auditors; cooperative compliance officers and accountants; and other concerned cooperative officers are all invited to participate and be updated.  The Forum aims to build awareness on cooperatives among the external auditors and to update the participants on the regulatory requirements of the CDA relevant to financial audit of cooperatives and other topics.  Likewise, this activity is geared towards building effective linkage between CDA and the cooperative external auditors as partners in cooperative development, and a venue to thresh out issues and concerns on cooperative financial audit.
Full attendance to this Forum is equivalent to the following:
16 Continuing Professional Development (CPD) units for individual CPA;
16 hours of the 24 hours training requirements for renewal of Accreditation to the CDA for Cooperative External Auditors;
16 hours of the 24 hours training requirements for new/initial Accreditation for Cooperative External Auditors (Topic on Basics of Cooperative not included)
Interested parties may get in touch with the PICPA National, CDA Central Office or Extension Offices.  Registration will start at 8:00 am on August 9, 2017.
For the invitation and confirmation form, please download the attached forms.
---
RESOURCES: