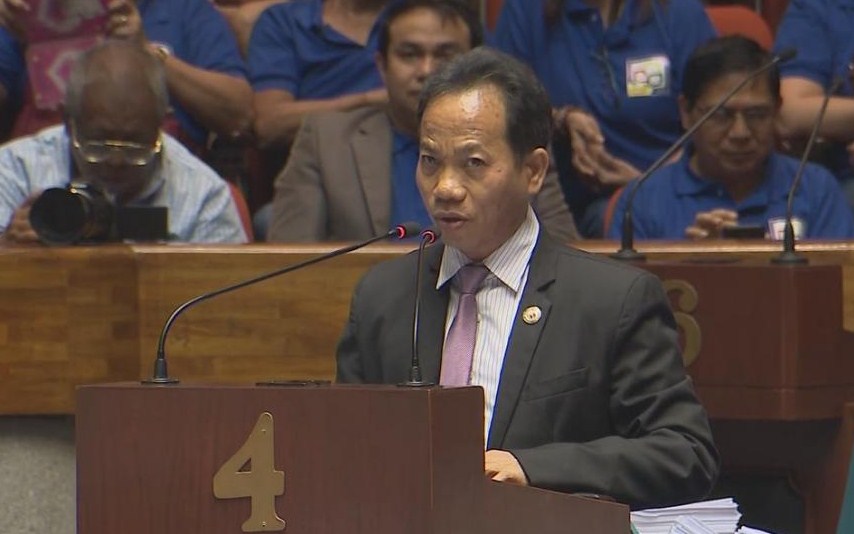 Madame Speaker, honorable colleagues, I rise today as we again honor our cooperatives across the country for being resilient amidst the growing inflation and other economic challenges that we are facing today.
In the gallery right now are representatives of the 14 million strong cooperative movement who are committed to advancing the quality of life of Filipinos through the cooperative system. They travelled from different provinces in Luzon, Visayas and Mindanao to be with us today as proof of their commitment to the government that the coop sector remains a strong partner in terms of poverty alleviation and people empowerment.
They are our coop leaders and stakeholders led by the Cooperative Development Authority.
Along with the delegation Madame Speaker are the cream of the crop of the coop movement –the coop awardees of Landbank's Gawad Pitak, CDA's Gawad Parangal and the coop recipients of this august body's adopted resolutions commending their exemplary contributions in nation-building and community development.     These cooperatives Mr. Speaker are drivers of growth in their respective communities.
Mr. Speaker, we are celebrating the National Cooperative Month with the theme Cooperatives: Partners for Building Resilient and Empowered Communities towards a Better and Stronger Philippines.
We take pride of our 27,625 cooperatives that are constantly adapting to the challenges of times. Each of them has good stories to tell. Our cooperatives, then and now, has been true to the role the state envisioned them to be –that is, to become practical vehicle for promoting self-reliance and harnessing people power towards attainment of economic development and social justice.
Cooperative development covers multitude aspects of human and community development. Not only that the sector contributes to vigorous trade in local communities with their combined assets of P382.5-B, they too extend livelihood opportunities for our marginalized people through the loan services, trainings and wide array of services they provide. This creates indirect employment to the cooperative members and their families.
While we cannot monitor the exact number of indirect employment the coop sector creates, the CDA keeps track of the number of direct employment that our coops generate. In 2017, there were 378,100 Filipinos directly employed by cooperatives.
But more than the economic impact, cooperatives also contribute to social cohesion where cooperative members can feel that they belong among groups in society. Cooperatives cultivate sense of community and solidarity and I believe that it is very important in people empowerment.
Madame Speaker we are currently confronted with escalating prices of food and basic commodities. Inflation is at 6.7%, the highest in nine years. Poorest Filipinos suffer most from inflation.
While the government distributed P24-B cash grants to 10 million indigents through the Unconditional Cash Transfer Program to cushion the inflationary effects of TRAIN, the P200 per month or P2,400 per year for each beneficiary would hardly make a dent on poverty alleviation.
It is during these hard times that we need to promote cooperatives and encourage Filipinos to become part of cooperative enterprises.
Cooperatives are known to be resilient in times of crisis. In fact, a study by the International Labor Organization in 2009[1] found that cooperative enterprises around the world have shown resilience to financial and economic crisis.
To quote Madame Speaker, the study reported that:
"Financial cooperatives remain financially sound; consumer cooperatives are reporting increased turnover; worker cooperatives are seeing growth as people choose the cooperative form of enterprise to respond to new economic realities."
The ILO study was used as basis for the strengthening of the cooperative element in ILO's Sustainable Enterprise Programme and the promotion of cooperatives by the United Nations.
In another report by the World Bank Madame Speaker –the World Development Report 2008– which focused on agriculture, has also noted the effectiveness of the cooperative model of enterprise as one form of producer organization, and thus the importance of the promotion of cooperative development in the context of rural development.
Madame Speaker, food inflation were attributed partly to decreased supply of vegetables from Northern Luzon following the devastations of habagat and Typhoon Ompong. Our cooperatives were to the rescue when the Department of Agriculture tapped farms in Bukidnon managed mostly by famer cooperatives and associations to augment vegetable supply in NCR and to bring down the prices.
Meanwhile, the facilities of some cooperatives in Ilocos, Cagayan and affected provinces in Northern Luzon served as evacuation centers, providing food and shelter to our brother and sisters during the devastation of Typhoon Ompong.
This is no longer new Mr. Speaker. In times of disasters, cooperatives are always ready to provide relief assistance to victims of calamities. Many cooperatives also have ongoing programs on disaster risk reduction and management.
Cooperatives utilize their Community Development Fund in conducting various activities like disaster preparedness trainings, awareness campaigns, tree planting, clean-up drives and other activities that seeks to protect our environment and mitigate disasters.
The CDA is also working with Humanitarian Leadership Academy (HLA) Philippines in capacitating its personnel to conduct Business Continuity Management (BCM) trainings to cooperatives, which will allow coops to return to normal operations as quickly as possible when there are disasters.
Cooperatives have also taken steps towards peace-building when they committed to take part in rebuilding marawi. Cooperatives are now pooling resources to capacitate cooperative members through livelihood trainings and assistance and to establish a sustainable cooperative community, according to the CDA.
Last July, the CDA launched the Marawi rehabilitation through cooperativism program. The coop movement has already donated houses made up of bricks to marawi victims.
Furthermore, the CDA reported that former combatants of the moro national liberation front in Mindanao, have decided to abandon the armed struggle and formed cooperatives. There are now 34 cooperatives of former MNLF members in Lanao Del Norte and Lanao Del Sur.
These are significant developments in the coop sector Mr. Speaker, distinguished colleagues. We hope to continue developing the sector through partnerships of the cooperative movement, civil society and the government.
Just this morning, the CDA launched the 2018-2022 Philippine Cooperative Medium Term Development Plan laying out comprehensive strategies that will help propel cooperative growth and sustainable development such as 1) the enhancement of policies and regulatory environment for cooperatives, 2) Improved Institutional Development, Governance and Management 3) Promotion of human capital development among cooperatives, 4) Globally Competitive Cooperative Products and Services 5) Increased Access to Finance, and 5) Increased Access to Markets and Infrastructure.
Madame Speaker, I know that this august body has supported the cooperative sector in the past by passing significant laws that supports cooperative growth. Last year, you supported our appeal to retain the VAT exemption of cooperatives under the TRAIN Law and we are grateful to all of you and to the House leadership for such.
We hope that there will be no more attempts or threats to repeal the coop tax exemption. Let us uphold the tax privileges of cooperatives stipulated in Article 60 and 61 of the Philippine Cooperative Code.
This humble representation would also appeal for your support to pass the bill on strengthening the Cooperative Development Authority. We call on the Duterte administration to approve the proposed measure before the 17th Congress ends next year.
The role of the CDA as the sole government agency regulating cooperatives is very important. We need a fully-functioning CDA with complete manpower complement to promote viability and growth of our cooperatives.
I firmly believe that cooperatives, although self-reliant, will be able to deliver substantial contributions to the economy and to the alleviation of poverty through sound regulation and institutional support of the CDA.
Hence, I would also like to reiterate my appeal to the House leadership to increase the budget of CDA for FY 2019 by at least P100-M.
Thank you very much.
REP. ANTHONY BRAVO, Ph.D.
October 8, 2018
---
[1] Resilience of the Cooperative Business Model in Times of Crisis. International Labour Organization. Published 2009