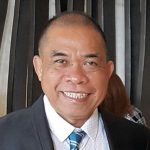 Thank you very much, Mr. Speaker.
Distinguished colleagues, before I deliver my privilege speech, allow me to acknowledge the presence of the cooperative leaders in this Plenary Hall and in the gallery. They come from all over the country from Luzon, Visayas and Mindanao, and led by the Philippine Cooperative Center (PCC) and the Cooperative Development Authority (CDA). They are here in connection with the celebration of the National Cooperative Month this October. Year 2019 is the 104th Anniversary of the Cooperative Movement in the Philippines.
After 104 years the Cooperative Development Authority (CDA) has registered a total of 26,000 plus cooperatives, out of which 18,065 are functional or operating based on 2018 data recorded by CDA. The total membership is approximately 11 million individuals. These cooperatives have generated more than 580,800 direct and indirect employment. These cooperatives also produced billions of pesos worth of goods and services. Indeed, Mr. Speaker, my dear colleagues, cooperatives are significant contributors to Philippine economy.
The cooperatives have empowered the less fortunate members of our society thru various programs. They are doing different community services to complement the government's efforts in bringing peace and development in the countryside.
Mr. Speaker, my dear colleagues, during this cooperative month celebration, we would like to highlight in behalf of the cooperative sector in the country, our thanks and gratitude:
1.) to President Rodrigo Roa- Duterte for his solid support to the cooperative movement through various programs and services extended to cooperatives and its members. Just recently, he signed into law RA 11364 or the Act Reorganizing and Strengthening the Cooperative Development Authority (or CDA), which will surely bring about a stronger partnership between the said agency and the Cooperative sector.
2.) We also thank our Colleagues in Congress for the retention of our Coop Tax Exemptions and for allocating funds for different programs directly benefiting the cooperatives.
3.) We thank the various government agencies in making Cooperatives as their primary partners in implementing their programs like 4 P's of DSWD; P3 of DTI; PLEA of DA; livelihood and capability programs of DAR, DOLE BFAR, TESDA and DOST; medical services of DOH; and many, many others.
4.) We also thank the various Local Government Units through the Municipal Mayors, City Mayors and Provincial Governors and their respective Legislative Councils who extended utmost support to the Cooperative movement through their voluntary creation of Local Cooperative Offices and Cooperative development councils with corresponding personnel and budget allocation. All of these, greatly contributed to the development of the Cooperatives in their area. I know Mr. Speaker, that some of the Local Officials are here with us today, but as members of the 18th Congress.
5.) Mr. Speaker, my dear colleagues, let me express my gratitude to the men and women who continue to volunteer and serve as Board of Directors, committee members and officers of their respective cooperatives… we would like to emphasize and take note that they are volunteers for the sake and for the good of their cooperative… thank you also to the management & staff who stayed and served in the movement who contributed their skills and talents inspite of much better compensation and higher benefits in the other sectors. And most of all, thank you for those 11 million strong members of cooperative who choose to become part of the movement who have the passion and heart for poverty alleviation… Palakpakan po natin sila lahat…
Mr. Speaker, my dear colleagues, this representation under the Coop NATCCO Party List, has been conducting consultations with the cooperative sector and a number of government agencies in order to identify issues and concerns of the sector and determine how this chamber can respond positively. Hence, Mr. Speaker, my dear colleagues, allow me to put forward to this 18th Congress, the cooperative sector's priority legislative agenda. We are appealing and hoping for your support for the passage of the following:
Amendments to RA 9520 particularly on lifting the tax exemption threshold for Cooperatives from the present P10 million General Reserve Fund (GRF).
House Bill 2433 or AN ACT MANDATING EACH LOCAL GOVERNMENT UNIT TO ALLOT TO COOPERATIVES TWO PERCENT [2%] OF ITS APPROPRIATIONS FOR LOCAL DEVELOPMENT PROJECTS
House Bill 2435 -AN ACT PROVIDING FOR THE CREATION OF THE COOPERATIVE BANKING ACT.
House Bill 2436 AN ACT MAKING THE POSITION OF A COOPERATIVE OFFICER MANDATORY IN THE MUNICIPAL, CITY AND PROVINCIAL LEVELS
In behalf of the Cooperative Sector, we call upon the BIR as our partner in development to assist the cooperatives in complying the requirements and further relax the TIN requirements for the issuance of Certificate of Tax Exemptions (CTE).
We call upon the Land Bank of the Philippines as our primary financial partner of the cooperatives in the countryside to review their products and services to make these more suitable and affordable to marginalized and vulnerable sector specifically farmers and fisherfolks.
We call upon all other agencies to continue and even strengthen more our partnership by extending to cooperatives greater and priority access to various programs and services.
We call upon Congress to allocate more funds to these agencies specifically Cooperative Development Authority (CDA)
In Closing, Mr. Speaker, my dear colleagues, let me quote this "ang hindi marunong lumingon sa pinanggalingan, ay hindi makakarating sa paroroonan"
This humble representation would like to extend to all cooperative leaders and members of Coop Natcco Partylist who supported and exerted all efforts to get me elected to the 17th and 18th Congresses. Thank you, thank you so much. Daghang salamat kaninyong tanan. Kung wala po kayo, kung wala ang tulong ninyo, wala po ako dito sa Kongreso.
I was just elected as the Chairman of the committee on Cooperative Development in the House of Representatives this 18th Congress. In behalf of the sector, I would like to thank Speaker Allan Peter Cayetano, my friends in the partylist coalition and all my colleagues in this 18th Congress for the trust and confidence. Hand in hand, and together with all the stakeholders of the cooperative movement, we will work as one in fulfilling our mission of making cooperatives as the true instrument in reducing poverty and making cooperatives as a potent force in development and in Nation building.
Mabuhay po tayong lahat…. Mabuhay po ang Kilusang Kooperatiba!!!
Maraming salamat at magandang hapon.