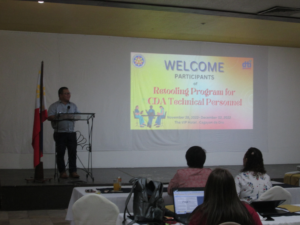 Spearheaded by the Registration, Supervision, and Examination Services (RSES), the Retooling of CDA's technical personnel Mindanao Batch was held last November 28 to December 2, 2022, in the VIP Hotel, Cagayan de Oro City. Participated by 132 personnel composed of CDS II, Sr. CDS, Legal Officers, and Supervising CDS from Regions 9, 10, 11, 12, and CARAGA.
The activity was graced by no less than the Chairman of CDA, Usec. Joseph "Joy" B. Encabo, cascading bundles of wisdom and inspirations for all technical personnel to continue to pursue performance excellence through improved services and a better understanding of all issuances on regulations, programs, and projects of the Agency.
Support from the management enwrapped the activity with the presence and messages of Asec. Myrla B. Paradillo, Acting Administrator, Asec. Virgilio Lazaga, and Asec. Pendatun B. Disimban, with messages of shared responsibility and dignified services for the clientele.
Speakers and lecturers from the different Services of the Authority enlightened the participants through discussions, interactions, and open forums on Registration, Supervision and Examination, Project Development & Assistance, Information & Training, Credit Surety Fund Services, and  Legal Assistance.
It gave opportunity and mechanism that add value to the services rendered by personnel, both those assigned in the field and those covering the office or those stationed in Regional Offices, through the discussion and interaction of ideas and more straightforward interpretation and understanding of rules and regulations of the Authority.
The fun-filled night on the third day complimented the loading of information, knowledge, and wisdom shared.
Looking forward to the conduct of the Retooling on the remaining three batches for Visayas and Luzon (2) come 2023!
---
Photos: