On October 28, 2021, the Small Business Corporation (SB Corp) and the Cooperative Development Authority (CDA) renewed its partnership by signing a Memorandum of Agreement (MOA), held at the SBC Board Room, Corporate Center,  Makati City.  The partnership aims to extend credit and financial access to cooperatives through Pondo sa Pagbabago at Pag-asenso (P3) Program and the Bayanihan Covid 19 Assistance to Restart Enterprises (Bayanihan CARES) Program.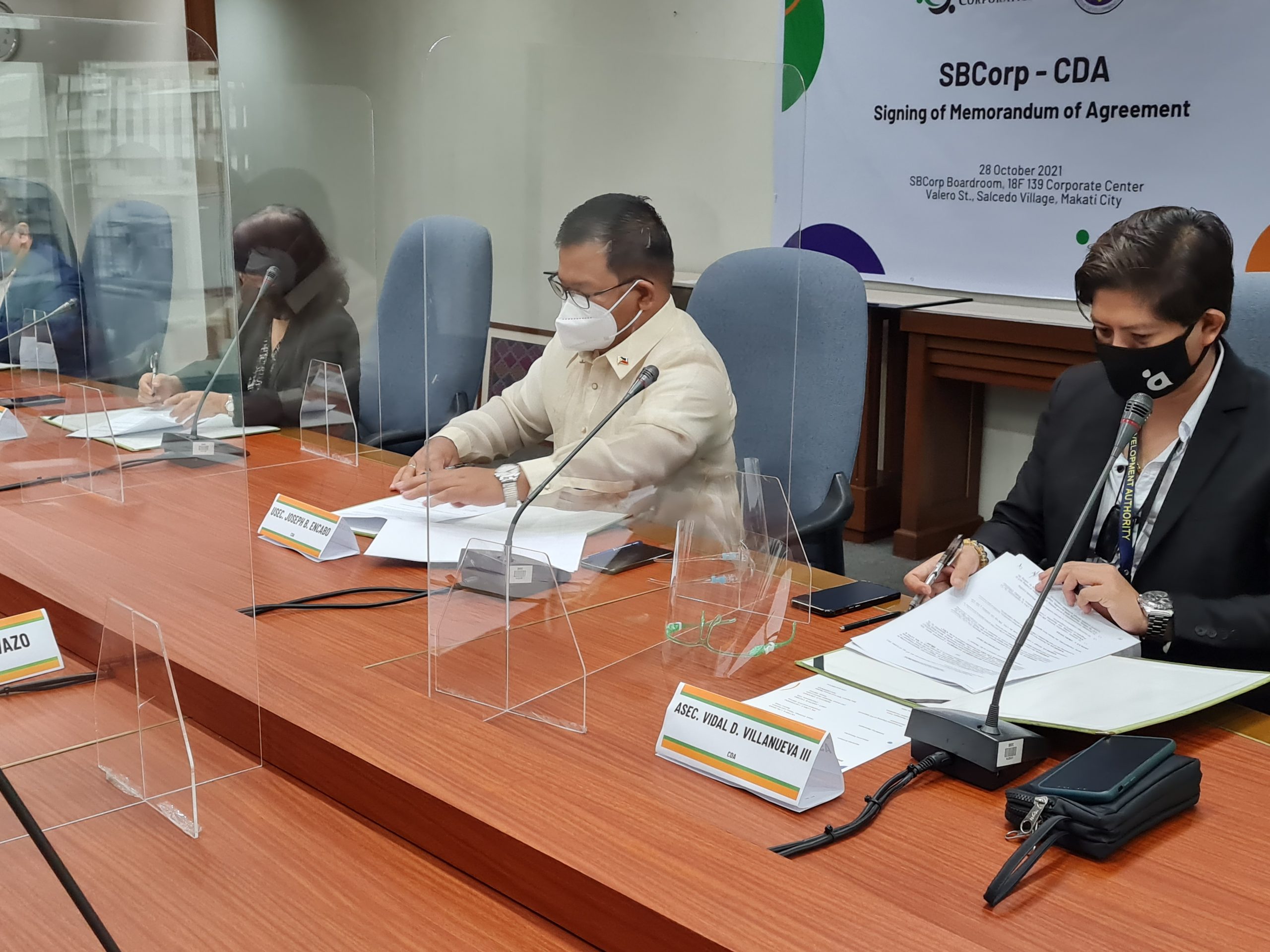 In her message, SB Corp President Ma. Luna E. Cacanando, said that SBCorp has seven (7) target MSME segments that are in need of financial access or capital for the viability of their businesses, and which she hoped to serve with the partnership with CDA.  She expressed gratitude to CDA and looked forward for a better and stronger relationship for the benefit of MSMEs.
CDA Chairman Usec. Joseph B. Encabo, for his part, extended his appreciation to SB Corp for collaborating with CDA to provide opportunities to cooperatives, most specially to micro and small enterprises, in this time of uncertainty, thus, paving their way to recovery.
The ceremonial signing was also highlighted by the approval of loans under the Pondo sa Pagbabago at Pagbabago (P3) and signing of documents of two cooperatives: San Ramon MPC and Roxas Market MPC (ROMMCO), which was announced by OIC Group Manager of Southern Group Rebecca D. Ancanan of SB Corp.
          The signing ceremony was attended by the principal signatories to the Agreement, SB Corp President Ma. Luna E.  Cacanando and CDA Chairperson Usec. Joseph B. Encabo, and witnessed by SB Corp Vice President for Planning Angelito Acupan and CDA Asst. Sec. Vidal V. Villanueva III, head of Finance Cooperatives Cluster.  Also present from the CDA were Asst. Sec. Myrla B. Paradillo and Deputy Administrator Ray R. Elevazo and other officers.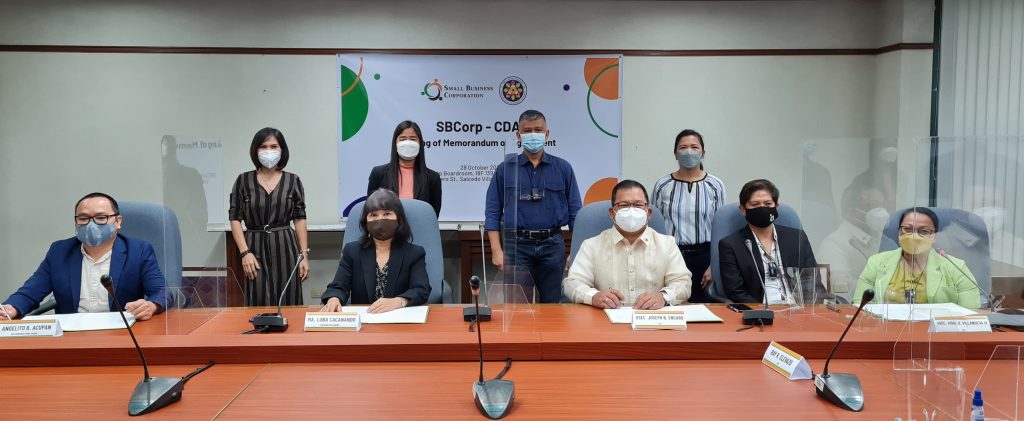 The collaboration of CDA and SB Corporation started in 2019 when both agencies forged a partnership for the promotion and implementation of P3 program for cooperatives.  The partnership was expanded to cover also the implementation of the Bayanihan Cares of the SBCorp.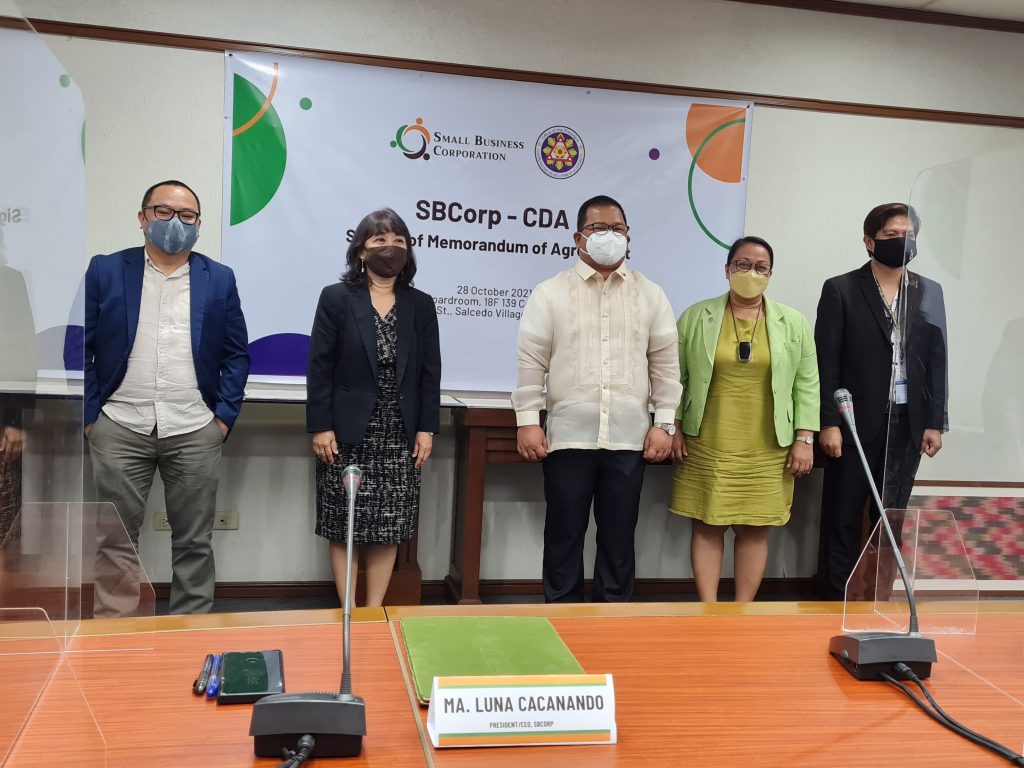 In his closing message, Asec. Villanueva conveyed his gratitude to SB Corp for forging a MOA with CDA.  He recognized the event as a very important milestone for both agencies as this will promote the expansion of microenterprises to help them restart and regain success of their businesses which were adversely affected by the pandemic. The SB Corp-CDA partnership hopes to continuously provide opportunities to MSMEs to recover and rebuild their businesses. (C. Reyes)