Kim's Dream
Orlando R. Ravanera
Datu Sumael called me 10  o'çlock in the morning last Satuday.  He was requesting me to give him time, at least 30 minutes, to share the Indigenous People's painful experience and the no-ending death threats against them. Yes, during the Pre-IP Summit a week before, we have decided that Datu Sumeal should be one of the Presenters on the Topic on How Oppressed are the Indigenous Peoples?  This National Event, the first of its kind IP National Virtual Summit is to be held on Dec. 15 in CDA Compound, Cagayan de Oro.  With firm commitment, I assured him that he would have that time, even for one hour, to share the truth on how the IPs are being oppressed. All  is set  for him to divulge the truth.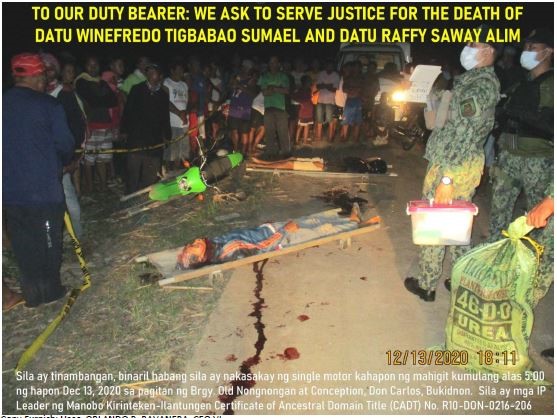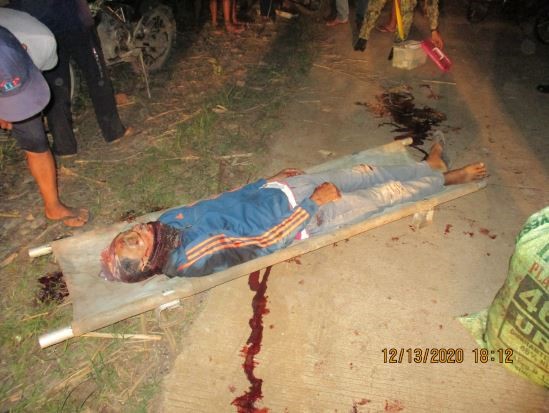 JUSTICE FOR DATU WINEFREDO TIGBABAO SUMAEL AND DATU RAFFY SAWAY ALIM
But the following day, Datu Winefredo Sumael and Raffy Saway Alim were brutally murdered in Don Carlos, Bukidno. Now that they were killed, have they been silenced? NO!!! Unknown to the killers, Datu Sumael had emailed to me the issues and the detailed information narrating how their 23,200 hectare-Ancestral Domain is  being illegally landgrabbed from the 24 Ancestral Clans of the Manobo Kirinteken-Ilentumgen, Such glaring ownership is shown by titles awarded to them  by the National Commission on Indigenous Peoples (NCIP) on February 10,2016. Although the land which before had been awarded to influential and powerful non-IP migrants who converted such vast tracts of land sugarcane plantations by virtue of a  25-year certificate of stewardship  contract issued by the DENR to the non-IP migrants in 1992, that 25-year Stewardship Contract has already lapsed in 2017. Here is the Report from Datu Sumael before he was murdered"
"Tuig 2019, nakig dialogue kami sa mga NON IP (Bisaya)  nga tulo naman katuig ang milabay human nag expire ang ilang kontrata (Stewardship Contract) mopuli na usab kami nga mga lumad Manobo Kirinteken-Ilentumgen sa pagtikad sa maong ancestral domain. Busa ang mga kabatan-onan namo nga mga lumad mao na ang nag-uma, daro ug guna sa mga luna nga kanhi gi okopar sa mga migrant.
Apan ganihang adlaw sa Martes, December 01, 2020 sa may mga alas 10:00 sa buntag kapin kung kulang sa dihang nag harvest (tapas)  na ang among mga kabatan-onan sa tubo sulod sa among CADT, kalit nga nag-abot ang usa ka sakyanan nga Ten-wheeler Hauler Truck nga puno sa mga tawo, pulos lalake, naay mga sundang, pinangulohan sa Punong   Barangay sa Buyot, Don Carlos, Bukidnon nga mao si Kapitan Rodirex Cinco, uban sa iyang mga tawo nga sila si Roy Candole,  Francing dela Calsada, Apolinario Dedumo, Dodo Sordilla og Danny Monterde.
Gibadlong ni Kapitan Cinco ang mga tapasero nga mga Lumad, gipaundang niya, ug nag-ingon sya nga iyang ikarga sa iyang truck ang natapas na nga tubo ug dili pud niya e-surrender ngadto sa mga lumad ang yuta nga iyang gitikad bisan wala na siyaý papeles ug siya pa gayod ang ga pang-sukit sukit kanamo kung naa ba kami papeles? Busa among gitunulan sa CADT Documents pero wala gihapon sya mosanong, makiglantugi gihapon siya kanamo.
Gawas sa mga tawo ni Kapitan Cinco nga mga civilian, nagdala sya ug daghan nga mga police, naka "full-battle gear" armado kini sa mga taas nga kalibre sa pusil ug pipila niini makita sa mga litrato nga among gisukip niining sulat.'
Ang ilang sulat nga nagpadayag sa nasangpit na mga kamatuoran napadala na nila sa Chairman sa NCIP, the Honorable Allen Capuyan dated Dec. 01,2020.
In a strongly worded position paper, the thousands of those who attended the Dec. 15 IP National Zoom Summit have collectively condemned to the highest degree the killings of the two brave IP leaders and shouting that "JUSTICE BE DONE 'TILL HEAVENS FALL!" All the IPs and the cooperatives nation-wide are one in their call for justice and are expressing their love in this poem entitled, "VERITAS LIBERATIVE VOS":
My name is Veritas, So simple is my language, Mankind runs after me because I am a precious possession. But to the rule of powerful greedy politicians and businessmen, who are grabbing our lands,  I am a threat, So I have to be silenced.  They have ordered to kill me and imprisoned me inside the dungeon.  But there will always be lovers who will search for me because they cannot live without my presence. They do not know that inside the darkness of the dungeon, I am gaining strength.  One day when the Filipino People are awakened on the non-stopped oppression and killings of the IPs, I will burst out in the open and LIBERATE everyone that shackled mankind.  VERITAS LIBERATIVE VOS! The truth shall set us free!
Kini nga balak para ni ss among gimahal nga DATU SUMAEL og DATU ALIM nga walay kalooy nga gipatay kaniadtong Dominggo Dec. 13.2020 tungod sa ilang pagsulti sa kamatouran!