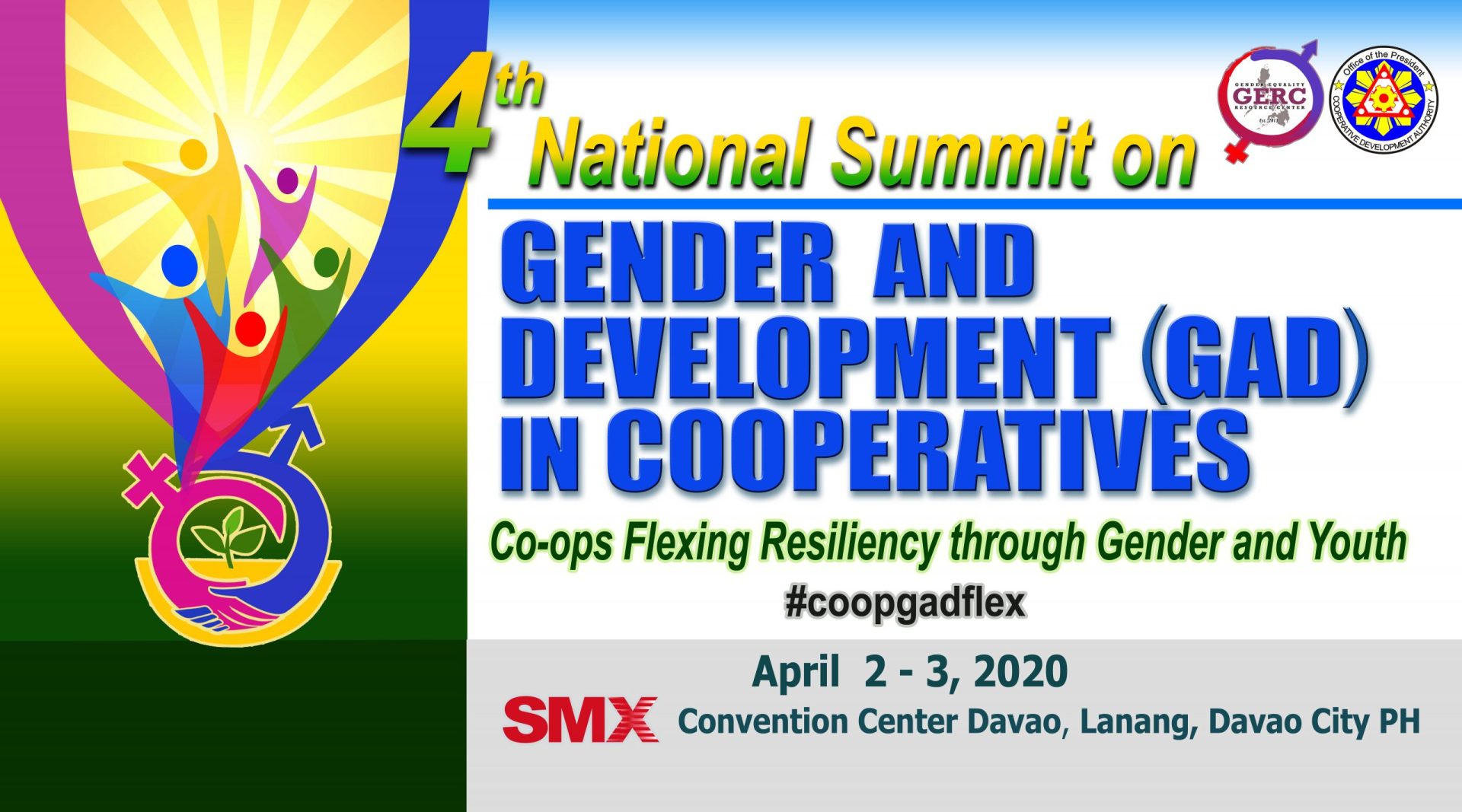 RATIONALE
In 2018, the "3rd National Summit on Gender and Development (GAD) in Cooperatives" aimed to help co-ops harness the United Nations Sustainable Development Goals (UN SDGs) towards building their increased participation in development while improving their organizational strength in the process. The summit likewise intended to promote gender equality (GE) and end all forms of discrimination against women in co-ops, workplaces, and communities by 2030.
The 2020 National GAD Summit theme "Co-ops Flexing Resiliency through Gender and Youth" #coopgadflex now calls on co-ops to go a notch higher in meeting the challenge of the UN SDGs by highlighting and flexing how co-ops—with their dual socio-economic role and nature—have the structure, resources, as well as principles and values to be resilient organizations which can address different issues confronting their membership, with impact at the community to the national level. And by being gender-fair organizations involving the youth in development, the co-ops become even better. Likewise, co-ops can motivate other co-ops and organizations to work on issues besetting society, more particularly climate change and environmental degradation. It is imperative to address these concerns promptly as the lives of the cooperatives and their members, which are inextricably linked together, may be affected.
Climate change is global and poses real threats to life and property. The regular occurrence of natural hazards like floods, droughts and earthquakes in the Philippines, the country sitting as it is in the typhoon belt and so-called "Ring of Fire" in the Pacific, has resulted to loss of many lives and properties. Since the country is presently in the process of finding ways on how to develop its capability for crisis awareness and management, Filipinos (and all of humanity, for that matter) have to immediately implement appropriate responses, such as "adaptation" (to build resiliency in coping with and recovering from climate change impact); "mitigation" (to have interventions to help reduce greenhouse gas emissions); and "disaster risk reduction" (to reduce damage from natural hazards).
Presently, there are already Philippine co-ops implementing actions at varying levels to address climate change and its impact. In its September 2019 statement "The fight against climate change concerns us all" issued worldwide, the International Co-operative Alliance (ICA) reiterated that the co-op movement is strongly committed to act on environmental issues, and the movement's sectors—such as agriculture— are increasingly concerned with environmental sustainability. With the co-op members' communities rising needs and aspirations for a healthy and non-toxic environment, the co-ops have a key role in the sustainable use of the planet's resources. More co-ops are taking the lead in addressing climate change because the co-op model, as emphasized by ICA, is well-suited to linking environmentally friendly projects with the improvement of communities' livelihood. With their local roots and ethical approach, co-ops are a strong ally for sustainable development and for combating climate change and environmental degradation.
Nonetheless, climate change-related efforts of co-ops, even if the movement is strong and united—will be more enhanced and sustained if co-ops' critical force can move other co-ops, communities, development organizations, and other concerned agencies, into action.
More so, the co-op advantage and resiliency in fighting climate change will be strengthened by its advocacy and promotion of GE. This is because women and men of co-ops, both from the adult and youth sector, have roles to play and benefits to gain from actions addressing climate change. Climate change may exacerbate gender inequality if the emerging needs and concerns of women and of men from the situation are not addressed.
Another key to achieving the UN SDGs as a whole is recognizing the youth's role and contribution to development. Young men and women are not just beneficiaries of development. Many of today's youth are already "awake" and doing their share, even leading in their own sector and field. Since the future is in their hands, co-ops have to utilize their ideas and passion, together with those of the more mature membership, in order to achieve the needed organizational strength to sustain positive growth, and at the same time, promoting GE and gender-sensitization.
Objectives of the 4th National Summit on GAD in Cooperatives:
1. Sustain gender and development (GAD) mainstreaming in co-ops
2. Recognize and strengthen the participation, partnership, and voice of the youth in gender equality (GE) and climate change for co-op and community development
3. Identify and flex/activate the role of co-ops in climate change adaptation and mitigation
4. Issue a call for action to all co-ops, legislators, government agencies, and civil society to help co-ops become even stronger resilient and sustainable organizations.
PROGRAM OF ACTIVITIES
April 2-3, 2020

April 2, Thursday
AM
Registration of participants
12:00-01:00
Lunch
01:00-03:00
Opening Program
03:00-04:00
Photo Opportunity (per region of participants)
03:00-06:00
Networking Session
06:00-10:00
Solidarity Night
April 3, Friday
08:30-09:00
Preliminaries
09:00-09:45
Global Perspective: Climate Change, Gender, and Youth
09:45-10:30
Climate Change Adaptation and Mitigation in the Philippines
10:30-10:40
Intermission number
10:40-11:40
Youth Taking the Mic in Development
11:40-12:00
Open Forum
12:00-1:30
Lunch break
01:30-02:30
GAD Mainstreaming in Co-ops: Updates from CDA and GERC Inc.
02:30-03:40
Best Practices of Mainstreaming GAD in Co-ops—Using the GAD Assessment Tool (Luzon, Visayas, and Mindanao)
03:40-04:00
Open Forum
04:00-05:00
Presentation and Discussion on the Summit Declaration and Call for Action
05:00
Closing Activity
For Registration Procedures and invitations, please download the following: