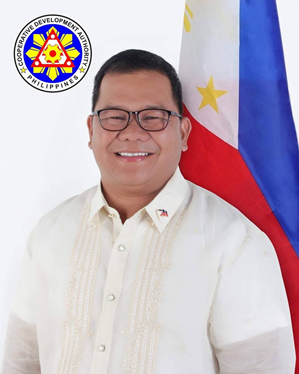 Undersecretary JOSEPH "JOY" BALLOTA ENCABO was appointed as the Chairman of the Cooperative Development Authority (CDA) by President Rodrigo Roa Duterte on April 13, 2021 for a six-year term.
A proud product of Ateneo de Davao University, Usec. Encabo's mentors from the Catholic and Jesuit institution were the first ones who recognized his leadership abilities. Immediately after completing his Bachelor of Arts Major in Sociology in the said College in 1997, Usec. Encabo rendered a two-year service for the City Government of Davao under then Mayor Rodrigo Duterte. He continued his career at the Philippines Sports Commission (PSC) for almost 10 years as Project Development Officer, and eventually as Senior Executive Assistant.
Driven by his passion for public service, Usec. Encabo has served two terms as barangay councilor at Barangay Matina Crossing in Davao City. He officially joined the cooperative sector in 2013 as a member and the Officer of Mediation and Conciliation Committee of El Grande Multi-Purpose Cooperative in Davao City. Additionally, he has been a member of the Tagum Cooperative since August 2013.
Before his stint as the CDA Chairman, Usec. Encabo served as Assistant Secretary of the Presidential Management Staff for Regional Concerns, and as the concurrent head of the Office of the President-Events Management Cluster from July 2016 until 2021.
He completed his Masters Degree in Development Management and Governance at the University of Makati in March 2019. He is now at the last leg of his Executive Doctorate Degree in Leadership Major in Public Management at the same university.
Usec. Encabo's flagship programs for the next six years are aimed towards strengthening and developing the micro and small cooperatives. The CDA, under Usec. Encabo's wing, advocates to be a "Listening CDA" – offering an equal platform to all cooperatives regardless of its size and category. Usec. Encabo is also spearheading an increased government-to-government and government-to-private sector partnerships, as well as more trainings and capacity building measures to forge more opportunities to the entire cooperative sector. Most importantly, Usec. Encabo's main vision is to lead a unified and cohesive cooperative movement. "Shared mission & shared action" – a mantra of commitment led by the CDA Chairman forefronts the whole institution to achieve greater heights in unity and mutual support.