The Cooperative Development Authority Region 1 Extension Office (CDA R1 EO) conducted its third KPOP Forum in the region, dubbed "Kooperatiba Para sa Kabataan: Programa at Oportunidad na Pangkabuhayan," with more than 200 aspiring entrepreneurs taking part. The participants were composed of youth entrepreneurs, potential youth entrepreneurs, youth organizations, cooperatives and partner enablers for the youth entrepreneurship development.  The forum was conducted in partnership with the National Government Agencies (NGAs), Local Government Units (LGUs), and various Cooperatives in the region. The program pursues to share two different worlds between the government and average youths via access to financing, business opportunities and skills training that can be provided by cooperatives and CDA's partner institutions.
In his opening remarks, CDA R1 Acting Regional Director Alberto A. Sabarias stressed that the role of KPOP is crucial in strengthening the economic development among young individuals and communities. The Director also expressed his utmost support towards the development of young entrepreneurs in the region and wished them continued success, especially at these time of pandemic. He also reaffirmed the need of CDA providing financial assistance to youth, as well as concrete solutions and continued development initiatives, in order for them to grow and thrive in the industry.
Assistant Secretary Vidal D. Villanueva III, in his Keynote address, highlighted the significance of embracing the initiatives created by government agencies and cooperatives for the youth sectors. He recognized the CDA R1 as the role model for Laboratory Cooperative not only in the region, but throughout the country. He correspondingly presented the interrelation between the celebration of Global Money Week and KPOP forum, and he extended his profound appreciation and gratitude to everyone who attended the aforesaid program.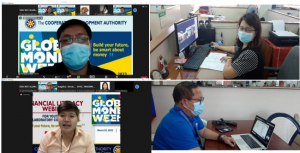 "Global Awareness raising campaign accentuates the importance of ensuring that young people are financially aware from any case and gradually acquire the knowledge, skills and attitudes and behaviors required to make sound financial decisions and eventually achieve financial stability and success," said Asec. Vidal D. Villanueva III.
"Our participation in the Annual Global Money Celebration will reinforce our efforts to increase the participation of our youths in the cooperative movement," he added.
To assist youth in developing their entrepreneurial skills, eight (8) Resource Speakers from various NGAs and cooperatives were invited to share their programs, initiatives, and best practices that may assist youth sectors in addressing knowledge gaps, increasing efficiency, and fostering leadership. Participants were apprised on the different training programs on entrepreneurship, skills enhancement and possible employment opportunities offered by the DTI, TESDA, DA, DOLE, SACDECO, LU MPC and SHSC respectively. The CDA, through the presence of Sr. CDS Filipina H. Porio of the Registration Section presented the organizational values and principles of the cooperative and the social welfare benefits they can avail of when they finally become a member.
At the end of the presentation, an open forum was conducted where attendees may share their concerns and issues about the topics covered by each resource speaker. Thereupon, resource speakers were awarded Certificates of Appreciation.
The closing remarks was delivered by Acting Assistant Regional Director, Edilberto G. Unson. Hosted by Cooperative Project Development and Assistance Section (CPDAS) withSr. CDS Jacqueline L. De Leon at the helm and CDA Regional Office personnel as event organizers, the CDA KPOP forum was conducted in the region through blended learning platform on 25 March 2022. (By: Jasper V. Ferrer)