"Bassit A Ganansia Naurnong Omado Sanikua"- Ilocano phrases where acronym BAGNOS was derived. The Bagnos Multi Purpsose Cooperative of Brgy. Binacag, Banna, Ilocos Norte with dedicated Officers & Management Team, believes that better changes could only be attain by cooperation, unity, hard work and strong determination.
Bagnos MPC offers agricultural inputs trading, credit services, trading & processing of farmer-members produce and farm equipment to rent. Constant changes and innovations of services are manifestations that its management are always inspired on how to serve more the member and non-members, as well.
The increasing member and non-member clients' challenges the management of Bagnos MPC to play its role in the economic development. But for Bagnos MPC, the presence of challenges is an opportunity to grab for a better change.
Through its years of service in the community, Bagnos MPC was able to established its name, its relationship with the Local Government Units, National Government Agencies, Non-Governmental Organizations, and others. With its established name and good management, Bagnos MPC was able to acquire most of its assets (farm machineries, food processing facilities, cash grants, etc.) through grants and donations. Indeed, a remarkable practice.
And once again on January 20, 2021, Bagnos MPC was awarded with One Million Pesos under the Kadiwa ni Ani at Kita Inclusive Food Supply Chain Program of the Department of Agriculture –Regional Office 1. With this amount, the L300 Van was procured which is a big help for the management to improve and better their services.
      For the Officers & Management of Bagnos MPC, challenges and changes are always welcome if these will bring better service and improvement to the quality of life of Bagnos MPC members. (Marwin C. Peralta, CDS II)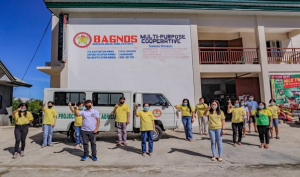 Officers and Management Team of Bagnos MPC. Behind is the newly purchased L300 Van of the cooperative.
Photo Credit : MS. CRISALIE ALLYSA BAUTISTA