The Region I Extension Office headed by Regional Director, Atty. Frederick Robles started the CDA Region 1 Cooperative Assessment and Redevelopment thrU Empowerment for Sustainability (CDA R1 CARES). This program of the CDA Region 1 is in support to the CDAs mandate to promote the viability and growth of cooperatives as instruments of equity, social justice, and sustainable economic development. Said program aims to discover the issues, concerns, and challenges of the micro cooperatives, as well as why, despite having registered as a cooperative for many years, the cooperatives are not growing and remains as micro cooperatives category. Hearing their perspectives and allowing them to identify their concerns and challenges would be the foundation for providing advice, and they would seek possible ways to help them find the most effective solutions for their growth and development.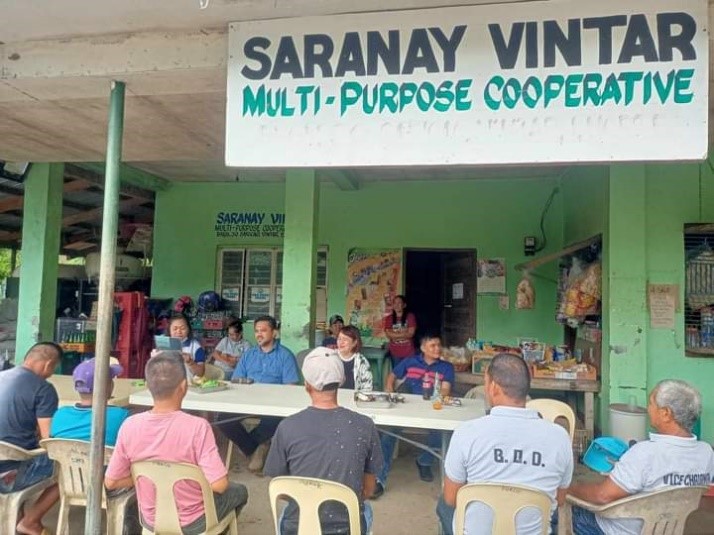 The Regional Director administered the consultation with the seven (7) cooperatives in Brgy. 30 Saricao, Vintar, Ilocos Norte on August 25, 2023, together with Sr. CDSs Jacqueline De Leon & Renee Faye Cariño, CDS IIs Rosievic Medina, Marwin Peralta and Christine Joy Combes. The micro cooperatives present during the visit are the Tungel MPC, Sarsarguelas MPC, Isic-isic MPC, Saranay Vintar MPC, Cabayo Survivors Agriculture Cooperative and the Timpuyog ti Lipay Agriculture Cooperative. The LBN Multipurpose Cooperative, the only small cooperative in the area was also present and shared some of their issues and concerns including their best practices in their cooperative operations which inspired the micro cooperatives.   Some issues and concerns were raised by the cooperatives are compliance with mandatory reports, high cost of audit fee of accredited external auditors, late receipt of AFS from external auditors and some problems in their cooperative governance and management.
The Regional Director favored consolidation, but the officers were not yet aware of it, therefore he promised that CDA will return for further discussion/explanation. In addition, the Regional Director informed the officers of the cooperatives present that in order to be successful, the cooperative must have good leadership, precise goals/targets, and concrete plans and programs to accomplish the desired goals/targets. He further advised that they must have to undergo trainings such as Strategic Planning and Capability Building.
The Cooperatives from Brgys Saricao, Lipay, Cabayo and Isic-isic, Ilocos Norte expressed their appreciation to the CARES program of the CDA. The Regional Director assured the cooperatives that the challenges and issues of the cooperatives will be addressed. (Rosievic R. Medina, CDS II)