For decades, the Cooperative Development Authority Region I Extension Office (CDA ROI)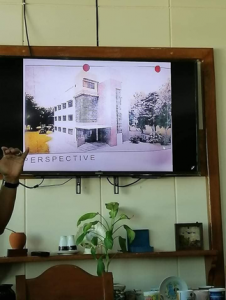 has been paying rentals at 3F Siapno Bldg., Perez Blvd., Dagupan City. Through the initiative of the former Regional Director Josefina Bitonio, a 1,500 sq.m. located at Pangapisan North, Lingayen was granted to CDA ROI by Hon. Mayor Leopoldo Bataoil.
On January 24, 2022, ASec. Vidal Villanueva III and his consultant together with CDA ROI Acting Regional Director Alberto Sabarias, TWG members Acting Supervising CDS Edilberto Unson and Atty. Katherine Ellorin went to the Municipality of Lingayen to discuss regarding the finalization of technical design of CDA ROI building with Hon. Mayor Bataoil. DPWH Engr. Rey Sibayan, Engr. Bugarin and other engineers and architects involved in the construction also attended the meeting.
The meeting started at 9:00 AM with a prayer led by the municipal staff. Mayor Bataoil introduced his staff to CDA and DPWH. After a short introduction, the Municipal Mayor gave a brief background of the usufruct granted to CDA ROI and presented the initial design of the building crafted by DPWH. ASec. Villanueva emphasized that, in observance of the municipal ordinance, the CDA adopted the Limahong design for the CDA ROI roofstyle. Thus, the revised design of DPWH which incorporated the Limahong style.
During the discourse, ASec. Villanueva also mentioned regarding the plan to construct a training center for cooperatives and quarters for staff and resource speakers to which the Municipal Mayor supported. At 10:30 AM, the meeting was concluded as Hon. Mayor Bataoil will be on out of town trip.
A dream of CDA ROI building will soon to realize within a few months at the Government Center of Lingayen. With the new office building, it will bring its employees together to collaborate, create and innovate ways for better service to its clientele.
Ad Majorem Dei Gloriam.(Atty. Katherine F. Ellorin)