Republic Act No. 11524, otherwise known as the Coconut Farmers and Industry Development Trust Fund Act, enacted and prescribed the management and utilization of coco levy fund with the end goal of uplifting the livelihood of coconut farmers and sustain the development of coconut industry in the country. It is a result of whole-of-government cooperation involving various relevant government agencies, academic institutions, private sector stakeholders, industry players, and coconut farmers. In line with this, the Coconut Farmers and Industry Development Plan (CFIDP), was crafted and for implementation by the Philippine Coconut Authority (PCA) and other National Government Agencies where the Cooperative Development Authority (CDA) was among of the identified implementing agencies.

Specifically, the CDA's commitment in the CFIDP geared towards organizing strong and self-sufficient coconut farmers' cooperative operating viable agribusiness enterprises, increase productivity and income of the coconut farmers providing tangible economic opportunities and benefits to its member-coconut farmers, adhering with the principles of cooperativism.
With this collaboration, the CDA has the develop the following programs/projects and activities under the plan, namely,  Strengthening of coconut farmer cooperatives through capacity building program, Social preparation and training of Coconut Farmer Organizations and Organizing of individual coconut farmers and implementation of support mechanisms.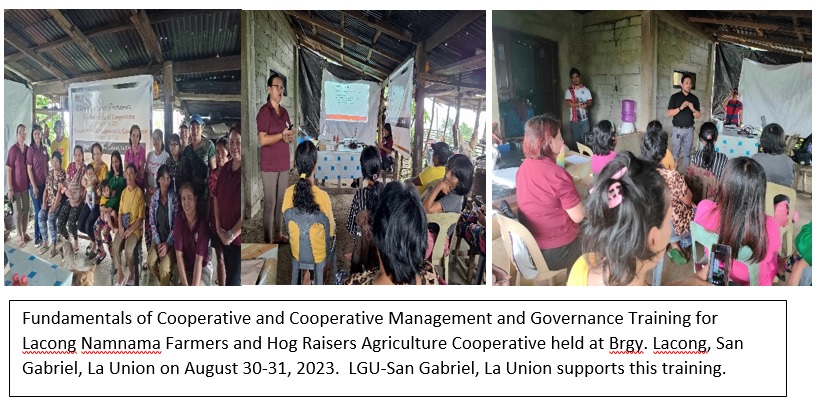 The CFIDP is now on its second year of implementation, the CDA Region 1 Extension Office has conducted different capacity building program for the coconut farmers' cooperatives to further enhance their knowledge and skills, for efficient and effective service delivery and institutionalize good management and governance in their business operations.
The various trainings conducted from June 2023 to August 2023 are the following:
| | | | | |
| --- | --- | --- | --- | --- |
| | Title of Training | Date | Venue | No of participants |
| 1 | Basic Accounting for Coconut Farmers | June 15-16, 2023 | Pagudpud, Ilocos Norte | 8 CFCs |
| 2 | Basic Training on Coconut Production | June 21, 2023 | Candon City, Ilocos Sur | 3 CFCs |
| 3 | Training on Marketing of Coconut products | June 22, 2023 | Candon City, Ilocos Sur | 3 CFCs |
| 4 | Training on Policy Formulation | August 15, 2023 | Umingan, Pangasinan | 1 CFC |
| 5 | Training on Basic Coconut Production | August 18, 2023 | Dasol, pangasinan | 1 CFC |
| 6 | Fundamentals of Cooperative | August 30, 2023 | San Gabriel, La Union | 1 CFC |
| 7 | Cooperative Management and Governance | August 31, 2023 | San Gabriel, La Union | 1 CFC |