The creation of the Rice Competitiveness Enhancement Fund (RCEF) through the R.A. 11203 has paved the way for implementing the country's Rice Mechanization Program with an annual fund allocation of P10 Billions for the period of six-years. With the above-said program, the Philippine Center for Postharvest Development and Mechanization (PHilMech) is implementing government agencies with an annual budget of P5 Billion for the mechanization program. It covers the distribution of farm machineries and postharvest processing facilities to farmers' cooperatives and associations (FCAs) and local government units (LGUs). This government-led investment is designed to increase the level of mechanization of the country's rice industry and become globally competitive.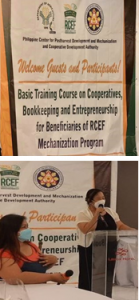 It also intends to raise the farmers' productivity and improve competitiveness through strengthened access and appropriate rice farm machineries and equipment. To achieve this goal, the government shall provide the necessary support to FCAs and ensure that the necessary operational procedures are in place, the entrepreneurial skills of the FCAs management team are enhanced, and their networks are increased.
They should realize the initiated government projects are for sustainability through entrepreneurial management to improve their present farming situation and generate additional income.
As a strategy, the PHILMECH entered into a partnership through forging a Memorandum of Agreement (MOA) with the Cooperative Development Authority (CDA) to develop and implement timely and appropriate entrepreneurial capability enhancement interventions based on the needs of the FCAs. The partnership dubbed the project as "Entrepreneurial Capability Enhancement of the Farmers' Cooperative Associations (FCA) Beneficiaries of the Rice Competitiveness Enhancement Fund (RCEF) Mechanization Program". The implementation of the project refers to the physical or virtual conduct of capability enhancement such as trainings and or learning sessions for Farmers, Cooperatives, and Associations (FCAs) who are recipients of the RCEF Mechanization Program.
With the joint forces of the CDA and PhilMech, it aims to strengthen, develop and likewise inculcate cooperative awareness and entrepreneurial capabilities among FCA beneficiaries, including its value and merit in the sound operation of an agricultural business enterprise. The capability training will be the Basic Training Course on Cooperatives, Bookkeeping, and Entrepreneurship for Beneficiaries of RCEF Mechanization Program. Enhancing the skills and knowledge of the FCA beneficiaries will contribute to ensuring the sustainable operation and use of the machinery distributed to them, resulting in higher productivity and profitability, capability to operate and manage the Farm Machinery Service Provider as a sustainable social enterprise.
For CDA Region 1, there are 65 FCAs targeted this year to benefit from this project, with a total of seven batches of trainings for the FCAs will be conducted.  The first two  batches of trainings provided to FCAs conducted last October 27-28, 2021, and November 3-4, 2021, and both were held at Lenox Hotel, Dagupan City. (By Jacqueline L. De Leon, Sr. CDS-CPDAS)