While we live through circumstances unlike anything seen in generations, this too shall pass. We will take from our experiences the strength to help our cooperatives develop appropriate contingency plans to be more prepared with pandemics and disruptions of our time.
The 2021 CDA Region 1 Extension Office has come up with approaches to assist our cooperatives, such as 14 webinars with 2,489 cooperatives and 6,859 participants (regular participants and viewers in our FB Livestream) in partnership with Tulong Balita Online, a private organization based in Dagupan City.
Building and strengthening relationships ahead of time has other benefits. Some eight cooperatives availed of the Kadiwa ni Ani program from the Department of Agriculture, in which a total of PhP 16 Million was given to these cooperatives in the form of grants. Another PhP 1 Million was awarded  to Badoc OFWs Marketing Cooperative from OWWA.   We also encouraged our six large cooperatives to become partner cooperatives to assist eight micro and small cooperatives as beneficiary-cooperatives. D Plowman MPC, an agrarian cooperative, also partnered with DAR on the pioneering project dubbed as BALAI – Building Adequate, Livable, ARBs/Farmers Housing Program worth Php 67 Million.
Under the Mainstream Cooperative into the Balik Probinsya Bagong Pag-Asa Program (BP2), three coordination were undertaken with the following agencies and cooperative, to wit: 1. NHA –Region 1; 2. OWWA Ilocos Sur; and 3. Bacarra MPC.  An Orientation on the BP2 program was conducted on March 23, 2021, in partnership with NHA Region 1 and cooperatives from small, medium, and large categories. Two cooperatives referred to the LGU of Ilocos Norte for possible livelihood assistance under the BP2 program.
Almost all cooperatives struggled to keep up with the ever-evolving regulatory requirements. Thus, the CDA issued 12 Memo Circulars as a response to the effects COVID19.  These memoranda  were disseminated to ease the plight of cooperatives i.e, deadline in the submission of mandatory reports was extended,  the Agency provided regulatory relief in the conduct of general assemblies, and allowing a more flexible mode to conduct GA thru virtual platforms and use of social media inclusive to members only.  Also, the validity of the Certificate of Compliance which expired April 30, 2021, was extended until June 30, 2021.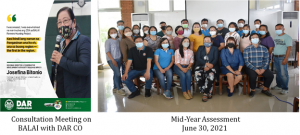 The regular conduct of mentoring, coaching, provisions of technical assistance and various webinars resulted to the issuance of 503 Certificate of Compliance. The Cooperative Research and Information Section were able to conduct 69 Pre-registration Seminar of which 37 new cooperatives were registered by the Registration Section.  One (1) Credit Surety Fund (CSF) Cooperative was endorsed for registration to TAD-CSFD and was registered. There were 22 amendments to cooperatives ACBL were registered, four satellite offices and six Regional Clustered Organizations were recognized
The CDA employees were diligent in coping with the ever-challenging task to keep up and deliver the work demands.  The data obtained from the reports of 357 cooperatives of varied categories for the first semester of 2021, the Region 1 total assets is PhP 38,574,309,540.30, Paid Up Capital of PhP 2,640, 972,876, Net Surplus of PhP 124,540,555.76 membership 556,965 with employment generated of 5206 individuals.  Based on the figures, COVID-19 did not deter the positive contribution of cooperatives in the economy.
On Business Processes Facilitated through the Value Chain, nine cooperatives reported the best business processes facilitated through the supply and value chain activity. Under the Cooperative Business Matching Information System (CBMIS), 22 cooperatives monitored and reported concerning the use of the system (P=6; LU=2; IS=7; IN=7); Ten cooperatives with products and services registered/enrolled in the system (P=1; LU = 5; IS =4); 57 cooperatives were referred/endorsed to partner NGAs and LGUS for possible technical/financial assistance (P=43; LU=4; IS=6; IN=4). Under the Advocacy Programs and Initiatives, We have provided technical assistance also to Persons with Disabilities (PWD) and Senior Citizens on the following aspect: mentoring on compliance to mandatory reports, TIMTA reports, webinars, online encoding of CAPR/AFS, Koop Kapatid Program and advisories on regulatory and developmental issuances.

The CDA participated in the different meetings and activities such as 1. RTF-ELCAC RDC-RPOC Joint Meetings 2. PRLEC Conference/meetings 3. JRTF I Levelling Session – ELCAC 4. RTF ELCAC Orientation on Google Workspace. The participation and support activities related to the Whole of Nation Approach to End Local Communist Armed Conflict (NTF-ELCAC) under E.O. No. 70, The CPDAS regularly submits reports (weekly, monthly and quarterly) to TESDA Regional Office as the cluster head under Poverty Reduction and Livelihood Employment Cluster (PRLEC) and had endorsed 2 IP cooperatives from the province of Ilocos Sur to TESDA Provincial Office in Ilocos Sur and to the Provincial Government of Ilocos Sur for technical or financial assistance.
The CDA has come up with approaches to health protocol. The WFP provides supplies to employees for everyday use, flexible working arrangements, and communication load to continue delivering services to cooperatives. On internal coordination and to ensure everyone's involvement, virtual weekly convocations were conducted for the staff to update them on new MCs, assignments, timelines, reminders, advisories. The meetings serve as the venue to clarify issues and concerns. Any changes, additional programs for implementation were immediately disseminated and cascaded to all employees and the sector, especially on the various RCO organizations and their subsequent meetings.
To effect positive transformation in the behavior of the CDA R01 workforce, the Human Resource (HR) Section, together with the management, implemented the Values Restoration Program (VRP) pursuant to the Civil Service Announcement No. 40 series of 2017 through a weekly convocation every Mondays of the week. From January 4, 2021, up to June 28, 2021, there were 22 virtual convocations had been conducted. Weekly value focus follows the Patriotism, Integrity, Excellent and Spirituality (PIES) and the Civil Service Institute provided the schedule. The value focus discussed covered the following: Patriotism, Integrity, Excellence, Spirituality, Commitment/Dedication, Accountability, Decisiveness, Obedience, Selfishness, Equality, Submissiveness, Repentance, Cooperation, Faithfulness, Equality, Repentance, Value for Work, Humility, Interdependence, Reliability, Leadership, Conviction, Freedom, and Justice. The conduct of VRP is hoped to produce a positive result on the behavior of employees and that they may also contribute a positive performance on their tasks in particular and to the whole CDA organization in general.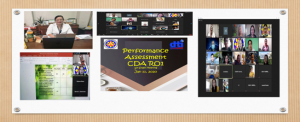 The CDA R1 is also a recipient of 1000 sq. meter lots from LGU, Lingayen, for the future construction of the CDA Regional Office thru a Deed of Usufruct. The CDA requested DPWH Lingayen to assist in preparing building design, plan of work, and cost estimates amounting to PhP 35 Million. The DPWH Laoag City approved a budget of Php 2.8 M building for the construction of CDA Ilocos Norte Sub office, and LGU Candon provided an office for the CDS-II, District II, Ilocos Sur including furniture and fixtures,
The Extension Office has been consistently committed in accomplishing all its programs for the benefit and welfare of the sector. The CDA R1 Extension Office received three Certificates of Appreciation from our partners: BFAR, DAR, and LGU Bayambang. The Mid Year Performance Assessment cum Disaster Preparedness Orientation was conducted last June 30, 2021, and it was participated by 38 personnel.