To reiterate the promotion of Gender Equality (GE) and institutionalization of Gender and Development in policies, programs and other activities of the cooperatives, the CDA Regional Office 1 conducted another webinar on Gender and Development (GAD) Mainstreaming last May 26, 2022 via Zoom.

In his opening remarks, Acting Regional Director Alberto A. Sabarias stated the definition of GAD Mainstreaming as a major global strategy for ensuring that the government pursues gender equality in all aspects of the development process to achieve the vision of a gender-responsive society where women and men equally contribute to and benefit from development.  He also briefly apprised the participants about the Philippine Plan for Gender-Responsive Development Plan which is a national plan that addresses, provides and pursues full equality and development for men and women.

Being the subject matter expert as having attended the Training of Trainers on Gender for Cooperatives, Ms. Fiona Bianca R. Cuenca satisfactorily undertaken the activity.  She initially introduced the basic gender concepts to enable the participants to relate and be familiarized with the topic.
She also presented and discussed gender socialization, gender stereotypes, gender roles and gender scripts and correlating such as gender issues pointing out the existing manifestations and inequalities thereof in cooperatives.  She went on discussing the duties, functions and responsibilities of the GAD Committee including the GAD Focal Person.  She also discussed the Authority's memo issuances on the topic.  She briefly mentioned CDA Memorandum Circular 2013-22 and expounded on Memorandum Circular 2017-04 as an essential tool for cooperatives in preparing their GAD plan.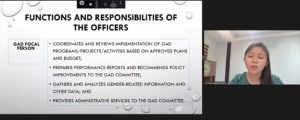 The webinar was well participated and appreciated by 214 cooperative officers-participants comprising of 62 males and 152 females representing various cooperatives in the Region, including those from Region 4-B among others.