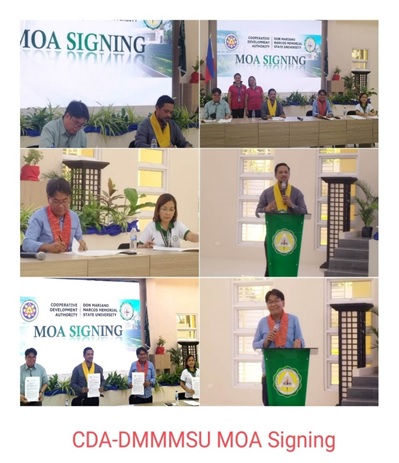 In pursuit of our agency's thrust program to forge Memoranda of Agreement (MOA) with State Universities and Colleges (SUCs) on the provision of Training of Trainers (ToT) for Cooperative Training Providers (CTPros), the CDA – R1 EO has identified the DMMMSU to be its partner in recognition  of the university's capability in providing quality education and learning in region 1 and promoting cooperative principles and values as part of their curriculum.  On May 2, 2023, the formal MOA was signed by no less than the University President, Dr. Jaime I. Manuel, Jr., and Atty. Frederick Joe N. Robles CDA R1 EO, Regional Director both representing the organizations in the agreement.
The symbolic signing was witnessed by Dr. Cristita C. Guerra, the Executive Director of DMMMSU Open University System and Mr. Van Ian F. Enriquez, Senior Cooperatives Development Specialist assigned in the Cooperative Research, Information and Training Section (CRITS) of the regional office which facilitates such agency activity.
As part of the momentous ceremony, a brief program was held to establish the purpose of the said agreement as articulated by Professor Farland D. Valera. The heads of both parties delivered their sincere and inspiring messages which capitalizes on the opportunities being presented by the agreement in improving education and training of cooperatives in the region through the conduct of ToT for CDA-accredited CTPros which includes Cooperative Development Officers.
Also present therein were some DMMMSU professors including their staff; Dr. Concepcion L Bederio, former DMMSU professor; Dr. Allen J. Ngilangil, a DMMSU alumnus; Provincial CDS of La Union – CDS II Constancia A. De Guzman.
Contributor:  RENEE FAYE D. CARINO, CDS II-CRITS