The Small Business Corporation (SBCorp) held its Regional Roadshow on April 14, 2023 at La Jenns Hotel & Resto Grill, Bantay, Ilocos Sur .
The objective of the the activity was to market SB Corp's loan programs to MSMEs ( Micro, Small and Medium Enterprises ) and prospective partner financial institutions (PFIs) like cooperatives  in the province of Ilocos Sur.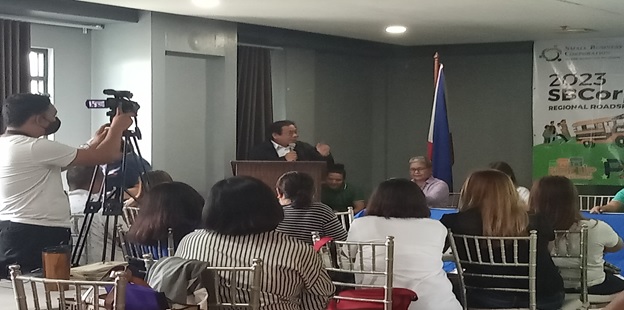 Among the guests were Ilocos Sur Governor Hon. Jeremias C. Singson,  represented by Provincial Board Member Hon Efren Rafanan Sr; DTI Regional Director Grace F. Bulayan represented by ARD Grace R. Lapastora. As partner agency in the implementation of cooperative development plans, CDS II Raymund N. Pilorin likewise attended the activity.
To explain the loan facility, SBCorp presented the RISE UP Program and the wholesale microfinance programs that focus on the Pondo sa Pababago at Pag-asenso (P3) funded component. The P3 Program is a loan facility that can be availed of by cooperatives engage in lending  to provide them with liquidity support for microfinance operations.
Highlight of the event was  the conduct of  Loan Releases  & Ceremonial Signing of Approved Loan application documents  for the RISE UP Multi-Purpose Loan on top of an on-site online borrower registration and client consultation.
There were seven  (7) cooperatives which attended the event, namely: Bayanihan Multi-Purpose Cooperative; Sugpon Multi-Purpose Cooperative; Sto. Domingo Development Cooperative; Fatima (Vigan) Multi-Purpose Cooperative, Sto. Domingo Tricycle Drivers and Operators Multi-Purpose Cooperatie , Suyo Multi-Purpose Cooperative; Salcedo Savings and Credit Cooperative; and, Ilocos Sur Export Enterprise and Distribution Marketing Cooperative.
The CDA and the cooperatives were grateful to SBCorp and DTI Ilocos Sur  for conducting  the event, and in bringing and reaching out their services to the province that have been beneficial and advantageous  to  the cooperative sector.  (Raymund N. Pilorin, Joy P. Basingel, Florentino Lorenzana)