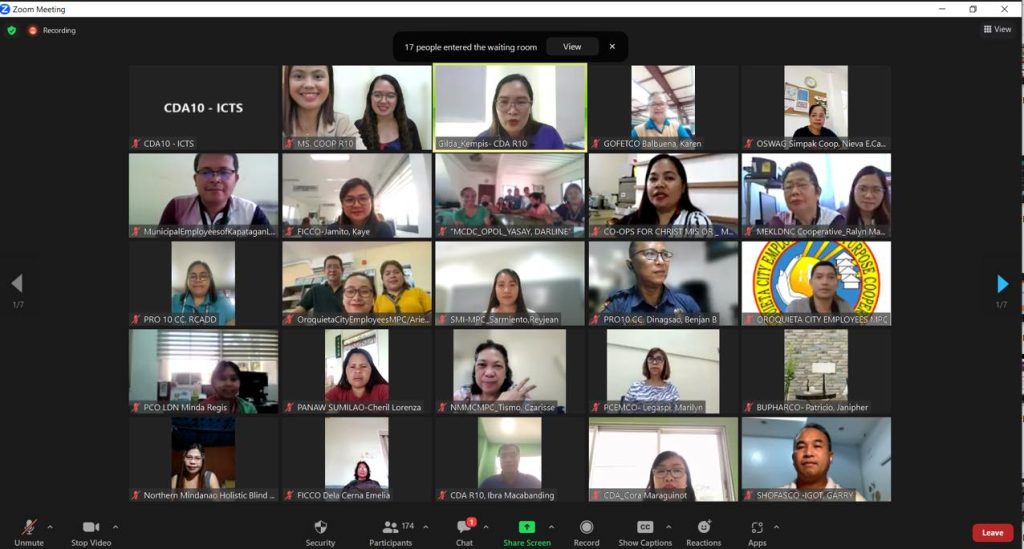 To reiterate the development of Gender Equality (GE) and institutionalization of Gender and Development in policies, programs and other activities of the cooperatives, the CDA Regional 10 conducted another webinar on Gender and Development (GAD) Mainstreaming last May 24, 2023.
The main objective of the webinar is to introduce to the cooperative sector the framework and tool or assessing the progress of Gender Equality (GE) in primary cooperatives which was adopted from Gender Equality Resource Center Philippines. The tool will help determine the extent to which a cooperative has embraced the GE principles and has reflected these GE principles in its organizational functioning. Another purpose is to assist the cooperatives to identify the specific gender equality needs and concerns to be addressed in their Gender and Development (GAD) strategic and operational plans. The assessment framework is based on 20 performance indicators that are classified into four gender mainstreaming entry points: People, Policies, Programs/projects/activities (PPA), and Enabling Mechanisms.
It was attended by seventy-five (75) cooperatives from all types and categories with a total of two hundred seventy-eight (278) participants. Also present during the webinar were the winners of the Mr. and Ms. Cooperative 2022, Ms. Jenny P. Suaffield, 1 st Runner Up and Ms. Erica T. Cagatcat, 2 nd Runner Up. The two beautiful ladies shared their advocacy in the promotion of Gender Equality in cooperatives.
The resource persons were Mr. Alvin Castro, CDS II assigned in Lanao Del Norte; Ms. Juhna Balundo, CDS II assigned in the 2 nd District of Cagayan de Oro; Ms. Lovella L. Velasco, CDS II of the Registration Section; and Ms. Charmee Marie Joson, CDS II assigned in Misamis Oriental, who has satisfactorily undertaken the Gender and Development (GAD) TOT, hence their mastery of the topic.
The webinar ended with the closing remarks given by Ms. Marissa B. Catubig, Supervising CDS of Region 10 who highlighted the importance of Gender Mainstreaming and that cooperatives should relearn the value of promoting gender equality. With open membership being one of the seven cooperative principles, the promotion of Gender Equality and Development will easily be mainstreamed in the cooperative movement.