A dialogue was facilitated by the Department of Agrarian Reform XI (DAR XI), through  its Davao del Norte Provincial Office and the Cooperative Development Authority XI (CDA  XI), upon the request of Sto. Tomas Individual Farming Agrarian Reform Beneficiaries  Cooperative (SIFARBCO). This is in connection with the claim of the latter's members for refund  of share capital against the Davao Marsman Agrarian Reform Beneficiaries Multipurpose  Cooperative (DAMARBMPC) on 13 October 2021 at 9:30 a.m. at the Molave Hotel,  Tagum City, Davao del Norte. This was set to discuss the definite agreements between  the said cooperatives as to the refund of the share capital of the SIFARBCO members as  a result of their membership withdrawal from DAMARBMPC several years ago.
The dialogue was attended by Dir. Ruben Cunanan and Supervising CDS Antonio  C. Escobar of CDA XI. On the part of DAR XI, ARDO Melchor Jamora, PARPO II  Crisostomo Bernaldez, Atty. Pinggoy, and Municipal Agrarian Reform Officer (MARO) of  Sto. Tomas Municipality were also present. Fortunately, both SIFARBCO and  DAMARBMPC were properly represented by their respective Chairpersons and some  members of the Board of Directors.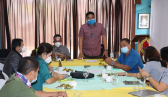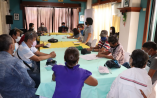 The discussion went well and swiftly that both parties reached the following  agreements peacefully, to wit:
Each of the 71 SIFARBCO members will be refunded with the uniform amount  of P19,000;
The refund shall be made by DAMARBMPC on 26 October 2021, morning at  the local place in Sto. Tomas known to both parties; and
The event shall be witnessed by both DAR and CDA through their authorized  representatives.
Finally, the long overdue claim of SIFARBCO members for refund of their share  capital would now be realized and released to them as promised by the DAMARBMPC  Chairperson and the rest of his officers present during the dialogue. An expression of  great gratitude was then conveyed by SIFARBCO Chairperson and his officers to the  DAR XI and CDA XI for the facilitation.