Since the Corona Virus Disease 2019 (COVID-19) beset the Philippines, a lot of Filipinos exerted genuine efforts to combat the virus. Cooperatives in the nation now highlight the statement embedded in the Cooperative Pledge which states that, "Alone I am weak, but with others I am strong", by helping not only their members but also the community that now is in need.
Community Quarantine in Region XI begun sometime in March 2020. In the light of cooperativism, cooperatives in Region XI took initiatives to support the need of their members, their community and the frontliners. "Bayanihan" is now trending in social media and a lot of people are now helping to contain this pandemic.
To name a few, these are the following cooperatives who genuinely gave to sustain the needs of others, to wit:
DAVAO CITY
SUBASTA AGRARIAN REFORM BENEFICIARIES AGRICULTURAL COOPERATIVE (SARBAC)
The Subasta Agrarian Reform Beneficiaries Agricultural Cooperative (SARBAC) from Calinan, Davao City gave due honor and extended their thanksgiving in a simple way to the Frontliners in fighting COVID19 by bringing food packs to the personnel assigned at Task Force Check point area in Wangan, Calinan Davao City last March 27, 2019.
SARBAC officers recognized the importance of frontliners in making sure that the health pandemic will not further spread. Their great sacrifice for their community and country in safeguarding the lives of the people is beyond greatness worth the golden recognition.
EL GRANDE MULTI-PURPOSE COOPERATIVE
            El Grande Multi-Purpose Cooperative, a large cooperative located at Catalunan Grande, Davao City is actively operating amidst health crisis and assisting the community of Catalunan Grande by purifying, sanitizing and disinfecting houses, offices and vehicles, without harmful chemicals used. They are using Ozone Generator for Air Purification, a technology already tested that kills viruses and bacteria in the surface and cleanses air environment. This service of sanitizing is FREE OF CHARGE for all members as requested, with several minor conditions also to consider to qualify.
Also, EMPC is giving away free seedlings of fruits and vegetables to their members to enrich their lives, teaching them how to properly grow the plants through their Technology and Livelihood Resource Center where the seeds are grown and properly cared for. This will help them live healthy lives by eating nutritious foods, that is, homegrown fruits and vegetables which they can maximize its importance especially in this time of crisis. This is another means of survival, to plant and eat your food and make it a business, someday, after sharing the fruits of your labor to those who also need them in this trying time.
DAVAO DEL NORTE
TAGUM COOPERATIVE
Tagum Cooperative, a Gawad Parangal Hall of Fame Awardee, provided the following privileges to their members: 1.) no deductions on share capital and savings retention; 2.) provision of Php 250.00 Rice Subsidy to members; and 3.) implementation of Republic Act 11469, "the Bayanihan Act", by providing a 30-day grace period for loans due on April 1-30, 2020.
Furthermore, through its Community Development Fund, they donated facemasks, disposable gloves and biscuits to the frontliners through the City Government of Tagum on March 31 and April 3, 2020.

MARIPHIL FARMERS MULTIPURPOSE COOPERATIVE (MARIPHIL MPC)
      Mariphil Farmers Multipurpose Cooperative, located in Panabo, Davao del Norte, distributed rice for some of their members on April 11, 2020.
KATIPUNAN SMALL COCONUT FARMERS MULTIPURPOSE COOPERATIVE (KSCF MPC)
              Katipunan Small Coconut Farmers Multipurpose Cooperative located in Panabo, Davao del Norte, provided meal packs for some of the frontliners in Davao del Norte on April 07, 2020.
CASIG-ANG SAN MIGUEL MULTIPURPOSE COOPERATIVE (CASMI COOPERATIVE)
           Casig-ang San Miguel Multipurpose Cooperative (CASMI MPC) donated relief goods for the pedicab drivers in their community area sometime on early week of April 2020.
NIA-SAUG EMPLOYEES AND IRRIGATORS MULTI-PURPOSE COOPERATIVE (NIA-SEIMCO)
             The NIA-SAUG Employees and Irrigators Multi-Purpose Cooperative (NIA SEIMCO) donated 5 bags of milled rice to the people of the Municipality of Asuncion, who showed their appreciation through a Facebook post on the municipality's page on April 16, 2020.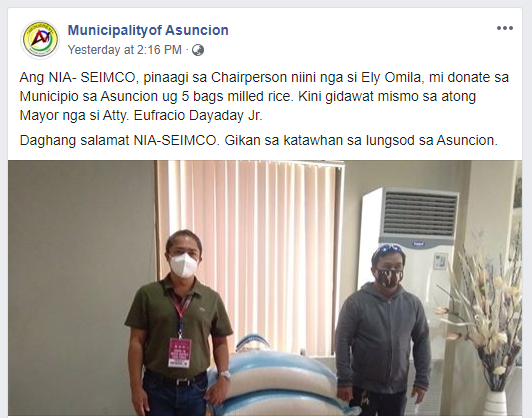 DAVAO ORIENTAL
 SAFASHCO MULTI PURPOSE COOPERATIVE (SAFASHCO MPC)
SAFASHCO Multi Purpose Cooperative (SAFASCHO MPC) located in Mati, Davao Oriental provided relief goods to their members and community on April 08, 2020.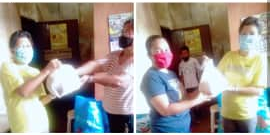 DAVAO DE ORO
MARAGUSAN GROWERS MULTIPURPOSE COOPERATIVE (MAGROW MPC)
On April 7, 2020, Maragusan Growers Multipurpose Cooperative (MAGROW MPCO) from Maragusan, Davao de Oro, reached out some goods for the Barangay Checkpoints Front liners in  Maragusan, Davao de Oro.

PANTUKAN CHESS CLUB COOPERATIVE (PCCC) MATI BRANCH
Pantukan Chess Club Cooperative donated fresh fruits and mineral water to Task Force, Tagawisan, Barangay Badas, Mati City on March 24, 2020.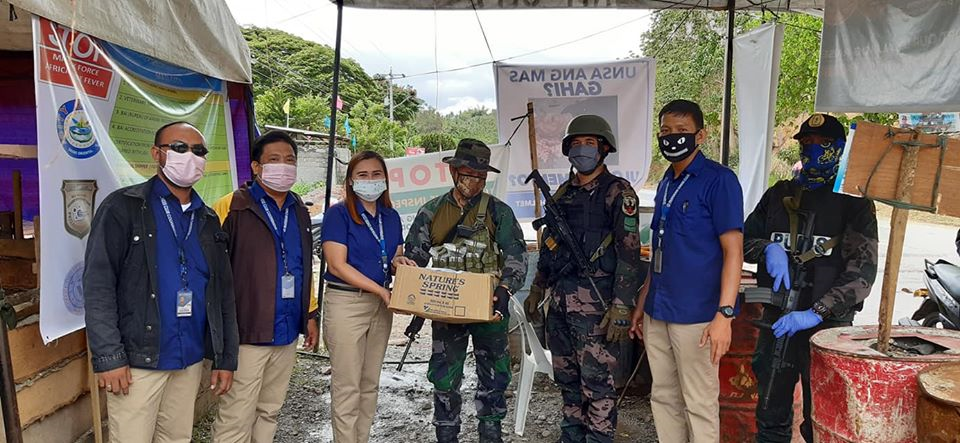 CALLAWAN FARMERS MULTIPURPOSE COOPERATIVE (CALFAMCO)
            Callawan Farmers Multipurpose Cooperative (CALFAMCO), located in New Bataan, Davao de Oro, donated washable face masks to DTI Davao de Oro on April 3, 2020. On April 6, 2020, they distributed relief goods to their members. Furthermore, on April 7, 2020, they donated another 250 pieces washable face masks to LGU New Bataan.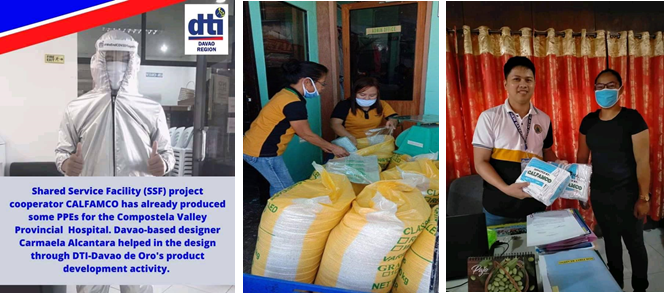 DFC PAWARB MULTIPURPOSE COOPERATIVE (PAWARB COOP)
Frontliners of Barangay Osmena, Compostela, Davao de Oro received groceries from DFC Multipurpose Cooperative on April 14, 2020.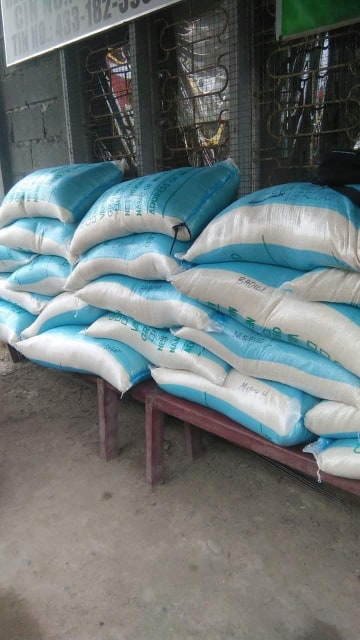 These are some of the humanitarian efforts undertaken by our cooperatives in Region XI in the fight against COVID-19 pandemic.Frontliners of Barangay Osmena, Compostela, Davao de Oro received groceries from DFC Multipurpose Cooperative on April 14, 2020.
Under the Bayanihan Act, it is indeed with others we are strong! Long live cooperatives! #CoopsAgainstCOVID19