In a move to further strengthen the Micro-, Small, and Medium Enterprises (MSMEs) of Davao del Norte, MSMEs from the different parts of Davao del Norte converged at the DavNor Capitol Pavilion last January to take part in the Pre-Registration Seminar for would-be cooperatives last January 11, 2022.
        The activity was realized through the PADO-Davao del Norte Investment Promotion Center (PADO-DNIPC), in cooperation with the PADO-Cooperative Development Division (PADO-CDD), and the Cooperative Development Authority XI – Davao del Norte Field Office.

        The MSMEs are mostly members of the Produkto DavNor Association, an organization which is composed of producers and suppliers of locally-made products that are on display at the DavNor Pasalubong Shop. The association have been encouraged and convinced of the benefits of forming a cooperative, separate from their association, and plans to organized themselves as Produkto DavNor's Consumer Cooperative.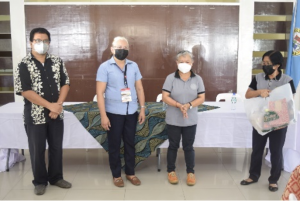 The lecture was given by Ms. Zara B. Perez, Cooperative Development Specialist II, of the Cooperative Development Authority XI. She was assisted by Ms. Annabelle Bañaga, DMO III, and Engr. Humber D. Cabunoc, DMO IV, of PADO-CDD, and Ms. Merriam D. Bolipata, DMO II, and Ms. Joevynar M. Miedes, DMO III, of PADO-DNIPC.
            The Pre-Registration Seminar for Cooperatives is being conducted pursuant to Republic Act 9520 or the "Cooperative Code of the Philippines of 2008", in fulfillment of the mandate in Section 15, Article XII of the Constitution which states the declared State policy "to promote the viability and growth of cooperatives as instruments of equity, social justice and economic development and to create an agency". The CDA is the central agency mandated by law to conduct the PRS.

        Cooperatives and MSMEs are one of the pillars of people's economic power that has a significant role in increasing people's incomes and encouraging economic growth. According to the CDA, the development of Cooperatives and MSMEs has to be optimized in order to make a major contribution to the country's economic development.

        There were FIFTEEN (15) Male and TWELVE (12) Female participants to the said PRS. JayBanjal/PADO-DNIPC