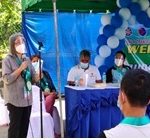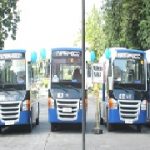 The Cooperative Development Authority headed by Director Elma R. Oguis joined the Makilala Transport Cooperative (MATRANSCO) together with the LTFRB Regional Director Ret. Col. Paterno Reynato C. Padua, Honda Motors Inc. and Overland Terminal Administration during the launching of its five (5) units Modern Jeepney and two (2) Electric Jeepneys on September 27, 2021 at Overland Terminal, Kidapawan City.
This is in accordance to the Public Utility Vehicle Modernization Program, the flagship, non-infrastructure project of the administration of President Rodrigo R. Duterte launched by the Department of Transportation of the Philippines. It envisions the goal of providing a comfortable l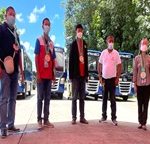 ife for all Filipinos and making the country's public transportation system efficient and environmentally friendly, safe, secure, and comfortable with due consideration to our Persons-with-Disabilities (PWDs) passengers.
Despite the pandemic and the challenges faced in the transport sector, MATRANSCO took the opportunity and risks in embracing the PUVM Program of the government. During the launching, Mr. Rey Cornelio D. Gabia, MATRANSCO Chairperson, proudly claims that they are the first ever-cooperative transport in the Province of North Cotabato. He also expressed his gratitude to the agencies and stakeholders who contributed to the realization of the project.
Though their application with Development Bank of the Philippines (DBP) was not approved yet, the cooperative collaborated with Hyundai Southern Mindanao Inc. and Tojo Motors Corporation on an easy account plan.
To officially launched its operations and create awareness to the public, Makilala Transport Cooperative (MATRANSCO) contracted with the LTFRB in providing "Libreng Sakay" until December 31, 2021 to the Authorized Personnel outside Residence (APOR), Health Care Workers and Frontliners on selected schedules and routes from Kidapawan City.
Through this development, commuters from the Cotabato province in the Municipalities/City of Bulatukan, Makilala, Kidapawan City, Matalam, and Kabacan will now enjoy the air-conditioned, spacious, safe, and convenient transportation.