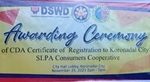 The Cooperative Development Authority (CDA) Region XII in partnership with Department of Social Welfare and Development (DSWD), spearheaded by the Local Government Unit (LGU) of Koronadal City held a Ceremonial Awarding of Certificate of Registration to Koronadal City SLPA Consumers Cooperative on Thursday, November 25, 2021 at City Hall, Koronadal City.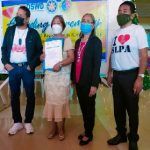 The Sustainable Livelihood Program Association (SLPA) is an association organized by the DSWD, through the Sustainable Livelihood Program (SLP), which aims to improve the quality of life and well-being of 4Ps beneficiaries. It is a capability-building program for poor, marginalized, vulnerable and/or disadvantaged households, building upon their strengths and understanding how they can use these to achieve positive livelihood outcomes.
The Koronadal City SLPA Consumers Cooperative was registered at CDA Region XII on November 9, 2021 with 27 cooperators and the first-ever SLPA cooperative in Region XII.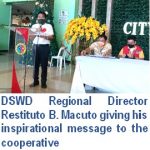 DSWD FO XII Director Restituto B. Macuto, together with the DSWD key officials and personnel commended the coop-members for making the initial step to success. Dir. Macuto also expressed his enthusiasm in eyeing the SLPA coops and associations as the service provider/suppliers for the government programs such as the institutionalized Feeding and Enhanced Partnership against Hunger and Poverty Program (EPAHPP). He also emphasized that being a cooperative provides legal personality for the coop to participate in bidding, and easier access to local and foreign financial assistance.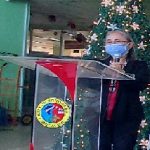 After the orientation for the cooperative members and officers on what they need to do after registering with CDA, Director Elma R. Oguis emphasized that in order for their coop to grow from Micro to Large, they need to strive hard and embody the principles of cooperativism. She also stated that the coop is fortunate since they already have a captured market unlike other business entities.
The activity concluded with a message from Hon. Mayor Eliordo U. Ogena who expressed his wholehearted support to the cooperative sector by providing an office space intended for the cooperative. To inspire and motivate the coops in Koronadal City, Mayor Ogena would give 2-Million Pesos incentive to cooperatives and individuals who can grow their business after a year. "Lahat nag-uumpisa sa maliit" he stated, and it will not only benefit the officers but the coop members and the community as well.
In behalf of the cooperative, Chairperson, Merlina P. Ehimplar expressed her gratitude to the DSWD and CDA Officials and employees for the assistance and encouraged her members to work hand in hand for the success of the cooperative.