" Making Life Better"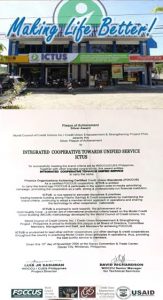 Twenty-three (23) years ago on October, 1997, Sta. Cruz Mission, Inc. which is a church-based missionary institution working with the Tbolis in the province of South Cotabato established Integrated Cooperative Toward Unified Service (ICTUS) through the efforts of 19 founding members and with an initial capital of P24, 500.00. The cooperative was conceived out of love for the poor and under privileged with the purpose of uplifting the quality of life and fostering missionary spirit. Integrated Cooperative Toward Unified Service (ICTUS) was officially registered with Cooperative Development Authority on May 8, 1998 with registration number RN-5440-DVO.
On the first year of the cooperative, the 19 members grew to 56 with only two (2) staff.
The growth of the cooperative started in 2003 when the cooperative passed the accreditation for technical assistance under USAID-Funded Credit Union Empowerment and Strengthening (CUES) in partnership with World Council of Credit Union (WOCCU) project based in Davao City, but its headquarters in Madison, Wisconsin. The project implemented the Model Credit Union Building (MCUB) methodology among savings and credit cooperative in Mindanao and Eastern Visayas. The MCUB focuses on six (6) financial disciplines which include: Delinquency control, provisioning, solvency, institutional capital, earning assets, and liquidity.
For more than 2 years, ICTUS labored to meet the standards for the 13 key ratios set by WOCCU-CUES. On June 2005, ICTUS passed the standards and was awarded and branded as Finance Organization achieving Certified Credit Union Standards (FOCCUS) cooperative in November 2005. It was the first award ever received by the cooperative and the first coop in South Cotabato to be given the brand. The brand assures members that ICTUS is a safe, stable and sustainable cooperative.
As a result, for the first time in less than a year, the coop not only doubled but tripled its assets to P 27 million by the end of 2005. Savings increase from P 4 million in the previous year to P 12 million. The WOCCU-CUES Project financed part of the coop's renovation of its office as a consequence of getting the world-class status. It was for this reason, the cooperative also decided to automate its financial system, provided by MASS-SPECC Cooperative Development Center based in Cagayan de Oro City. Automation helped reduce errors and increase efficiency in the transaction and provide real-time financial statements. By the end of 2007, the cooperative had 29 full-time employees.
ICTUS REACHES MORE IN REGION XII – 2008 – 2012
During this period, the cooperative was renamed ICTUS Premier Multipurpose Cooperative, in compliance with Republic Act 9520 or the Philippines Cooperative Code of 2008, all coops were required to register with the Cooperative Development Authority (CDA). The coop saw this as an opportunity to change its name but retain ICTUS. At this period, the cooperative invested in Automated Teller Machine (ATM) to cope up with advance technology and to be at par with other cooperatives. The ATM conveniently serves members' withdrawals even after office hours.
In the efforts to bring the services closer to the members, many branches were added. Koronadal Branch (2008) and Tboli Branch (2010) were opened.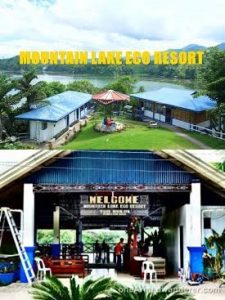 After successfully opening these two branches, Lake Sebu, Isulan, Sto. Nino, Calumpang, General Sanots City, Tacurong, Kiamba and Glan, Sarangani Province, Banga, Norala and Polomolok were added to the list of ICTUS branches.
To diversify the coop operation, the cooperative acquired a property in Lake Sebu which was situated just beside the Lake. Through the feasibility study and learning visits to coops that operates a resort, the officers decided to invest in this type of tourism facility, Mountain Lake Eco Resort was born. Since its establishment, it has been a favorite place in Lake Sebu for Eco-Tourism purposes and venue workshops and other events. The resort employs 37 workers majority are Tboli Indigenous People (IP).
Because of its sound operations, ICTUS received various awards and recognitions:
Rated EXCELLENT during the annual operations review conducted by Land Bank of Philippines in 2008
The coop reached its Php 100 million status in 2009 and was recognized by the Federation of Peoples' Sustainable Development Cooperative (FPSDC). The coop moved to a GOLD Membership status following its achievement being a century cooperative.
2009:
Grateful recognition of the valuable contribution to knowledge and expanding the SEEDFINACE knowledge and conviction on energy microfinance as a tool in economically empowering local communities by SEEDFINANCE.
Gold membership status for the year FPSDC;
For reaching a total asset of P100M and showcasing how cooperatives can become large enterprises owned and managed by members by MASS-SPECC;
Top service patronize for the year by VICTO National; First Mindanao Affiliate by VICTO National;
For being the Finance Organization Achieving Certified Credit Union Standard (FOCCUS) cooperative in the Municipality and for being the biggest cooperative in assets and membership by MCDC Surallah.
2010:
Gold Membership Status for the year by FPSDC;
Diamond Membership Status for the year by CSDO-SC;
For its commitment in making MSME finance an empowering tool to alleviate poverty and build economically self-sustainable communities in the Micro no more universe of development finance by SEDFINANCE Corporation;
2011:
Grand slam – top service patronized by VICTO National;
2012:
Most organized Pinoy Coop ATM center by MASS-SPECC;
Millionaires Club by CLIMBS;
Gold membership status for the year by FPSDC;
For being true to the principles of continuing cooperation among cooperatives showcasing its strength and will to patronize to all the product and services, allowing the federation to self- reliant by MASS-SPECC;
Sincere recognition for unwavering pursuit to improve the lives of members and communities and for sharing their stories as resource to the conference on coops and socio-economic development impact by VICTO National;
Remarkable achievement as successful coop assurance center and CLIMBS business partner by CLIMBS;
COOPERATION AND DIVERSIFICATION, THE WAY TO GO (2013 – 2017)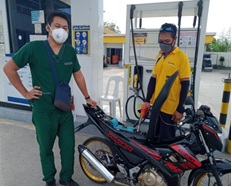 The coop grew so fast and it needed competent staff hence the coop invested heavily in training its management team to run the office efficiently.
To further expand coop's reach, Tulunan branch in North Cotabato was opened on October 30, 2014. This brought the total branches of ICTUS to 15. After successful ATM operation in several of its branches, another ATM was opened in Calumpang, General Santos City in 2014. However, the machine was transferred in Banga, South Cotabato in 2015 because more members were observed to have ATM withdrawals in South Cotabato.
With diversification as a way to go for multipurpose coops, the officers and management decided to open two new ventures to complement its Savings and Credit and Resort operations. Towards the end of 2014, the coop opened its partnership with Sea Oil Philippines making ICTUS as their dealer. It also reopened its agricultural supply stores in Surallah, Sto. Nino, Norala, South Cotabato and Isulan, Sultan Kudarat.
The cooperative continued to receive accolades and citations form different agencies as a proof of its sterling performance, commitment and determination to continuously professionalize its operations. Among those citations were:
2013:
For the commitment to providing inclusive finance and building economically self-sustainable communities by SEEDFINANCE Corporation;
Top 5 share capital contributors by MASS-SPECC;
2014:
Appreciation and gratitude for the support to the success of Coop Assurance Center by CLIMBS; Honoring coop for meaningful and valuable contribution to the growth of premium production of southern Mindanao by CLIMBS;
2015:
Diamond membership status for the year by FPSDC;
Best Agri Tourism Award by Land Bank of the Phil. (GAWAD PITAK);
Nominee, 2015 Region XII most outstanding cooperative for exemplary performance, best practices, good governance and bringing responsive services to the members and the community by CDA;
Coop Assurance Center Achievers Award and Top premium contributor (5M & 10M) category by CLIMBS;
Most Outstanding Cooperative in Microfinance operation by LBP, (GAWAD- PITAK)
2016
Citation for its Support and Appreciation for CLIMBS Advocacy on the Continuous Education of Cooperative Management and Leaders Gearing Towards Cooperative Excellence Through Partnership with CLIMBS Institute
Most Outstanding Community Enterprise – 2016 Social Institute for Poverty Alleviation and Governance (SIPAG) Awards by Villar SIPAG initiative
Citation for Placing 2nd in the 2016 information Technology Enable Maturity Assessments for Agrarian Reform Beneficiaries Organizations in the Agrarian Reform Communities by DAR-PRO
Appreciation of the Invaluable Support in the Realization of the Mission of the DSWD- Field Office XII Pantawid Pamilyang Pilipino Program through the distribution of the conditional Cash Transfer Grants Payout of the Eligible Beneficiaries-DSWD XII
2017
Millionaires club 10 Million Premium by CLIMBS
CHARTING THE COOP'S FUTURE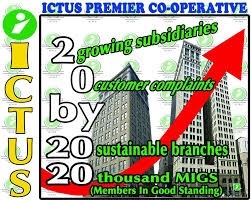 Through many years of dedicated service to thousands of its members ICTUS expand in the region, ICTUS has not lived up to the expectation of many. It also transformed communities. And as this coop intends to serve more, it needs to see clearly where it is going in the years to come. The coop developed its strategic direction through a 5-year Development Plan. The new direction of the cooperative is bannered 20by 2020. The coop retains its Tagline, "Making Life Better", to remind itself of its mission.
The 20 by 2020 strategy would mean that the cooperative shall have:
                2              Growing Subsidiaries
                0              Costumer Complaints
                20           Sustainable Branches
                20           Thousand Members in good standing
Growing Subsidiaries and one project for incubation
Register Mountain Lake Eco Resort (MLER) as a subsidiary cooperative
Establish Memorial Park and Funeral Parlor and integrate
Funeral Care as one subsidiary
Project for incubation is to study feasibility of other non-banking activities as subsidiary that would provide services to farmer – members (Farmers' Bounty)
0 Costumer Complain
Develop customer satisfaction survey tool
Establish Research and Development office to take charge of
customer complaints
Enhance feedback mechanism that will manage clients complaints
Institute disciplinary actions to erring employees
20 Sustainable Branches
Strengthen Policies, Systems and Procedures to ensure coop stability
Maintain portfolio quality and sound internal control system
Ensure compliance to regulatory bodies to maintain coop stability and credibility
Improve profitability by increasing Operational Self Sufficiency and Financial Stability and increase internal fund generation
Improve social performance
20 Thousand Members in Members In Good Standing (MIGS)
Review and implement policy on membership segmentation
Repackage and design more benefits for members
Improve coop image and profitability to attract more member
CRITICAL ACTIVITIES
INCREASE ASSET TO ONE BILLION PESOS
Amend policy on allocation of reserves to increase capitalization
Increase deposits by at least 50% every year
Increase loan releases by at least 20% every year
Increase membership penetration to at least 30% of population in the areas where the cooperative is operating. It was stressed the recruitment of membership is also an obligation of members and that all regular members are required to recruit and the cooperative will provide an incentive of P 300.00 for every recruit which will be credited to the savings account of the one recruiting every month end. It was made clear by the Chairperson that the scheme does not cover walk-in clients.
COSTUMER SERVICE
Enhance Performance Management System to improve service delivery
Enhance Human Resource Policies, Systems and Procedures to ensure compliance to ethical standards.
TRANSPARENCY AND GOOD GOVERNANCE
Improve organizational structure to ensure its responsiveness to the mission
Enhance policies on succession planning for officers and staff
Improve officers and staff capacity building program to enhance competence
Encourage branches to increase membership to send qualified nominee for Macro Board
Strengthen strategic partnership and linkages
Support advocacy programs on women, environment, youth, and elderly
UTILIZE LOCAL RESOURCES AND CULTURE
Showcase Indigenous People culture through T'boli village project
Project Concept:
Lot Acquisition utilizing the optional fund and the amount shall be determined by the board of directors
Construction of Tboli House to showcase Tboli Tradition and beliefs, arts and crafts, (brass casting, tnalak weaving, other handicrafts), musical instrument, and etc.
There shall be an Open area/pavilion to show dances, rituals, weeding and traditional sports, etc.
Processing area for traditional food
Transportation – banca, vehicles, zipline and cable car.
Establish functional business assistance unit to promote local products – Farmers Bounty (high end Bagsakan Center)
Promote Lake Sebu as a premier Eco Tourism Destination in South Cotabato
Refined concept & produce a master plan for MLER
Construction of Convention Hall that can accommodate more than 1000 participants
Benchmarking with best practices utilizing the education training fund
To conduct research/study on the viability of a subsidiary cooperative
Continuous improvement & maintenance plan
Accreditation with DOT and other relevant organizations
SIMPLIFY
Develop a product manual to simplify service delivery
Existing Small Business, SME Loan, Multi-purpose, Tricycle Loan, Non Agri Livelihood shall be under one product called Small, Medium Enterprise (SME)
Inputs, Agri-Livelihood, Integrated Farming, Rice Duck, UMA under Agricultural Loan (AL)
Salary, Pension an Honorarium loan under Salary Loan (SL)
Emergency, Health Care, Grocery, Leisure, House Improvements loans under Providential Loan (PL)
Simplify existing forms
Improve MIS to generate timely, accurate and complete information
Simplify procedures on policy implementation
Financial Date as of December 31, 2019.
Total Assets P 502,000,812.
Total Liabilities 393,335,484
Total Member Equity 97,075,693
Net Worth 105,665,328.
Gross Income 89,339,491.
Net Surplus 5,024,251.
Statutory Reserves;

Reserve Fund 8,071,221
CETF 282,054
CDF 1,611,106

Other Information;

CIN 101120522
Original Registration RN-5440-DVO
Date of Registration May 8, 1998
New Registration No, 9520-12002534
Date of Registration 16, 2009
Regular:       Male:                   5,636                  Female:       6,469
Associate:   Male:                    8,911                   Female:       11,797
of Employees: Regular:         Male – 80 Female – 61
Contact Persons:
Chairperson       Nemia G. Espanola   – 09173028604
Gen. Manager   Pinky Q. Toledo                 – 09175077397