KIDAPAWAN CITY, SOCCSKSARGEN – It is said that coronavirus outbreak is first and foremost a human tragedy, affecting hundreds of thousands of people. It is also having a growing impact on the global economy.
Amidst this evolving public health crisis and the rapidly evolving COVID-19 pandemic which has spread to more than 140 countries including Philippines, cooperative-sector across the country are stepping up and finding various ways and means to share in these trying times.
While efficiently serving the needs of their members, cooperatives in Region XII uphold the spirit of cooperativism and actualizing its principles and practices – that is concern for community, social responsibility and caring for others.
With the Cooperative Development Councils, in coordination with various organizations and LGUs cooperatives in SOCCSKSARGEN distributed basic needs throughout the region such as packed meals, rice and grocery items, vitamins, disinfectants and face masks for free.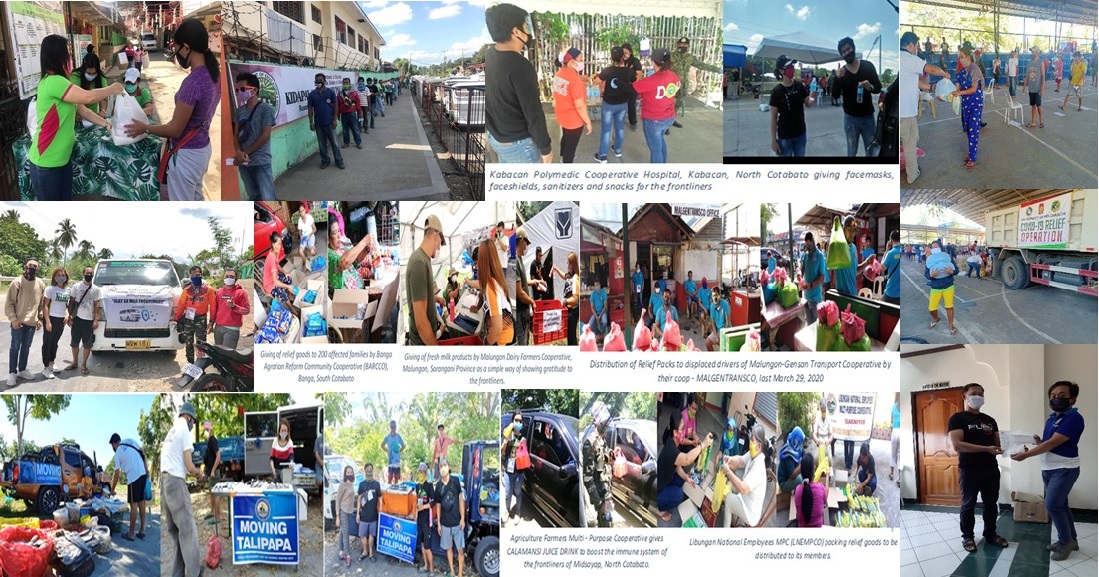 For KIDAVJODA Transport Cooperative (KIDTRANSCO), serving packed lunch for five consecutive days to 5 checkpoints along Kidapawan – Makilala, National Highway was their way of giving support and assistance to the frontliners.
"It is our commitment, because we care" is the tagline of Kidapawan City National High School Teachers-Employees and Retirees Multi-Purpose Cooperative as they distribute food packs to its employees, identified tricycle drivers/operators of Kidapawan City and Kidapawan City National High School utility personnel.
A "moving Talipapa" or "Palengke on-wheels" was initiated by the General Santos City Local Government Unit headed by City Economic Management and Cooperative Development Office (CEMCDO) together with the cooperatives, youth and MSMEs in General Santos City, bringing food and other essentials closer to the people. By doing this, we can minimize the need for people to go to the city's public market to purchase food, which, in turn, prevents person-to-person contact. All the commodities have regulated prices so that anyone can afford them. These goods are supplied by our partner vendors from the public market.
It is scheduled Tuesday and Saturday starting on April 3, 2020 in the different barangays and subdivisions of General Santos City. This initiative is not only helping the farmers, cooperatives and MSME's but also gives opportunities for the young people wherein one of the participating vendors were from the Calumpang Youth for Empowerment (#CALYE).
Also, Libungan National Employees MPC (LNEMCO) facilitated the distribution of unconditional cash transfer to 4Ps Beneficiaries of Libungan, North Cotabato amidst the Enhanced Community quarantine while maintaining physical distancing. 4Ps beneficiaries were also given free mask.
Meanwhile, on March 30, 2020, the Municipal Cooperative Development Council (MCDC) of Polomolok, Lead.ph and Mahintana Foundation Inc. in coordination with the Polomolok LGU headed by Mayor Honey Lumayag Matti and Mun. Councilor Hon. Nilda Batalon-Almencion (SB Chair on Cooperatives and Association) to discuss on how the coops of Polomolok can help the LGU in providing relief to its people. Knowing that the 35,000 identified households also include the members of the more than thirty (30) coops within the municipality, the coop leaders, managers and representatives have favorable responses to the idea of concerting all the efforts and pledged for a 3-Million cash donation to the LGU. The meeting was presided by the MCDC chairperson, Sir Junbard Mahinay. As of March 31, the following has
As of April 2, 2020 the following cooperatives have released to the City Mayors Office the following amount:
FARB MPC – P20,000,00
De Castro Homeowners MPC – P10,000.00
Dolefil Agrarian Reform Cooperative (DARBC) – P1M
Tibud sa Katibawasan MPC – P500K
Dolefil Community MPC – P300K
Pangkat ng Mamayan ng South Cotato MPC – P15K
Polo Samahang Nayon MPC – P100K