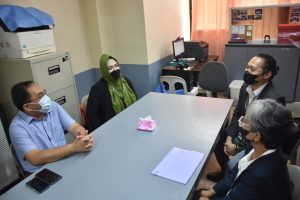 August 9, 2023 – The Cooperative Development Authority (CDA) Caraga team, led by Regional Director Monatao Honeya R. Alawi, met with FSUU-College of Law's Dean, Attorney Rodney C. Ato, for an important initial discussion. The focus was on a potential partnership for the CDA Legal Awareness Program (CLAP) and the Clinical Legal Education Program (CLEP), which is part of law school practice.
The CDA Legal Awareness Program (CLAP) aims to help future lawyers understand cooperatives better. CDA plans to work with law schools, including FSUU, to develop and put CLAP into action, following the Revised Law on Student Practice Rule.
Both parties are looking to draft a formal agreement, called a Memorandum of Agreement (MOA), which they aim to sign during the Cooperative Month Celebration in October. There will be further talks to iron out the details of the MOA before the signing. As part of this collaboration, CDA-Caraga Extension Office will organize a series of webinars covering topics like Introduction to CDA and cooperativism, RA 9520, RA 11364, and the Omnibus Rules. This will be facilitated by the CDA-Caraga Legal Officer, Attorney Kenny Junce P. Altubar in coordination with the Legal Affairs Service of the CDA Central Office.
Dean Atty. Rodney C. Ato expressed his interest and willingness to discuss the matter further with FSUU's management. He mentioned that FSUU's law school currently offers Level 1 of the clinical program, which involves students engaging with communities. However, Level 2, which involves practice court and certification by the Supreme Court, presents challenges due to a lengthy process. Dean Ato sees the potential of integrating CDA's CLAP as an alternative option. He committed to exploring this opportunity with the management and identifying law students who could benefit from the program.  ********