By: Max Angelo C. Savandal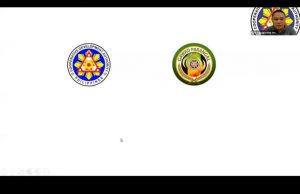 While the whole country commemorates the struggle, heroism and spirit of cooperation during the People Power Revolution, the Cooperative Development Authority-Province of Dinagat Islands (CDA-PDI) Field Office on the other hand, conducted an event that celebrates the cooperative's exemplary greatness in serving its members and community. Graced by the Assistant Regional Director, Sally Joy R. Bungabong, CDA-PDI launched The Gawad Parangal 2021 through zoom platform.
ARD Bungabong on her opening message reiterated that cooperatives should align their plan in accordance to the Philippine Cooperative Development Plan (PCDP) 2018-2022 that anchors on the founding principles of the cooperatives. She pointed that the intention of this launching is to advocate that every cooperative will have the capacity in assessing at their level the mechanisms and criteria of the annual Gawad Parangal vis-à-vis  "service to the community" as the essence of cooperativism.
Gawad Parangal is conducted annually with specifically aims:
To recognize primary cooperatives and partners for their exemplary performance and in bringing responsive services to their members, affiliates and the community;
To search for models of primary cooperative best practices and good governance that will serve as start up points in establishing of benchmark and standards of cooperative performance;
To drumbeat public awareness and build social consciousness on the vital role of primary cooperatives and partners in the attainment of equity, sustainable economic development and social justice;
To motivate other primary cooperatives to take more active involvement and strengthen their meaningful participation not only as passive spectators and beneficiaries of fruits of development and putting them in the mainstream of development processes;
To document profiles of winners as reference material for best and exemplary practices that could be replicated in other areas
The screening committees are both from Regional and National level. In the Regional Screening Committee, the Regional Board of Judges are composed of the following:
CDA  Regional Office Director shall sit as the Chairperson
Head of the Regional Offices or its equivalent position, or the Authorized Representatives, of the following agencies:
Department of Trade and Industry
Department of Interior and Local Government
Department of Agriculture
Department of Agrarian Reform
Land bank of the Philippines
Other partner National Government Agencies
Technical representative of Academe/SUC involved in Cooperative Development Programs (selection is at the option of CDA-EO)
Technical representative of Non-Government Organization (NGO) or Private Sector Representative with Cooperative Development Programs
Asst. EO Director/Supervising CDS from nearby EO to observe and participate in the process and deliberation of selection of awardees
Central Office to identify/assign which region to participate
On the same note, screening committee members were also presented, as follow:
NATIONAL SCREENING COMMITTEE
MEMBERS
PROGRAM MANAGEMENT COMMITTEE COOPERATIVES
Asec. Abdulsalam A. Guinomla, Asec. Abad L. Santos, Asec. Myrla B. Paradillo, Deputy Executive Director,

 CSF Director, TAD Chief, IED Chief, Regulation Division Chief, Registration Division Chief

LOCAL COOPERATIVE DEVELOPMENT OFFICE
Asec. Virgilio R. Lazaga, MD, Asec. Vidal D. Villanueva III, Asec. Pendatun B. Disimban, Executive Director, LRRD Director, Legal Division Chief, Planning Division Chief, CPDAD Chief
SECRETARIAT
CRITD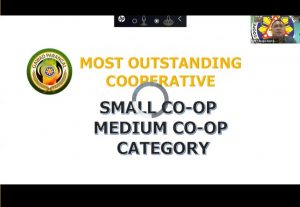 Targets for this Gawad Parangal are Micro, Small, Medium, and Large cooperatives, Exemplary Cooperative leaders, Cooperative Development Councils and Local Cooperative Development Office. Titles and awards are cited for Most Outstanding Primary Cooperatives, Best Performing Local Cooperative Development Office, Best Performing Cooperative Development Council and Most Outstanding Cooperative Leaders.
Gawad Parangal presents also Special Citation for "Best  in Gender and Development (GAD) Mainstreaming"; Exemplary Performance in Cooperative Social Responsibility, Excellence in Membership Growth and Expansion Program, and Excellence in Providing Financial Inclusion Services.
Procedures for the selection and determining of awardees were also explicitly presented. Qualifying criteria for Most Outstanding Cooperative give emphasis on one of the criterion that 'there should no adverse findings indicated on the inspection report in these areas:
Infraction on the allocation of Net Surplus;
Distribution of interest on share capital and patronage refund;
Election;
Regular GA;
Governance issues;
Coop Development Plan & Annual Budget approved by the GA;
Infraction between and among the BOD (complaint filed by any member against the BOD before the ethics committee and decided against the latter). Judgement of guilt from any court or administrative body shall be a ground for disqualification.
Pointers for Special Citation and the important notes and requirements were also given. Though, Special Citation criteria varies depending on the reference of the award, but to be able to pass the preliminaries for Special Citation, coops should pass initially these notes:
No nomination is required. Awardees shall be chosen from among the shortlisted nominees and have been validated by the NSC, as recommended by the PMC;
Should not be a recipient of the same award in the previous years of Gawad Parangal;
Regional Level may give special citations to cooperatives which they validated, even those not nominated to the National Level
Not limited to one (1) winner per category
In behalf of the Regional Director, Genaro D. Pogata Jr, Sr. CDS  Leopoldo Cabiad, Section Head for Cooperative Project Development and Assistance Section (CPDAS) gave the Closing Remarks. Expressing gratitude to    all 86 participants, officers and staff (from  43 attending cooperatives of the province) Sr. CDS Cabiad emphasizes that even if the Gawad Parangal has no monetary prize involved, the award and recognition has a directly impacts to the cooperative. Receiving a recognition even just a nominee, has a booster-effect to the integrity of the cooperative. The members and the community would feel the assurance of the sustainability of the service operation and organization of the cooperative.
The Gawad Parangal 2021 Launching ended at around 4: 51PM last February 25, 2021.