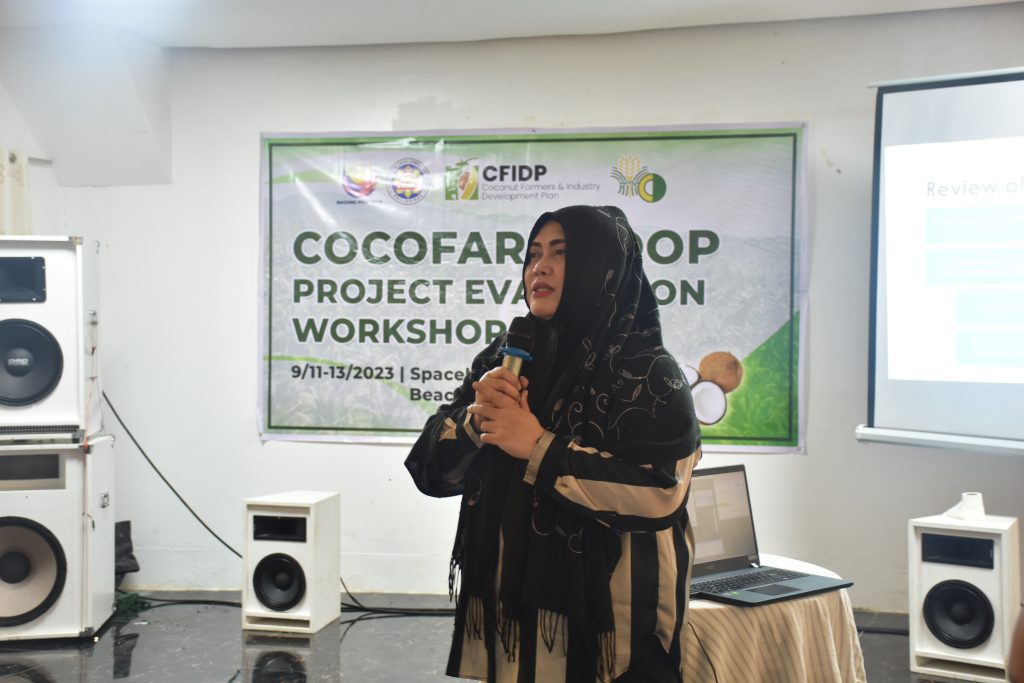 The COCOFARMCOOP Project Evaluation Workshop, hosted by the CDA Caraga Region, was conducted from September 11 to 13, 2023, against the serene backdrop of the Spacebar Beach Resort in Cagwait, Surigao del Sur. This event marked a significant milestone in the ongoing endea1vor to empower coconut farmers and promote sustainable agribusiness ventures in the region. Representatives from seven beneficiary cooperatives spanning various provinces, as well as field implementers from the agency, congregated at this workshop to conduct an evaluation of the CFIDP (Coconut Farmers Industry Development Plan) Program across its diverse phases: pre-implementation, implementation, and post-implementation.
The primary objective of this workshop was to critically assess the progress achieved in implementing the CFIDP Project. This involved a
deep dive into the strategies, activities, and initiatives undertaken to foster self-sufficiency among coconut farmers. The workshop provided an invaluable platform for gathering feedback from recipients of financial assistance, laptops, and participants in capacity-building training programs. This feedback is instrumental in fine-tuning the project to ensure it aligns with the needs and expectations of its beneficiaries.
The evaluation team also sought to gauge the economic impact of the COCOFARMCOOP Project, examining how it has generated tangible economic opportunities and benefits for its members. This aligns seamlessly with the broader goal of promoting sustainable agribusiness ventures.
The ambitious five-year COCOFARMCOOP Project aims to establish self-sustaining cooperatives among coconut farmers in the Caraga Region. A pivotal component of this project is the establishment of the Local Coconut Industry Development Council (LCIDC) and the federation of Coconut Farmers Cooperatives. These bodies will ultimately oversee and operate the Coconut Processing Center within the region, showcasing a long-term commitment to uplifting the coconut farming community and driving economic growth.
As the project advances, the COCOFARMCOOP Project Evaluation Workshop serves as a crucial checkpoint to ensure that goals are being met and that the vision of self-sufficient cooperatives and a thriving coconut industry becomes a reality. While challenges may lie ahead, the dedication and determination of all stakeholders are evident in their shared motto: "Malayo pa, datapuwat malayo na." ("We still have a long way to go, but we are getting closer.") With continued collaboration and a steadfast focus on sustainability, the COCOFARMCOOP Project has the potential to create a lasting and transformative impact on the lives of coconut farmers in the Caraga Region.******