By: Niño Rosil C. Bantayan
December 16, 2021 was a devastating day for Caraganons. It was when catastrophic tropical storm Rai (Odette) struck Philippines and brought torrential rains, flashfloods, soil erosion wreaking havoc over Caraga Region. It was the time when our fellow kababayans within the path of Monster Odette lost everything and almost certainly, hope.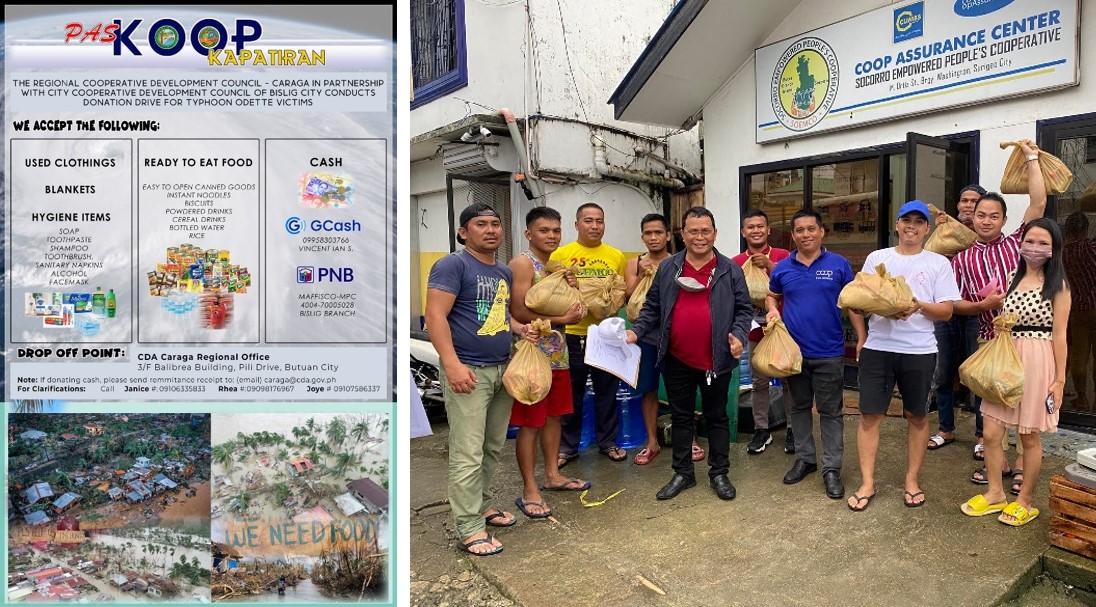 Although Filipinos are resilient in general, our kababayans are still in the process of rehabilitating. To recover, most needed are assistance for food and water provision, then construction materials for shelter and refuge. The victims needed every help they could get to carry on with life. Assistance kept coming from different government instrumentalities, private institutions, and concerned citizens but a little bit delayed due to circumstances (power outages, no internet, lack of transport facilities, bad weather) . . . nevertheless, assistance came and more are still coming.
The cooperative sector, heed this call…. bayanihan as a mode is not alien in the coop sector. The cooperatives carry the value of cooperation to their names. Notwithstanding, one of the coop principles is "caring for the community".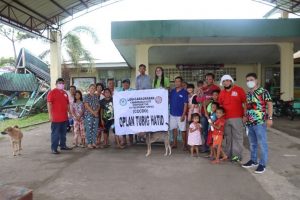 The Regional Cooperative Development Council-Caraga in partnership with City Cooperative Development Council of Bislig City have organized a Bayanihan movement tagged as "PASKOOP KAPATIRAN", spearheaded by the RCDC Vice-Chair, Almar B. Autida since the Chairperson, Alvin B. Dela Cruz, a Dinagat resident, is still recovering. The donation drive gathered One Hundred Sixty-Five Thousand Four Hundred and Forty Pesos (Php165,440.00) donated cash. In-kind donations amounting to Eight Thousand Two Hundred Forty-Nine (Php8,249.00) and 17 sacks of assorted clothing, 478 food packs, 120 containers of water. (See Table I – the list of Twenty-Six Cooperatives (26) and Individuals who have shared their resources for Relief Operations).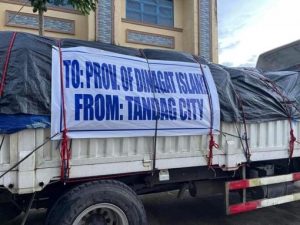 The City Cooperative Development Office of Cabadbaran headed by Engr. Louiel Bulang, with Ms. Mila Colegado, Senior CDS, also initiated support to helped coops in the area. They were able to raise a total of One Hundred Nine Thousand Three Hundred Sixty-Three Pesos and Thirteen Centavos (Php109,363.13, see Table II). They implemented "Oplan Tubig Hatid" which distributed drinking water to those victims who have no access to potable water.
CCDC Tandag, headed by Ms. Lorna Novo – CCDO, extended relief goods to Eleven (11) different cooperatives in the ravaged province of mainland Surigao Norte. In total, relief goods and cash amounting to Three Hundred Sixteen Thousand Seven Hundred Thirty-Eight (Php316,738.00) were distributed, see Table III.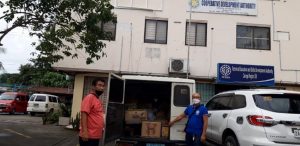 CCDC Bayugan organized a donation drive headed by CCD Officer Ms. Escarlet P. Estuya which was participated by Nine (9) cooperatives amounting to Seventy Thousand Pesos (Php70,000.00).
CCD Officer of Butuan City Mr. Junee Lee Mars Nebrada and Ms. Kiesha Glaze Guimare, Special Operation Officer III, conducted a donation drive among cooperatives in the city. They were able to collect One Hundred Fifty-Six Thousand Seven Hundred Pesos (Php156,700.00) (See Table IV).
Concerned cooperatives by their own initiatives, coordinated with the CDA Regional Office. Others extended their assistance directly from coop to coops. To mention, the NGPI and HIGEMCO MPC.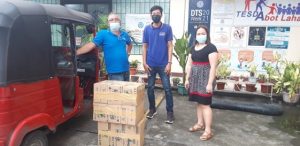 For the first wave of support, 139 food packs were released to PDI, 117 food packs were released to Siargao and 205 food packs (85 food packs without rice) were released to Surigao mainland. A total of 15 sacks of used and new clothing, 30 pcs blankets, 60 hygiene kits for release were also shelled out. The total amount of goods and cash collected and extended to the victims of Typhoon Odette through the facilitation of CDA Caraga is Eight Hundred Ninety-Six Thousand Four Hundred Ninety Pesos and Thirteen Centavos (Php896,490.13).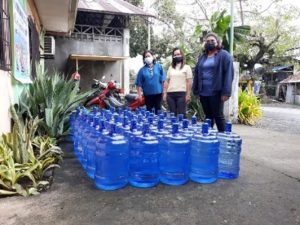 The packing/re-packing of relief goods was simultaneously done at the CDA Caraga Regional Office (see figure 1), and CCDC Bislig  (in MAFFISCO office). Relief goods were then brought and delivered to 3 drop-off points in Surigao: Siargao coops via SOEMCO; Dinagat Island coops via SOEMCO, and Surigao mainland coops via Provincial Cooperative Development Office. Identification of beneficiaries is done coop to coop for fast and easy facilitation. The list included the CDA Staff who were also affected. "Special thanks" is sent to the PCDO, PCDC of Surigao del Norte, SDN CDA Provincial Office and SOEMCO for the facilitation of the delivery of relief goods to the victims.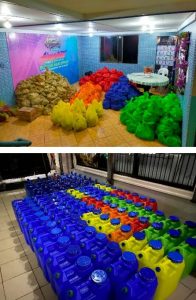 Truly, the cooperative sector is always ready to help especially during emergencies and calamities, the true essence of cooperativism. No amount of help can ease the pain that our kababayans have endured but the assistance surely had a great impact to them. Cooperation really exists among cooperatives. Sharing and caring cooperatives did really serve its purpose. Kindness is more binding.
One beneficiary said upon receiving the relief goods, "Salamat karajaw sa ijo tabang. Dili ko gajud ini kalimtan. Ang Ginoo nay nahibayo sa ijo."   Translation: "Thank you so much for your help. I will never forget this act of kindness. God will surely bless you more".

Our kababayans still need us. In koop-kapatiran, hope is ignited in ravaged communities. There is so much we can do in helping together.  "Alone we can do so little, together we can do so much" (by Helen H. Keller).
Together we can make it!
Table I. List of Cooperatives from Bislig City who extended help for Typhoon Odette Victims
| | | |
| --- | --- | --- |
| Name of Coop/Individual |  Cash | Goods |
| POBISPROCO |       3,000.00 | |
| BCHTECCO |       1,000.00 | 3 bags of used clothes |
| BISKRAFT |       1,000.00 | |
| JODAB TSC |       5,000.00 | |
| SURSURTRANSCO |       5,000.00 | |
| ASC BATCH '81 |       3,000.00 | |
| USEP MPC |       8,000.00 | |
| BCWD MPC |       1,000.00 | |
| BPESTAMPC |       3,000.00 | |
| SURIGAO COAL |     10,000.00 | |
| BCGEMCO |     20,000.00 | |
| SRFDWMPC |       1,000.00 | |
| ASMHC |       7,000.00 | |
| MAWOCCO |          500.00 | |
| BCPMPC |       1,500.00 | |
| TASETEMCO |          500.00 | |
| CCDO TANDAG CITY/STAFF |     10,600.00 | |
| SUBIMCO |       5,000.00 | |
| BISCOACO |       2,100.00 | |
| BICHAMCO |       5,000.00 | |
| MAFFISCO MPC |     20,000.00 | |
| MAFFISCO MEMBERS |       6,840.00 | |
| CCDC BISLIG |     30,000.00 | |
| SEMCO |     15,000.00 | |
| N.A. PORTILLO |          200.00 | |
| R.M. GONZALES |          200.00 | |
| |   165,440.00 | |
Table II. List of Cooperatives from Cabadbaran City who extended help to victims of Typhoon Odette.
| | | |
| --- | --- | --- |
| Name of Coops/Individual | Goods | Amount |
| LEND MPC | 3 sacks of Rice |       7,795.00 |
| PUBAC MPC | 1 Bag Sardines |       2,000.00 |
| Candelaria MPC | 50 Gal. of water, 50 Bags of Rice (5 kilos each), 50 bags (3 kilos of Rice and canned goods) |     61,733.13 |
| CSU ER MPC | 1 sack rice, 1 box sardines, 1 box noodles |       4,160.00 |
| Avancena FB MPC | 5 bags of rice |       8,750.00 |
| AGNORPUV | 1 box coffee, 2 boxes noodles |       1,700.00 |
| MAFCO | 1 sack rice |       1,750.00 |
| BAUG CARP MPC | 10 sacks rice |     18,000.00 |
| Pirada DP  F MPC | 1 box noodles |          575.00 |
| Cabadbaran City MPC | 2 boxes noodles with canned goods |       2,900.00 |
| | |   109,363.13 |
Table III. List of Coops/Individuals/other organizations from Surigao del Sur who have extended help to typhoon Odette Victims
| | |
| --- | --- |
| Name of Cooperative/Individual | Amount |
| TANCGOEMPCO |                                      135,910.00 |
| CARES |                                           5,000.00 |
| JPEHSEMCO |                                         20,000.00 |
| TAFIMACO |                                           2,000.00 |
| MONALISA SOCIETY |                                           6,000.00 |
| SURPOCO |                                           7,000.00 |
| DEMPC |                                         10,000.00 |
| LGU CARMEN |                                           5,000.00 |
| SEMCO |                                         50,000.00 |
| KING Coop Tandag Branch |                                         47,982.00 |
| Adela Siera Ty |                                         27,846.00 |
| |                                      316,738.00 |
Table IV. List of Coops from Butuan City that extended help to Typhoon Odette Victim
| | | |
| --- | --- | --- |
| Name of Coops/Individual | Goods |  Amount |
| Kabuhayan MPC | |       3,000.00 |
| Mustard MPC | used clothing | |
| CB Transport Service Cooperative | goods |       2,000.00 |
| Butuan Seed | used clothing, 1 sack rice |       2,400.00 |
| Sto Nino | 1 sack rice |       2,400.00 |
| AHNSMPC | 30 packs @5 kilos each, 30 blankets, clothes |       1,500.00 |
| Serviam | 9 cartoon canned goods |       5,400.00 |
| Tagabaca MPC | 3 sacks rice, used clothing |       7,200.00 |
| DEBCC | cash |     50,000.00 |
| ANTRECCO | |       5,000.00 |
| Ampayon MPC | |     15,000.00 |
| CACEBUDECCO | manpower | |
| IOEBCC | |     41,800.00 |
| ACDI | |     15,000.00 |
| Green Caraga | |       6,000.00 |
| | |   156,700.00 |