By: Anna Danica B. Cuadrasal
When the unprecedented COVID 19 pandemic hits the world, no one was spared from the effects of it – the world literally came to a halt and forced to face the health and economic crisis it brought. Lockdowns were imposed, businesses closed, retrenchment of employees and companies declaring bankruptcies, as a result many lost their jobs. The pandemic has particularly devastating impact to the most vulnerable sector of our society. Also, it was during this time that our faith is being tested. But we do not lose hope for always there is a silver lining behind the dark clouds brought by this crisis. The cooperatives in Caraga, despite the challenges and difficulties they themselves face had demonstrated positive responses when they took the initiative to help their members, employees, and community during this pandemic.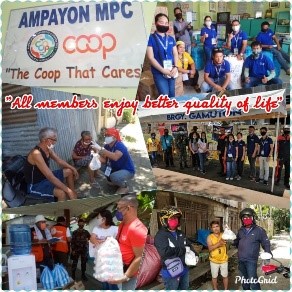 Solidarity – one of the core values by which coops were founded; and the unifying link from which the ethical value of social responsibility and caring for others springs, is the one strong force that moved the coops to manifest and join the movement (hash tag)  #CoopsAgaintsCovid19# – wherein coops from all over the country became partners of the government to deliver aid, support, and the much needed help to many people. The following cooperatives are just among the hundreds of coops that extended assistance/services to the people and communities.
Ampayon Multipurpose Cooperative (Ampayon MPC) distributed food packs to their members and frontliners. Serving a total of 1200 members and frontliners guarding the checkpoints in Butuan City.
DAR Employees Multi-purpose Cooperative (DAREMCO) extended medical assistance to its members amounting to P1,000 per member.
Butuan Medical Mission Group Cooperative distributed food packs to the indigent communities of Brgy. Ampayon, Brgy. Pinamanculan and Sitio Dalingdingan of Butuan City.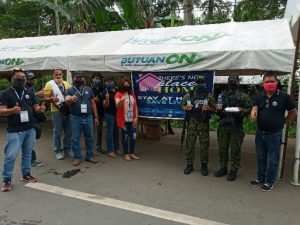 Kabuhayan Development Multi-Purpose Cooperative
 continued their consumer operation (consumer, lending) to cater to the members and community. They also distributed extra food packs for their members.
Diamond Transport Service Cooperative (DATSCO) distributed packed meals to the front liners of Taguibo, Taligaman, Bancasi and LTTMO. Employees' salaries were not deducted of their cash advances. The coop set aside petty cash fund to cater employees' additional cash advances during COVID crisis.
Caraga Centre For Business and Development Cooperative (CACEBUDECO) extended P1500 cash assistance to all members and distributed packed meals to frontliners (checkpoints, hospitals) in Butuan City.
Agusan National High School Multi-purpose Cooperative extended financial assistance to their employees in the amount of P1,200 per employee and refunded loan payment of the members falling within the period covered by the moratorium.
Provincial Employees Credit Cooperative of Agusan del Norte (PECCAN) distributed face masks to all members.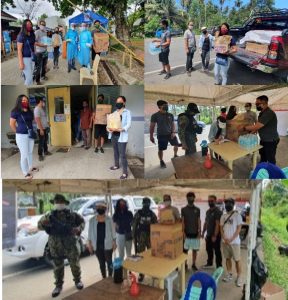 Department of Agriculture Caraga Employees Multipurpose Cooperative (DACEMPC) provided P1500 cash assistance to all members and distributed PPE's to hospitals in Butuan City.
These cooperatives were among those which immediately took action and together in their own small ways were able to help a lot of people! True to the cooperative pledge. . . . .  "alone I am weak but with others I am strong", the Caragan coops united. . . . . have impacted the lives of many people, have spread hope and light during the 'darkest hour'.
This also the cooperative sector's way of making a difference; the resilience of the Filipino culture in action. ********