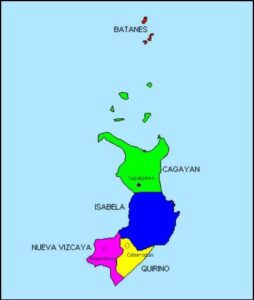 Region 2 or the Cagayan Valley is strategically located on the northeastern part of mainland Luzon. With a total land area of 26,388 square kilometers the Cagayan Valley is the second largest region in the Philippines.
It is bounded to the west by the Cordillera mountain range, to the east by the Sierra Madre, to the south by the Caraballo Mountains, and to the north by the Luzon Strait. The mountains in the east serve as natural barriers from devastating winds during typhoon season.
It is a natural catch basin having the largest watersheds in the country. It is crisscrossed by the longest and largest river network, the Cagayan River, also known as Rio Grande de Cagayan, with a total length of approximately 505 kilometers and a drainage basin covering 27,753 square kilometers.
The valley floor experiences cold winds from November to February, funneled through the opening in the north, and traps surface temperature usually from March to June. With most of the production and settlement areas along the valley floor, frequent exposure to extreme temperature is normal.
The region is largely an agricultural economy with thirty-seven percent (37%) of its total land area dedicated to agriculture production.
Bountifully endowed with vast natural resources and development potentials, from its rich soil, extensive coastlines, renowned rivers and lakes, and widespread forest, grasslands and mountain ranges, and teeming with highly skilled and competent workforce, the Cagayan Valley is becoming a desired investment destination in northern Philippines.
Its proximity to the East Asian countries is a given endowment that makes it not only a natural gateway for trade and investments but also a virtual link to other growth corridors.