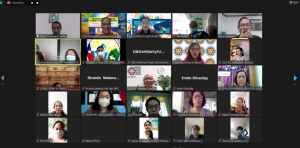 On August 13, 2021, the CDA Region II Extension Office, through the steering committee of the Regional Clustered Organization-Finance Cluster, spearheaded the Regional Clustered Organization (RCO) – Finance Cluster Virtual General Assembly  Meeting of officers and member-cooperatives.  The RCO – Finance Cluster in Region 2 recognized the primary function of the RCO to serve as a consultative body of cooperatives at the regional level. Thus, they decisively gathered on a virtual platform to raise their issues and concerns and be informed on some updates.
Rev. Ferdinand J. Valdez presided over the meeting, President of the RCO – Finance Cluster of Region 02. There were 26 cooperative-members in attendance, from Cagayan, Isabela, Nueva Vizcaya and Quirino.
CDA Regional Director Angelito U. Sacro thanked every member of the Finance Cluster for their continuous support to the programs of the Cooperative Development Authority. He urged the officers to demonstrate the importance of the Regional Clustered Organization, especially on the Finance Cluster.
The activity was also graced by the very active Oversight Head of the Finance Cluster, Asec Vidal D. Villanueva III. He delivered several updates and information to uplift the interest of the members of the Finance Cooperatives Cluster. He expressed optimism in the CDA's ability to assist cooperatives during these trying times.
The RCO – Finance Cluster members conveyed their appreciation and support to the updates presented by Asec Villanueva. They also shared their ideas, comments, and suggestions to improve the authority's programs and policies and address the issues and concerns of the cooperatives under the finance cluster.
In his closing remarks, Assistant Regional Director Artemio N. Guzman encouraged the finance cluster, as the largest cluster of cooperatives, to help each other remain resilient in these challenging times of uncertainty due to the COVID-19 pandemic.