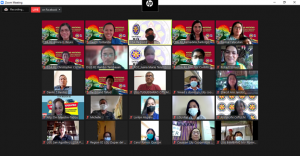 On October 26, 2021, the Local Cooperatives Development Officers' (CDO) E-Forum was conducted by the Cooperative Development Authority (CDA) – Regional Office II. The forum aims to provide necessary information for the Cooperative Development Officers in the region in line with their functions and to strengthen the partnership between the Local Government Units (LGU) and the CDA.
Regional Director Atty. Franco G. Bawang, Jr. welcomed the participants by expressing his gratitude to the LGUs for providing assistance to the agency through their CDOs. He even encouraged every participant to actively engage in the discussion to enhance their work in cooperatives.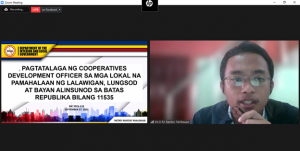 Mr. Rambo Tambauan, Local Government Operations Officer IV of Department of Interior and Local Government (DILG) Regional Office II, discussed and explained further some provisions of RA 11535 entitled "An Act Making the Position of a CDO mandatory in the Municipal, City and Provincial Levels, amending for the purpose RA 7160, otherwise known as the Local Government Code of 1991" and DILG Memorandum Circular No. 2021-110. He emphasized in his presentation the importance of the creation of CDOs in Municipality, City, and Provincial Levels, their functions, and their required qualifications.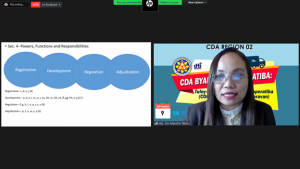 Atty. Nita Doreen Maestre-Tabbu, Legal Officer of CDA – Regional Office II, discussed the salient features of RA 11364 – "An Act Reorganizing and Strengthening the Cooperative Development Authority, repealing for the Purpose Republic Act No. 6939, Creating The Cooperative Development Authority". She elaborated on the powers, functions, and responsibilities of the CDA. She added that CDA recognizes the vital role of the cooperatives because, just like the government, they can operate, have social duties, economic activities, create jobs, and improve activities such as agriculture for their members.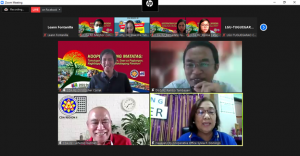 During the open forum, Ms. Sylvia P. Domingo, CDO of Cauayan City, shared some of their best practices that other LGUs could adapt to serve the cooperative sector continuously.
In his closing remarks, Assistant Regional Director Artemio N. Guzman thanked everyone for promoting cooperative development. He recognized the vital role of CDOs as partners of CDA in helping cooperatives become fruitful and successful. He is also looking forward to a better and stronger partnership among national government agencies, LGUs, and other stakeholders.