Batch 5 of the Basic Training Course on Cooperatives, Bookkeeping and Entrepreneurship (BTC-COBE) for Beneficiaries of RCEF Mechanization Program was successfully conducted last November 8 to 9, 2022 in San Antonio, Zambales with a total of 30 participants from 17 FCAs who completed the course and were given the Certificate of Completion while 3 participants were given a Certificate of Attendance. Out of the 17 groups, there are 4 farmer's cooperatives and 13 farmers or irrigators associations. This batch was simultaneously conducted with the Batch 4 which was held in Pampanga.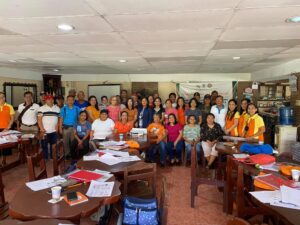 This batch was managed by the CDA Region 3 Extension Office training team composed of  Ms. Jenalyn D. Ferrer, Acting Head of the Cooperative Research, Information and Training Section (CRITS), Ms. Myra Sheryll C. Dacwag, Cooperative Development Specialist of the Cooperative Project and Development Section (CPDAS), Ms. Elena P. Dela Cruz, CDA Region 3 Accountant, Ms. Marichris Lanorio, Cooperative Development Specialist of the Supervision and Examination Section (SES), Ms. Vernilyn C. Parentila, Cooperative Development Specialist of the Registration Section and Ms. Elizabeth T. Acayan, Provincial Cooperative Development Specialist assigned in Zambales.
The training was also graced by the Head of the Provincial Cooperative Office of Zambales, Ms. Flora Espinosa and the Head of the Municipal Agriculture Office of San Antonio, Zambales, Ms. Jenny Babe D. Caabay who helped the team in coordinating and inviting the participants. Mr. June Rhimel Joven and Ms. Danielle Antoinette I. Castro from DA-PhilMech responded to the questions and queries of the participants via Zoom platform during the open forum.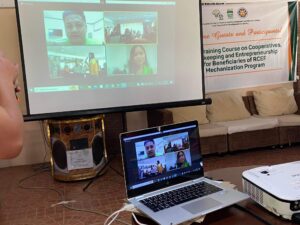 As shared by the participants during the closing program, they thanked the training team for being nice, approachable and jolly and the resource persons in imparting them the knowledge and skills on cooperativism, entrepreneurship, bookkeeping and use and recording of the farm machinery utilization record book.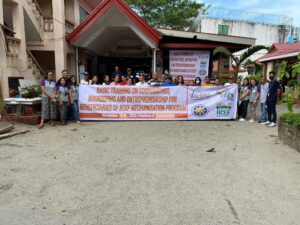 Prepared by: 
JENALYN D. FERRER, Acting Sr. CDS, CRITS
**
CDA Regional Office III Facebook Post | CDA-Philmech Partnership Program, Nov 8-9, 2022, Zambales