Region III or popularly called Central Luzon occupies the central portion of the island of Luzon.  It is the longest contiguous area of lowlands, and is otherwise known as the Central Plains of Luzon. The region produces one third of the country's total rice production, thus is also called the Rice Granary of the Philippines.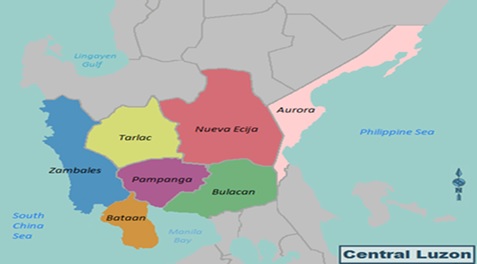 Central Luzon and is strategically located between Northern Luzon and the National Capital Region. It is landlocked by Pangasinan and Nueva Vizcaya on the north; Metro Manila, Cavite and Rizal on the south; Aurora and Dingalan Bay on the east and Palauig Bay and Subic Bay on the west.  It is bestowed with a combination of towering mountains, extinct and active volcanoes, lush verdant farmlands and natural sea harbors.
There are fourteen cities in the region: Balanga in Bataan; Malolos, Meycauayan and San Jose del Monte in Bulacan; Cabanatuan, Gapan, Muñoz, Palayan and San Jose in Nueva Ecija; Angeles, Mabalacat and San Fernando in Pampanga; Tarlac in Tarlac; and Olongapo in Zambales, as reported by Philippine Statistics Authority. Central Luzon produces the most rice in the whole country. Excess rice is delivered and imported to other provinces of the Philippines.
According to reports of the Department of Environment and Natural Resources, Central Luzon is rich in timber and mineral resources (both metallic and non-metallic). Aurora is known for its timber; Zambales for its refractory chromite, copper and nickel deposits; Tarlac for Manganese; Bulacan for marble; Pampanga for sand and gravel; and Nueva Ecija for feldspar.  Fertile rice lands, melon patches and fishponds can also be found along rivers and tributaries.  Region III accounts for the third largest aquaculture production in the Philippines. Aurora's 332-kilometer coastline and Zambales' 272 kilometers are teeming with marine resources. 
Region III is an important trading center and transportation terminal for products. Land travel is facilitated by a network of well-paved and extensive highways and roads linking all municipalities within the region. An extensive railway system is being built linking Clark Air Base in Angeles City, Pampanga and Manila. The two former U.S. bases, the Clark Air Force Base in Pampanga and Subic Naval Base in Zambales, are now special economic zones. There are two international airports in the region: Clark International Airport (now Diosdado Macapagal International Airport) and Subic International Airport. Port facilities facilitate trade with other areas in the Asia-Pacific region such as Hongkong, China, Taiwan, Singapore, Malaysia and Thailand.
   Central Luzon is well provided with communication facilities. Its provinces have adequate supply of electricity and potable water. Big markets, recreational facilities, and educational and financial institutions service the needs of the populace.
CDA REGION III EXTENSION OFFICE PROFILE
Legal Basis, Mission, Vision and the Quality Policy
Legal Basis. The CDA Region 3 Extension Office was created in furtherance of the provision of RA 6939 Section 3 (i) xxx "establish extension office as may be necessary and financially viable to implement this act." 
Region III Extension Office was established in Pampanga on May 1, 1992 headed by Director Benedicto C. Acierto. Its first office was situated in Sto. Tomas, Pampanga for three years and transferred to Tita's Building, Brgy. Dolores in 1995. After a year, (1996) the office was temporarily held at the 3rd Floor Doctor's Hospital Building in Cabanatuan, Nueva Ecija for one and a half years due to lahar flow coming from Mt. Pinatubo because of its explosion in 1991. When the situation in Pampanga became better, CDA Region III EO returned back and was situated in Avon Building, Brgy. Dolores. When the CDA Region III building was built inside the Government Center, the office was transferred on July 1, 2013 until this time. 
Mission. The mission of this office is to "ensure the safe and sound operations of cooperatives.
Vision. An effective and efficient regulatory agency working towards the development of viable, sustainable socially responsible and globally competitive cooperatives.
CDA Quality Policy.  As the government agency granting juridical personality to cooperative, the CDA is committed to:
Continually enhance the quality of our programs and services, considering the aspiration of our client in mind;
Deliver promptly services to the public, following a culture of excellence, professionalism and integrity;
Act in accordance with law and public policy. In line with these commitments, CDA will continue to give priority to capacity building to ensure that its human capital is knowledgeable, highly skilled and creative as well as imbued with positive work ethics and spiritual values.
These, it will pursue with the goal of improving service delivery in the name of transparency, accountability and quality service.
Personnel Complement
The office has a total personnel complement of 41, of which 14 are males and 27 females which includes a lady Extension Office Director and assisted by a lady Supervising CDS. Fifteen (15) CDS IIs are deployed in the provinces concentrating on technical assignments, while the remaining twenty six (26) personnel are assigned to do technical and administrative support in the Extension Office. This is aside  from one driver and one MIS personnel working under a job order basis.