The Cooperative Development Authority (CDA) Region III Extension Office, in collaboration with Social Security System (SSS) Region III and Philippine Health Insurance Corporation (PhilHealth) Region III, conducted a webinar on "Senior Citizens and Persons with Disabilities (PWDs) Forum for Cooperatives" last November 10, 2022 via Zoom Platform. It was attended by 160 participants composed of Senior Citizens and PWDs who are cooperative members in Region III, and CDA Region III Extension Office field officers and Regional Office personnel.
The webinar aims to inform participants on the latest programs of SSS and PhilHealth that caters senior citizens and PWDs.
In his welcome remarks and activity overview, Mr. Raul S. Encarnacion, Senior CDS and Chief of CPDAS, shared his excitement on the day's lectures and thanked the participants and speakers for joining. CDA Region III Extension Office Regional Director Cristina H. Villamil also shared an inspirational message, putting emphasis that this webinar will be helpful to the participants in understanding their SSS and PhilHealth benefits.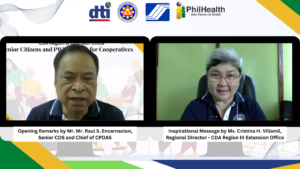 Ms. Julie C. Madlangbayan, Junior Analyst from SSS Pampanga Branch, is the resource speaker for the 1st lecture which tackled Programs of the SSS for Senior Citizens and PWDs. She discussed the various SSS benefits such as sickness, maternity, unemployment, disability, retirement, funeral, and death benefits. She also discussed the available SSS loans, and latest online platforms that the members can use.
Mr. Dexter S. Maglalang, Acting Chief Social Insurance Officer from PhilHealth Region III, is the resource speaker for the 2nd lecture which tackled Programs of the PhilHealth for Senior Citizens and PWDs. He discussed the coverage of the Universal Health Care law, PhilHealth Benefits and Coverage, and PhilHealth Konsulta Benefit wherein members can avail free check-ups and health assessments, laboratory and diagnostic exams, and medicines.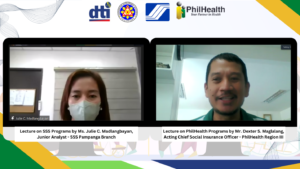 After the 2 lectures by the SSS and PhilHealth resource speakers, it is directly followed by an open forum moderated by the webinar host Mr. Brian John C. Mendoza, CDS II of CDA Region III Extension Office. The resource speakers answered the inquiries and clarifications on SSS and PhilHealth benefits and encouraged the participants to contact them via email, phone, or visit their office after the webinar to give more tailor-fit advice depending on their specific concerns.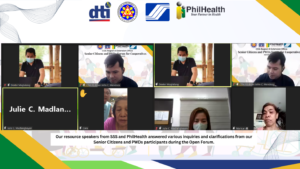 In his ways forward and closing remarks, Mr. Nelson D. Evangelista, Acting Assistant Regional Director, acknowledged the resource speakers for sharing their expertise and time. He also thanked the audience for their interest and their active participation in this webinar.
Written by: Angelica M. Herico, CDS II
#CDARegionIIIEO #CDAWebinar #SeniorCitizensAndPWDsForum
CDA Regional Office III Facebook Post | CDA Region III Extension Office conducts its first "Senior Citizens and Persons with Disabilities (PWDs) Forum for Cooperatives" Webinar