Over the years, CDA has been delivering several programs for our cooperatives to be availed of. One of those is the Koop Kapatid Program and eCo-opBIZ, an online marketing platform intended for cooperatives. These CDA programs were presented on the first day of the weeklong e-forum initiated by the Cooperative Projects and Development Assistance Section (CPDAS).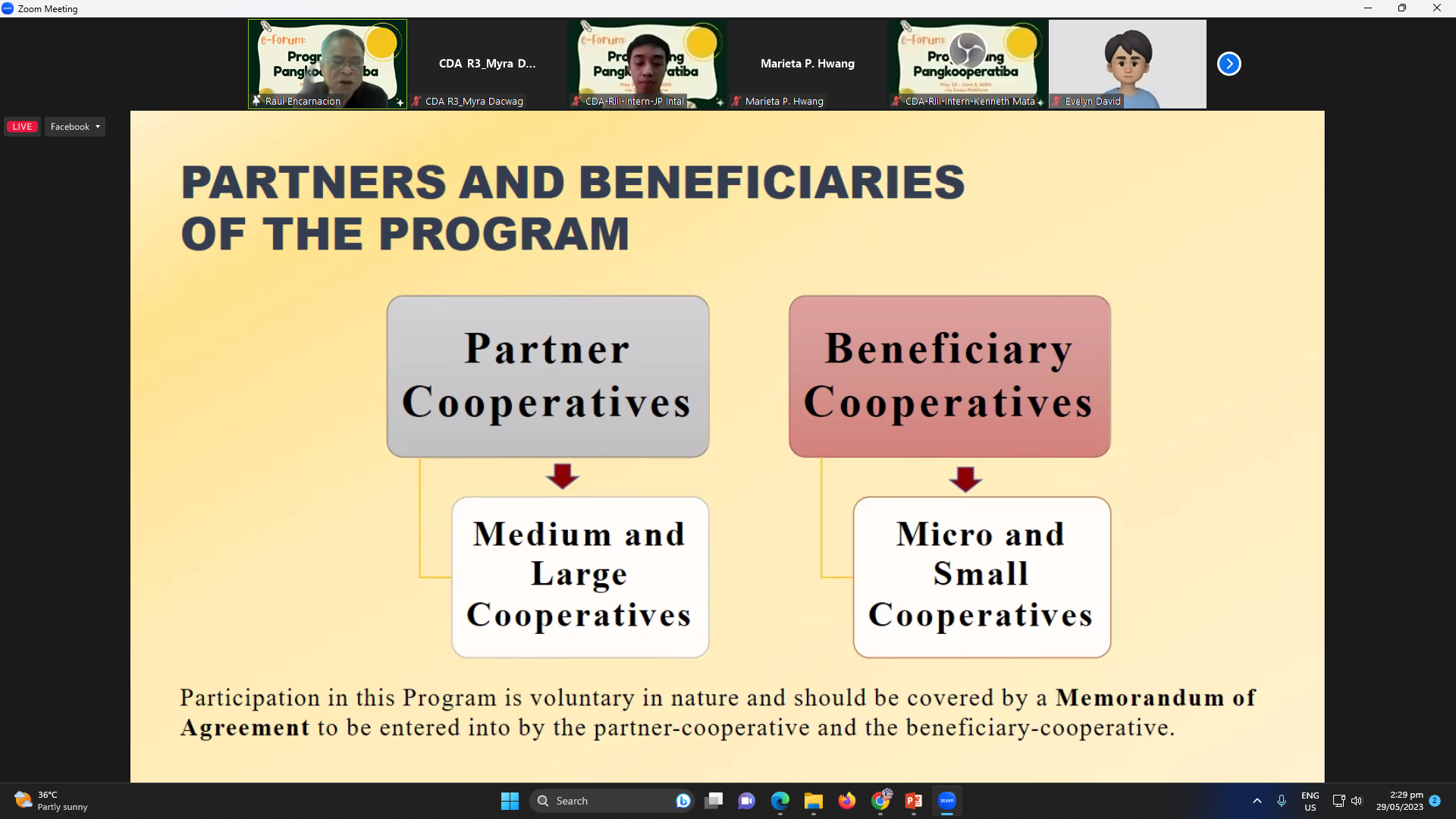 Regional Director Marieta P. Hwang emphasized that aside from developing different programs, the authority also establishes partnerships with other government agencies and private institutions to help uplift the cooperative sector i.e. Department of Social Welfare and Development. (DSWD), Philippine Fishery Development Authority (PFDA), SB Corporation, Malayan Savings Bank and RCBC, Bangko Sentral ng Pilipinas (BSP), Social Security System (SSS), and Development Bank of the Philippines (DBP).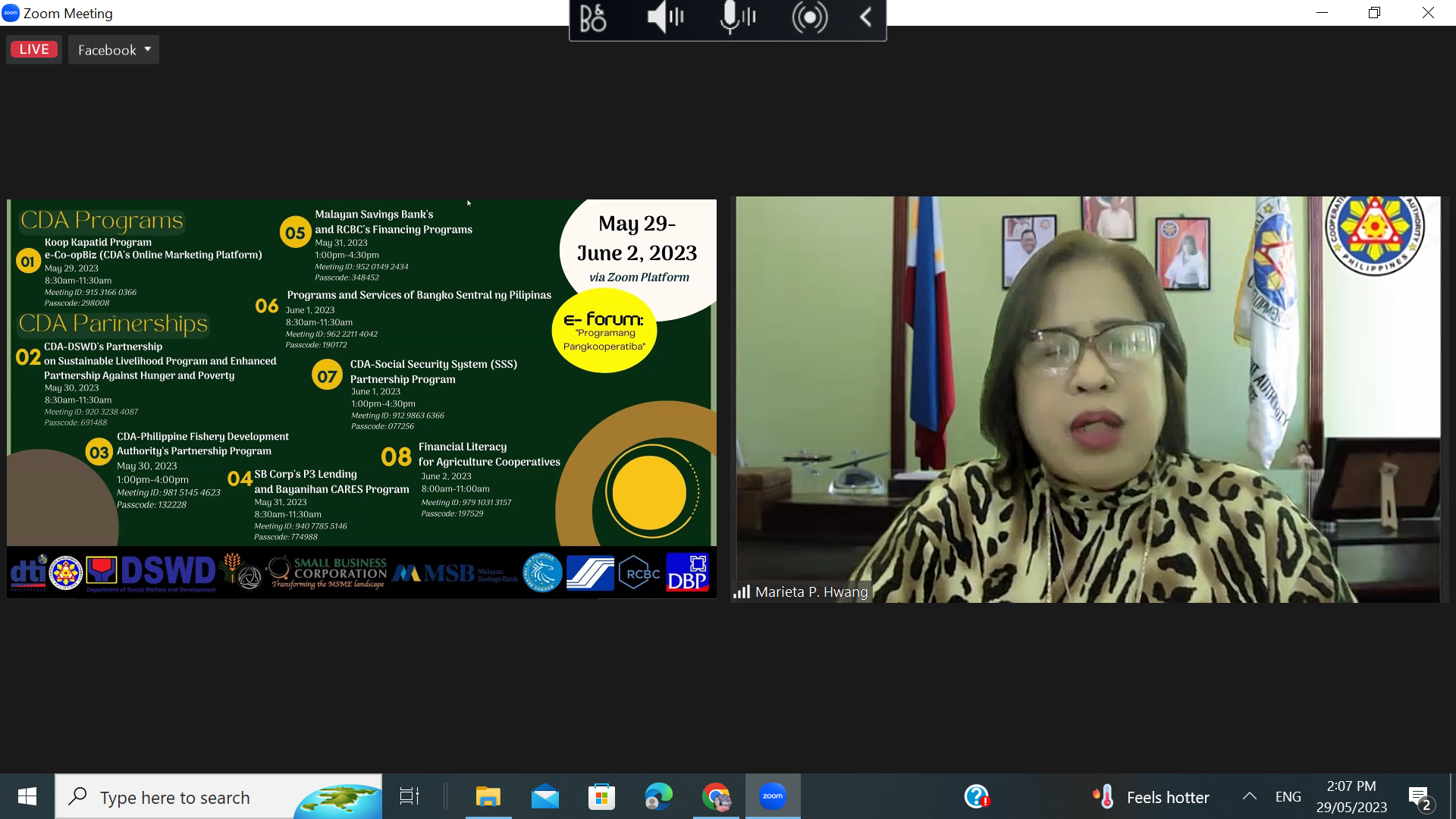 Meanwhile, Mr. Raul S. Encarnacion, Sr. CDS of CPDAS highlighted the importance of the following:
The Koop Kapatid Program seeks to enhance cooperative management, governance, and commercial operations by offering technical, financial, or other types of support; and
eCo-opBIZ offers guidelines and methods for all management and operational activities, including the selection of cooperatives that will be registered as merchants or vendors and the qualification of their goods for posting in the aforementioned system.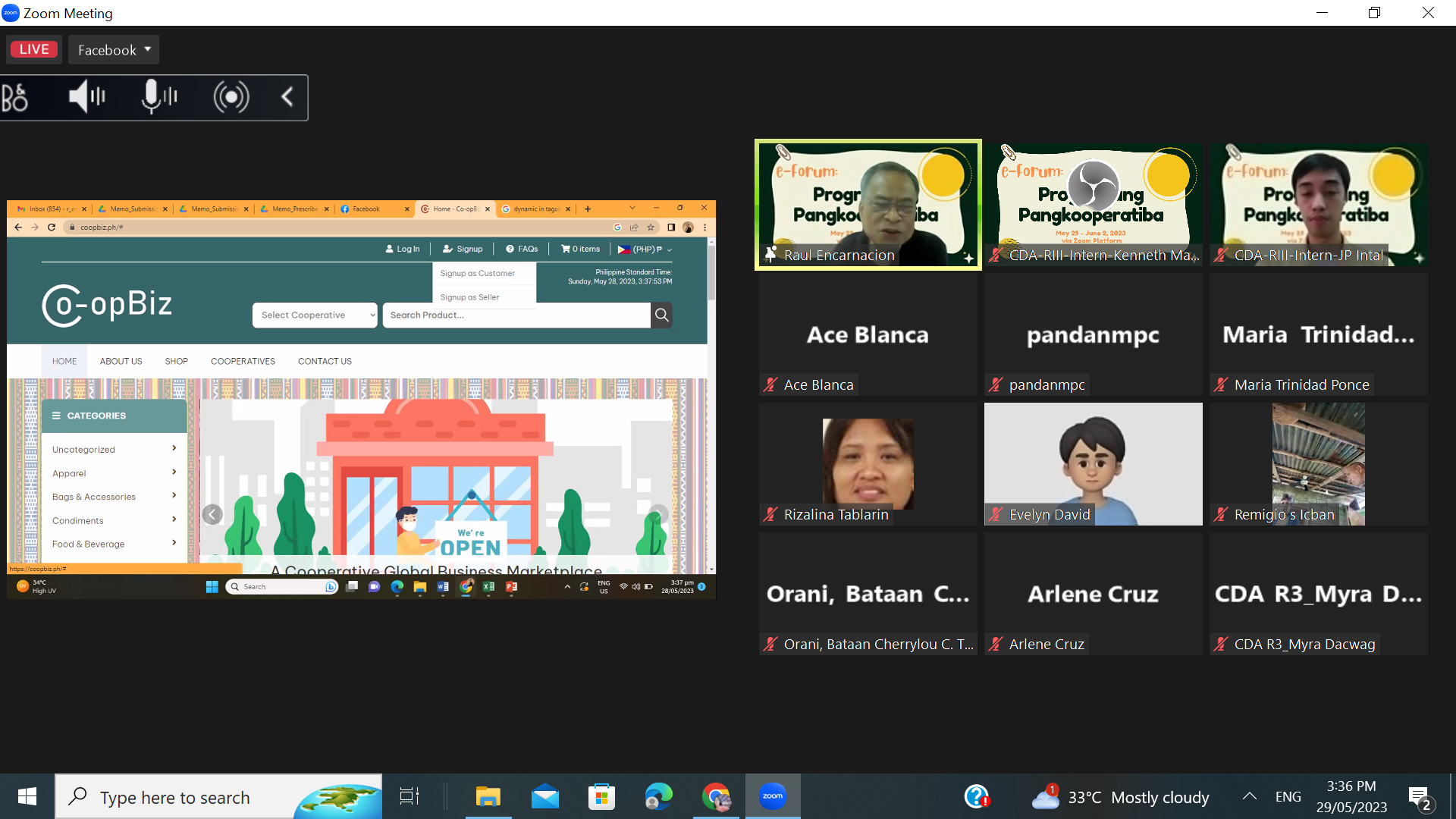 On the other hand, the CDA urge the cooperatives to coordinate if ever they need assistance may it be technical or financial that they can use to elevate the lives of their cooperative members and/or constituents in their respective communities in terms of innovation, creativity, and advertisement of their local products.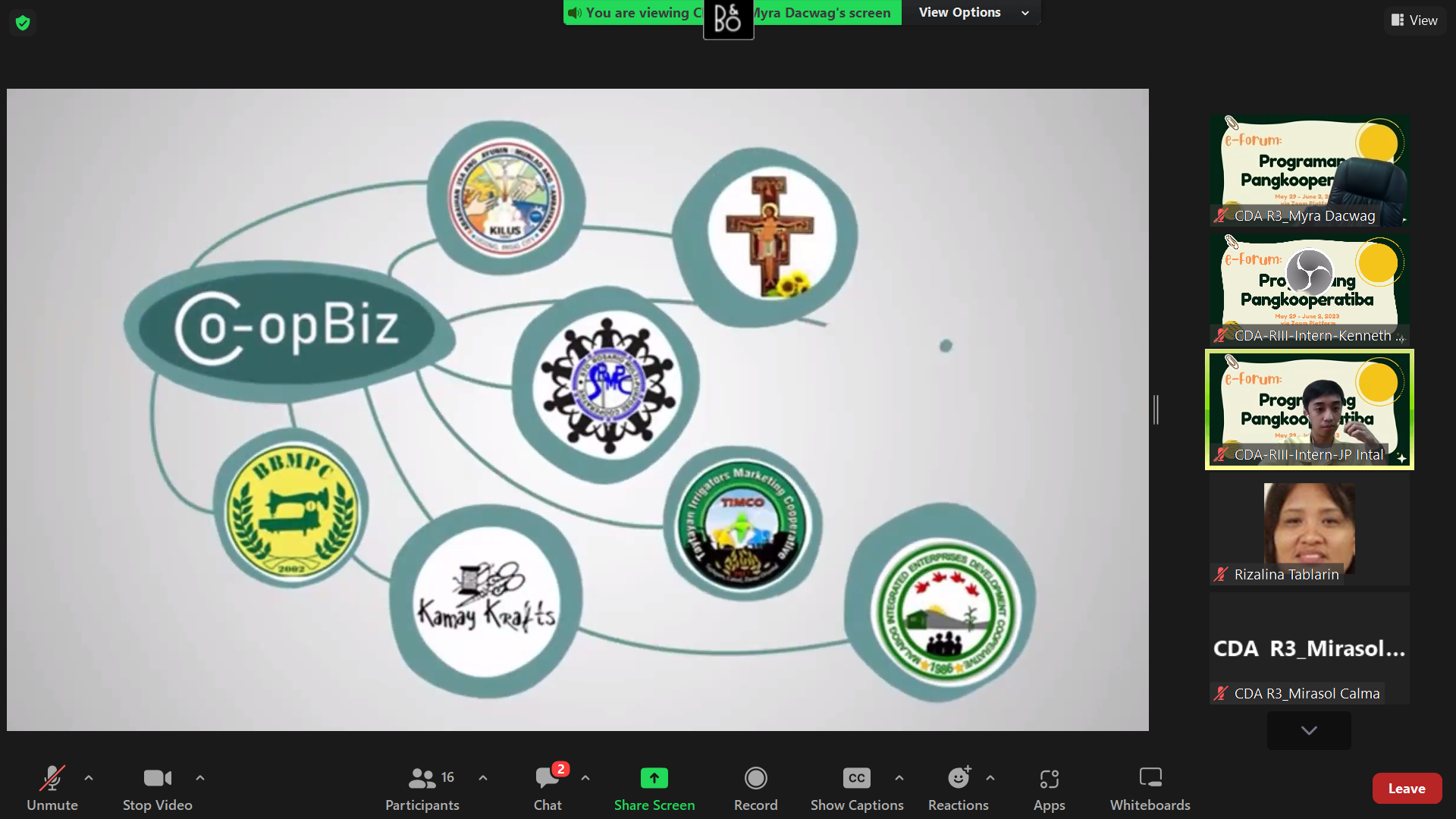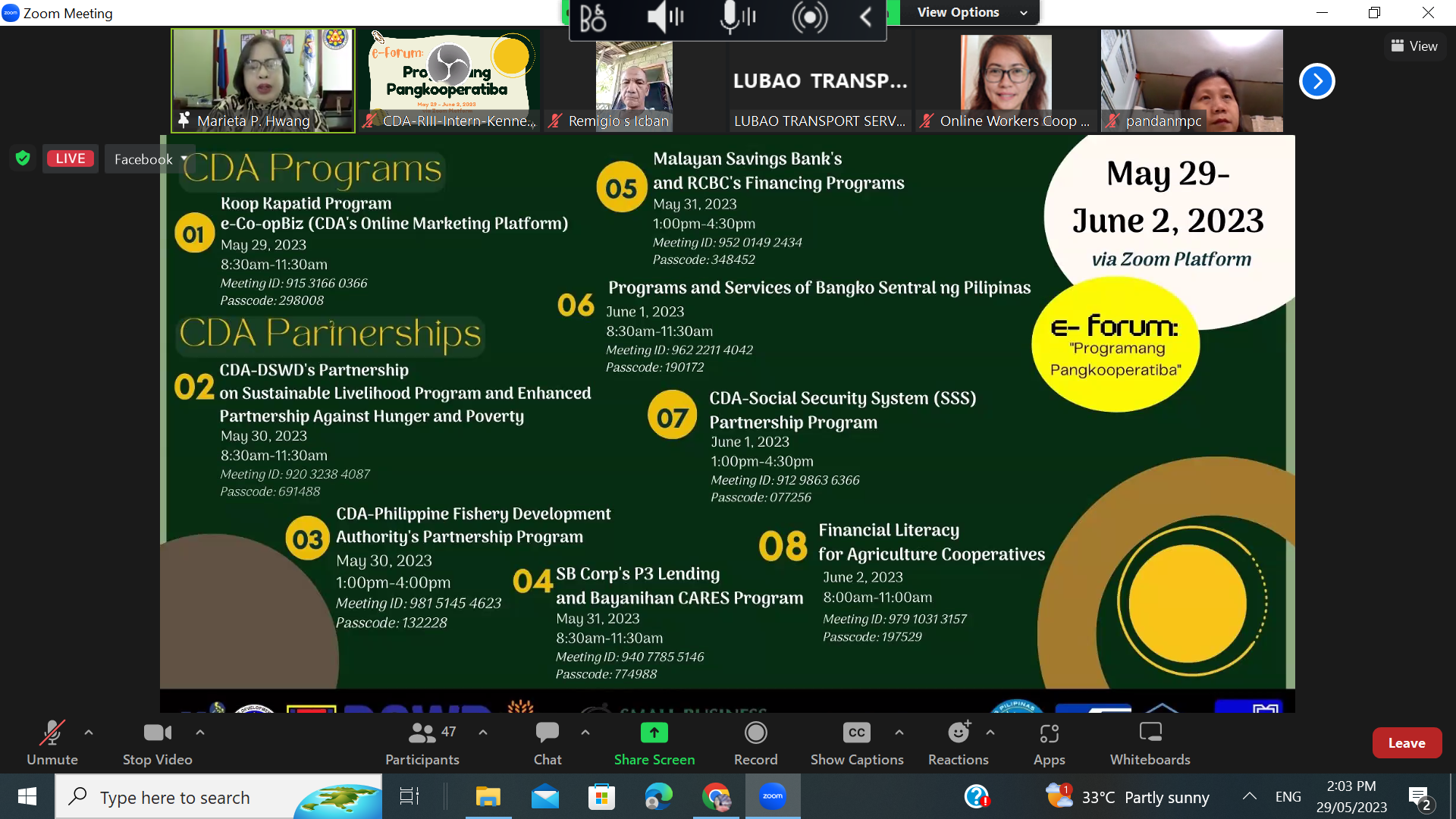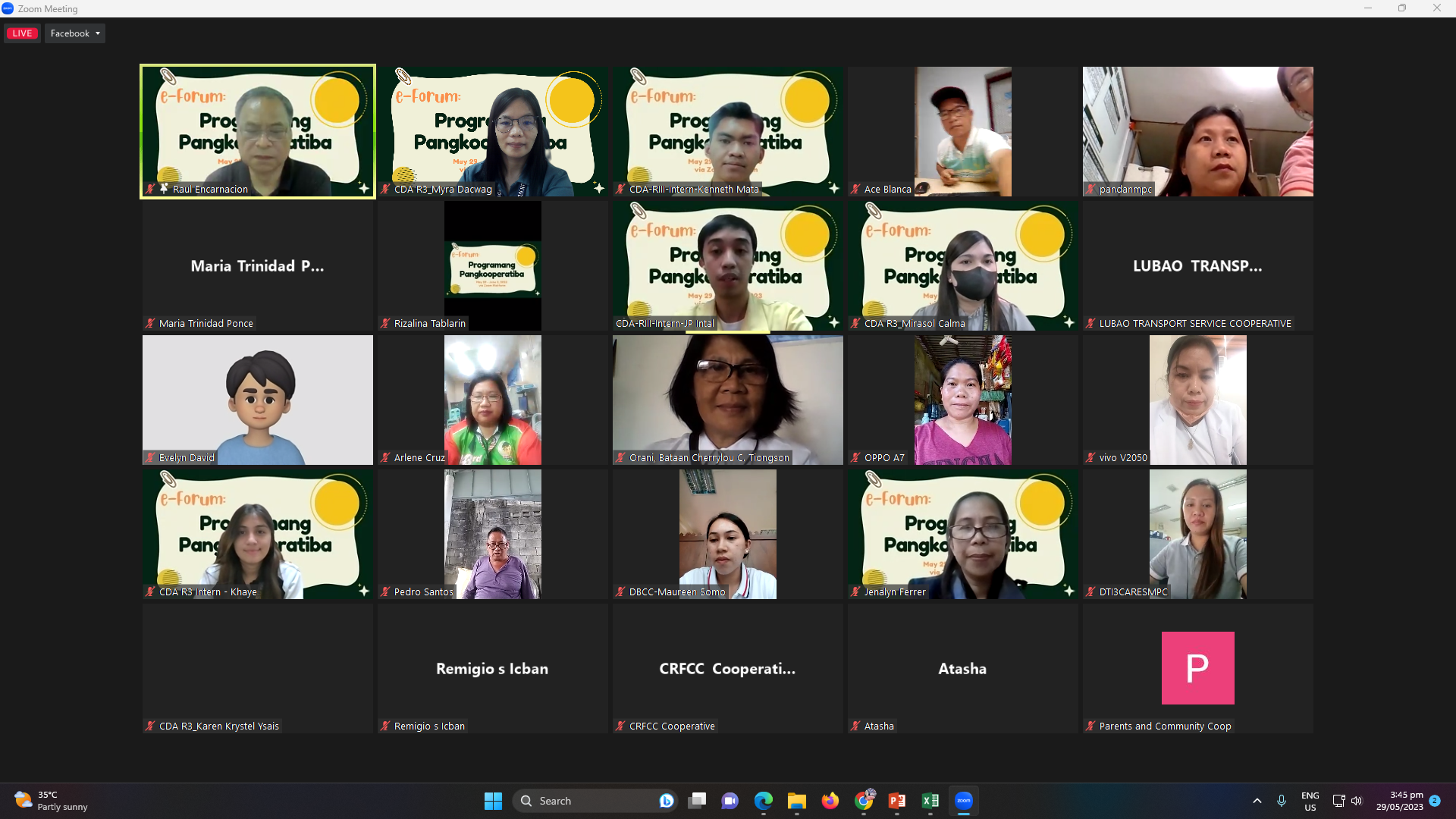 The different partnerships with government and private institutions will be discussed on May 29 to June 2, 2023, to be conducted via the Zoom Platform.
Prepared by:
MYRA SHYRELL C. DACWAG, CDS II
CDA Regional Office III Facebook Post | CDA REGION III EXTENSION OFFICE SUCCESSFULLY CONDUCTED THE DAY 1 OF THE "E-FORUM: PROGRAMANG PANG-KOOPERATIBA" FEATURING CDA'S KOOP-KAPATID AND ECO-OPBIZ THRU THE INITIATIVE OF CPDAS