Balakilong Credit Cooperative (BCC) is one, if not the most, successful existing cooperatives in the municipality of Laurel, Batangas. It was established in October 1996 with 46 pioneering members who shared Php 5,000.00 each which enabled BCC to start with an initial paid-up capital of Php 230,000.00. Then, on December 10, 1996, it was duly registered at the Cooperative Development Authority (CDA).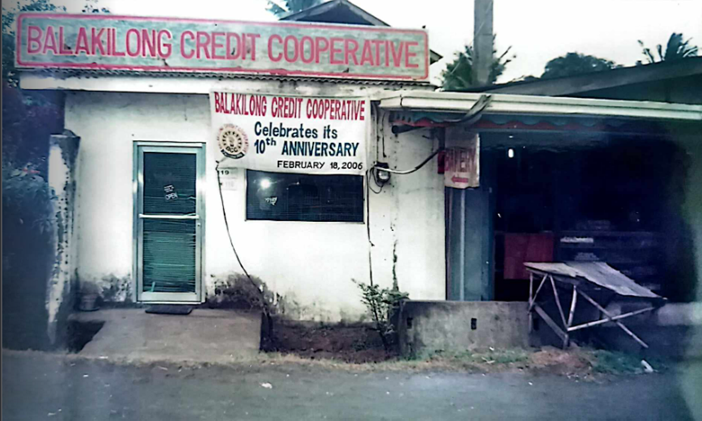 Looking back, it was the aspiration of the local church to help make Laurel a dynamic, progressive, and peaceful town. To this end, the then Parish Priest of Immaculate Conception Parish, Rev. Fr. Jose S. Castañeda, organized a Parish General Pastoral Assembly (PAGPAS) on August 3, 1996. It was attended by some parishioners together with the Municipal Mayor at the time. Problems concerning the town were discussed therein, and one of which was economic difficulties.  As part of the solution, the assembly conceptualized the establishment of cooperatives, and so Balakilong Credit Cooperative was born through the concerted effort of Fr. Jose Castañeda who chaired the board of directors, and Mrs. Nelia R. Mayuga as the manager.  The pioneering members were mostly teachers from Balakilong Elementary School joined by some church workers. Simultaneously, its scope of operation extended to the adjacent barangays of Balakilong.
BCC is now in its 27th year of lending business operation. From just a nook, it now has an office of its own with a Function Hall. This vital transformation created an impact in the locality particularly on the way of living of the members. They realized that teamwork and solidarity, if coupled with discipline and perseverance, can build roads and bridges.  From the initial forty-six (46) members, the cooperative has now increased its membership count to three hundred and thirty (330). Currently, its total asset is Php 52,986,339, and its paid-up capital reached up to Php 34,502,240.00.  Still, they promote capital build-up and accept membership from members' families as associate cooperators.  Thrift and savings mobilization are also encouraged.
To help improve the quality of life not only of its members but also of the community in a Christian way is one of the aims of the cooperative.  They assist in building the church and support its catechetical instruction through monthly donations. Yearly, BCC takes part in Brigada Eskwela and distributes school supplies to grade one entrant of different schools and hygiene kits to the learners of Day Care Centers of Laurel.  Caring for the less fortunate is also their concern.  They hold annual December Gift Giving to indigent families of the town.
BCC are partners of the Lipa Archdiocesan Social Action Commission which respond to pandemics, disasters, and calamities by giving financial assistance and relief goods not only in Laurel but also in different parts of the country as the needs arise. The coop is also an advocate of environmental preservation through tree planting activities, clean-up drives, and the production and promotion of the use of organic fertilizers.  Supporting the Local Government Unit as well as the barangays through sponsorship to different festivities and donations for their outreach programs.
BCC gives importance to education.  Officers and staff are sent to seminars, conferences, and training courses to upgrade their skills and capabilities.  Lakbay Aral is also conducted with various successful cooperatives and institutions for benchmarking.
Network and linkages are also valued by BCC. It is an active member of 1 Cooperative Insurance System of the Philippines (1CISP), Metro South Cooperative Bank (MSCB), and Cooperative Union of Batangas (CUB). Recently, BCC received a Toyota Avanza car for being the Top 1 Net Premium Contributor from 1CISP. They also gave Php 60,000.00. The Provincial government annually gives Php10,000.00 as an aid for our General Assembly.
The cooperative slowly etched its name in history by being proactive and creative. Due to its excellent performance, it was awarded as the Natatanging Kooperatiba (Medium Category) by the PCLEDO, and the Third Placer in the Gawad Pagkilala (Medium Category) on November 23, 2015.  Four years later on November 6, 2019, it received the Rich Coop Award for Youth Coop Advocacy. On November 13, 2020, it received the Magiting Citation from PCLEDO, Gawad Parangal – Magiting Koop Award (October 28, 2021), Achiever Best in Compliance – Magiting Koop Award, one of the Top 5 Premium Contributors Small Scale Category (2022), and Top 1 Net Premium Contributor of Region IV-A from the 1 CISP on September 22, 2023.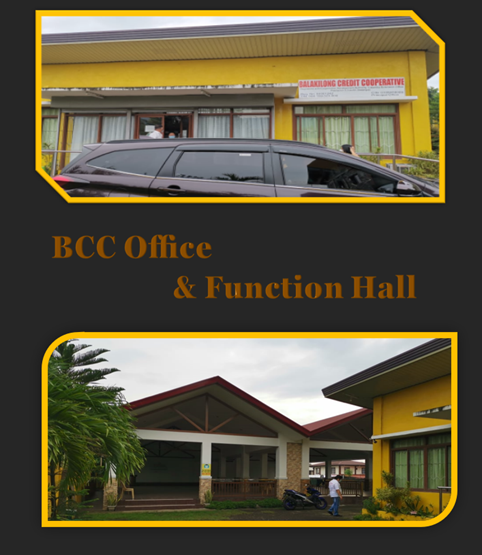 Challenges are part of the cooperative's journey.  There are not many, primarily are late payments of some members. To address this, members are reminded to pay on time through notices.  Frequent violators were called to the office and offered schemes to lighten their burden of paying debts.
Today, with the cooperative efforts from its highly competent Board of Directors, Committee Members, Manager, Staff, and of course a very supportive membership, Balakilong Credit Cooperative has metamorphosed tremendously from a nobody to a somebody.  With more than two decades of fruitful existence, the cooperative never stops pursuing its commitment:  SERVICE TO THE PEOPLE AND THE COMMUNITY.