The Cooperative Development Authority Regional IV-A Extension Office launched the "Byaheng Koop: Cooperative Compliance Caravan" in partnership with the Provincial Government of Laguna through its Provincial Cooperative Development Office (PCDO) and the Cooperative Union of Laguna (CUL) in Los Banos, Laguna on September 28, 2023, at the Cultural Center, Capitol Site, Sta. Cruz, Laguna. This initiative was designed to assist the cooperatives of Laguna to comply with the Authority's existing compliance rules and regulations, assess their lacking reports and deficiencies to enhance the number of cooperatives that are awarded with their Certificate of Compliance (COC).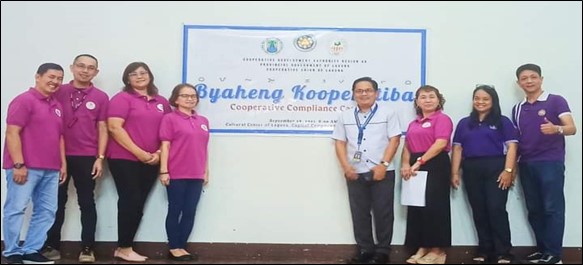 The Byaheng Kooperatiba: Cooperative Compliance Caravan was spearheaded by the CDA R4A Supervision and Examination Section (SES), Registration Section, and the Laguna CDSs, and was participated by eighty-one (81) cooperatives from different cities and municipalities of Laguna. Ms. Evelyn V. Delos Reyes, Chief of Registration Section, representative of the Mr. Salvador V. Valeroso, CDA 4A Regional Director, opened the activity through her Opening Remarks, followed by messages from Mr. Noly S. Balboa of the Provincial Cooperative Development Office, and Mr. Romeo E. Malinawan of the Cooperative Union of Laguna. A brief description of the program and instructions were delivered by Mr. Dexter S. Perez, Chief of Supervision and Examination Section.
The participating cooperatives were assisted one-on-one to comply with their CAIS findings, Notice of Deficiency and Notice of Non-Submission. Twenty-five (25) Cooperatives were able to complete their submissions and were awarded their COCs that same day.