October marks the annual celebration of Cooperative Month throughout the nation. This month-long event gathers all cooperatives and their members, government sector, non-government organizations, and the entire cooperative movement by way of conducting activities that promote cooperativism and support social and economic development.
The Cabuyao City, through the City Cooperative and Livelihood Development Office, salutes the exemplary cooperatives and for spurring economic growth and promoting social inclusion. With proper management, cooperatives can become vehicles of sustainable and inclusive development. The city government recognizes the great potential of cooperatives in empowering people, especially the marginalized and disadvantaged, to become self-reliant and productive members of society. As part of the coop month celebration, the City Cooperative and Livelihood Development in coordination with the City of Cabuyao Cooperative and Development Council (CCCDC) have lined-up the following activities: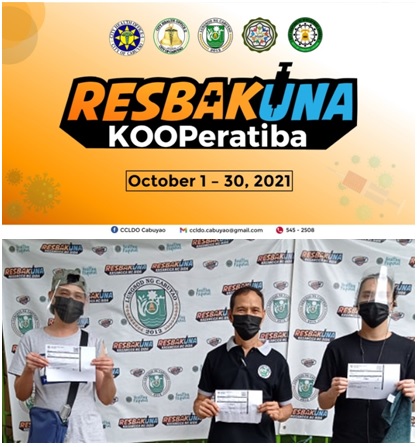 Members of various Cabuyao Primary Cooperatives got vaccinated against COVID-19. The ResBakuna COVID-19 vaccination program in the Philippines is a mass immunization campaign against the deadly virus and in response to the pandemic faced by the country. This is intended in overseeing the roll-out of the COVID-19 vaccines, especially for Cabuyao Primary Cooperatives. The ResBakuna Kooperatiba campaign aims to reach cooperators and encourage them to receive the vaccine. The collective effort of all the sectors of the community will be a huge step towards the recovery of humanity.
Despite having the strictest and longest lockdown in the world, COVID-19 cases in the Philippines continue to rise. This virus presents an immediate danger to the functioning of communities across the world. Such impacts include unemployment, sickness, and vulnerability. Frontliners, including healthcare workers, put their own safety aside and continue to provide life-saving support and protection to people most in need despite the risks.
On this year's KOOPERASYON SA KOMUNIDAD Program, hospital frontliners were the program's beneficiaries. This is to show our solidarity and appreciation to their selfless support and service to the community during the pandemic. The CCLDO, in partnership with the City of Cabuyao Cooperative Development Council (CCCDC), provided meals to 500 frontliners from the following hospitals in Cabuyao City:
Ospital ng Cabuyao
Cabuyao City Hospital
Holy Rosary of Cabuyao Hospital
First Cabuyao Hospital and Medical Center
Global Medical Center of Laguna
Investment banking is a special segment of banking operation that helps individuals or organizations raise capital and provides financial consultancy services. With the negative effects of the COVID-19 pandemic to entrepreneurs, companies and cooperatives need additional source of income through diversification. The webinar aimed to educate cooperatives with the modern ways and processes of banking and investment.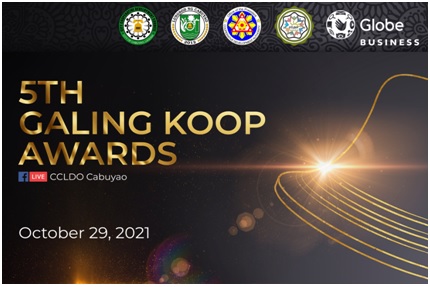 The local government unit of Cabuyao has recognized outstanding cooperatives in the City for gaining significant growth in membership size and total assets, and for showing remarkable concern for the community since 2017. The LGU of Cabuyao salutes the exemplary cooperatives in the city for spurring economic growth and promoting social inclusion.